Tortilla espanola, potato omelette with aioli and capers. | Photos by Mabel Suen
The Place: Modesto Tapas Bar & Restaurant (5257 Shaw Avenue; 314-772-8272)
The Hours: Happy hour is offered Monday through Friday from 5 to 7 p.m. -- the specials extend through the rest of the night on Tuesdays and Thursdays.
The Deal: Bite-size appetizers that range from 75 cents to $2.50 each. A glass of the wine of the day for $6, any draft beer or sampler of three for $4, a Spanish bottled beer for $5, a glass of sangria of the day for $6, a glass of red sangria for $5 and a red-sangria pitcher for $16.
The Scene: Located in the Hill neighborhood, Modesto seems unassuming from the outside. Once greeted by a hostess at the entrance, however, visitors get wrapped in the warmth emanating from the foyer's bar and dining room -- a color palette of brick and bright reds, browns and oranges speak to its Spanish roots. This section is where patrons can grab a seat at a pub table or at the bar to partake in the happy-hour selection.
Cameron y Huevo, grilled shrimp with hard-boiled egg and lobster-cream sauce.
The Food: A placard with pintos especiales, or special snacks, awaits on each table featuring fifteen different items to choose from: fried garlic with aioli, smoked salmon, grilled pork with quince, almond-stuffed olives, chorizo-stuffed artichoke, grilled shrimp, fried chicken thigh, fried goat cheese, a potato omelette, roasted beef and manchego, fried chocolate cake, small bowls of spiced almonds and more.
Did Modesto make the grade? Find out on the next page.
Pincho de ajo, fried garlic with aioli.
The Verdict: We opted to order two or three of each item we selected to have enough to share. Our meal started off with some complimentary bread with a small ramekin of flavorful pesto to amp up our appetites. Then out came the small plates one by one, occasionally presented side-by-side on larger platters. Each selection looked like a small work of art, carefully cooked and assembled painstakingly on short skewers.
The cameron y Huevo was perfectly seasoned and cooked, pairing nicely with egg and creamy sauce. Finger foods, including smoked salmon and the salpicon with marinated mussel, calamari and shrimp, satisfied our seafood cravings. Bowls of salty spiced almonds and plump olives made the glasses of fruity sangria -- the selection for the day featuring a fresh pineapple puree -- taste especially refreshing.
A bowl of assorted Spanish olives.
If we had to choose a favorite, the Pincho de ajo, or fried garlic with aioli, certainly hit the spot. Five cloves of lightly breaded and fried garlic sit on a skewer dressed with a squiggle of aioli and dusting of smoky paprika -- a simple yet decadent treat.
Service at Modesto was extremely attentive yet unobtrusive. Start with a few selections to test the waters, and order more throughout the evening. After sampling about half of the items on the happy-hour menu, we were full enough to call it dinner -- fine by us, because we're already looking forward to coming back to try the rest. In a neighborhood where Italian cuisine is king, Spain somehow manages to reign supreme.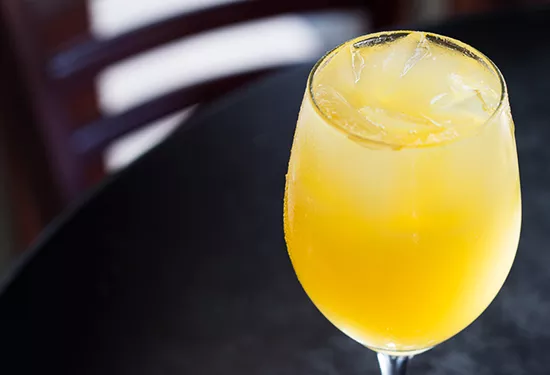 Sangria of the day with pineapple puree.
The Rating: On a scale of one to five...

Previously on Happy Hour Handbook: - Square One Brewery - Cicero's - SqWires - Layla - Five Star Burgers - Central Table Food Hall - Planter's House - Atomic Cowboy - Stella Blues - Triumph Grill - Lola - Basso - Blue Ocean Sushi - Hwy 61 Roadhouse and Kitchen - Gringo - Jax Cafe - Mile 277 Tap & Grill - Sandrina's - Mangia Italiano - Kirkwood Station Brewing Company - Steve's Hot Dogs on the Hill
We're always looking for some more happy hour meal deals. E-mail the author at mabel.suen@riverfronttimes.com.