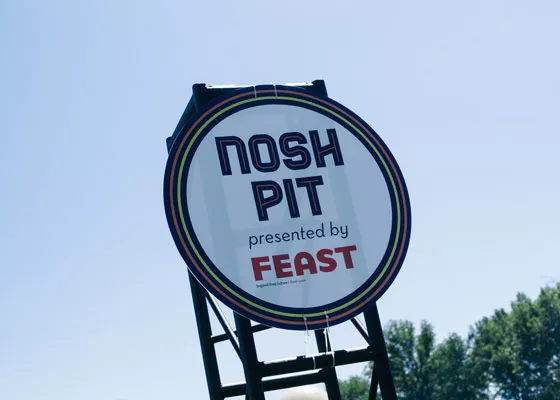 Festival food doesn't have to suck. | Bryan Sutter
We're familiar with the restaurants featured in this year's LouFest concession stand, a.k.a. the Nosh Pit. But out-of-town bands are just looking for a quick bite, and they still loved what St. Louis had to offer. Restaurants like Pappy's, Strange Donuts and Sugarfire Smokehouse had brushes with fame this weekend, both at the music festival and around town.
See also: The Best Food From LouFest's Nosh Pit 2014
Here's Portugal the Man with the guys from Strange Donuts:
A stop at Pappy's threatened San Fermin's performance. Trust us, guys, we've been there. They visited Mississippi Mud Coffee Roasters, too.
Colin Lake went classic and had himself a Budweiser.
Trombone Shorty met Sugarfire Smokehouse's Mike Johnson.
Outkast didn't venture out it seems (can you blame them?), but they did share pasta and Greek salad with Grouplove.
UPDATE: Twitter user @LexLockdown let us know that OutKast's Andre 3000 hung out in the Loop during LouFest, namely Three Kings Pub and the Moonrise Hotel.
UPDATE #2: PM BBQ sent OutKast a little pre-show snack.
Gut Check is always hungry for tips and feedback. E-mail the author at Nancy.Stiles@RiverfrontTimes.com.
Follow Nancy Stiles on Twitter:
---