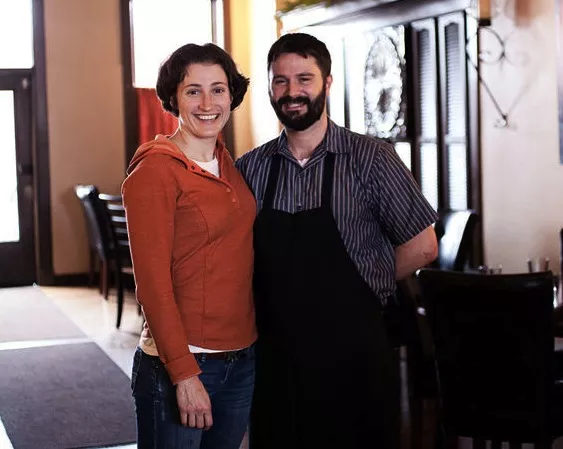 Jennifer Cleveland and her partner, Ed Heath | Jennifer Silverberg
Following college, the siren song of the mountains drew Jennifer Cleveland to Salt Lake City where she met her two great loves: cooking and her partner, Ed Heath. After culinary school at the prestigious Culinary Institute of America at Greystone and stints at some of the country's top restaurants (ad hoc, the French Laundry), Cleveland returned to her southern Illinois roots and opened Cleveland-Heath (106 N. Main Street, Edwardsville, IL; 618-307-4830) in downtown Edwardsville in 2011. There, she treats patrons to unpretentious, elevated comfort food that's more than worth the drive across the river.
See Also: Cleveland-Heath's Old Fashioned Cherry Pie
Cleveland took a break from the kitchen -- and making her scrumptious cheddar biscuits -- to share her thoughts on the St. Louis area food scene, her secret love of junk food and her local food crush. Hint: It's not much of a surprise.
What is one thing people don't know about you that you wish they did? That I'm not an asshole?
What daily ritual is non-negotiable for you? This is one of my biggest weaknesses. I'm not a "ritual" person. Maybe that's what drew me to restaurants in the first place. Each day is so different. Sometimes before I'm even awake in the morning my day has changed in a way I didn't expect. Things come up, equipment breaks, we run out of an ingredient. If there is one thing I am missing, it's definitely a little bit of routine.
If you could have any superpower, what would it be? Inexhaustible energy! I could do so much more if I never got tired!
What is the most positive trend in food, wine or cocktails that you've noticed in St. Louis over the past year? I think in the last year or two, the trend seems to be incredibly unique, creative, approachable concepts. There have been so many fun things opening up that are unlike anything else in the area and many of them also happen to be family friendly.
Who is your St. Louis food crush? Is it OK if I say Ed Heath?
Who's the one person to watch right now in the St. Louis dining scene? There are so many that I have a hard time just naming one. I would definitely say one of them is Andrey Ivanov [Elaia and Olio] though. He and a few others are really doing a lot for St. Louis on the beverage side of things. It's really cool to see.
Which ingredient is most representative of your personality? Vinegar maybe, or lemon juice? I think it's an ingredient that you may never even know is there, but can sometimes add balance to a dish.
If someone asked you to describe the current state of St. Louis' culinary climate, what would you say? Busting at the seams! St. Louis has so much going for it. From iconic places such as Tony's and Sidney Street Cafe to fun new creative places like Strange Donuts and the Peacemaker (not to mention everything in between). There is so much happening here.
Name an ingredient never allowed in your kitchen. I have to be honest. I can't come up with anything here (except for things that are incredibly obvious). We definitely strive to only use products of a certain level of quality in our daily operations. Sometimes though, even the strangest products make sense for a dish. We ran Loco Moco recently as a special (a Hawaiian dish), and used Spam....(yes Spam). Is that a product we feel good about having in our kitchen? NO, but for that evening we had a little fun with it.
What is your after work hangout? Right now if I get off work early enough I head over to Unkle Munkey's, or straight home to the puppies and kitties.
What's your food or beverage guilty pleasure? I hate to have the word "guilty" associated with the things I love to eat (even when I know they are terrible for me). I love junk. Ramen noodles, pork rinds, 7-Eleven nachos, store-bought frosting right out of the container.
What would be your last meal on earth? Chicken fried steak and eggs with biscuits and gravy. I would probably need a side of hot sauce too. Sno-cone for dessert!
Follow Cheryl Baehr on Twitter at @CherylABaehr. E-mail the author at Cheryl.Baehr@RiverfrontTimes.com.
---