Claverach Farm | Rachel Shulman
The kids are back in school, and your vacation time is likely not what it was three months ago. But summer's not quite over yet (according to the mercury). There's still plenty of sunshine and hours in the day left to visit destination restaurants in the St. Louis area. They're all just a mini-road trip away and worth every mile. Here are our ten favorites.
See also: The Ten Best Outdoor Dining Spots in St. Louis
Claverach Farm (570 Lewis Road, Eureka; 636-938-7353)
Twenty miles outside of St. Louis, the 300-acre Claverach Farm got its start by growing specialty produce and microgreens and selling to local restaurants, such as Sidney Street Cafe, Stellina, Oceano Bistro and Farmhaus, and at farmers' markets. Today owners and chefs Joanna Duley and Sam Hilmer share their passion of producing farm-to-table meals for the community in their 100-year-old refurbished barn with Saturday "farm dinners" featuring fruits and vegetables from their farm. Four courses, drinks and hors d'oeuvres are served at long community tables. Before and between courses, guests may wander through the property's gardens, orchards and vineyards.
Stone Soup Cottage | Carmen Troesser
Stone Soup Cottage (5809 State Highway N, Cottleville; 636-244-2233)
Chef Carl McConnell and his wife Nancy offer reservation-only "farm to fork" dinners Thursday through Saturday in historic Cottleville. The six-course, prix-fixe French and Italian tasting menu features seasonal, intricate dishes paired with complementary wines. The rustically elegant restaurant is located on a six-and-a-half-acre farm that produces the majority of the produce for the kitchen. The building is constructed of wood from the farm's original 1930s barn and overlooks the farm's fields and ponds. All of this earned Stone Soup Cottage a spot on the top five regional restaurants in the United States list in 2010 by the Week magazine, and there's often a six-month waiting list for reservations.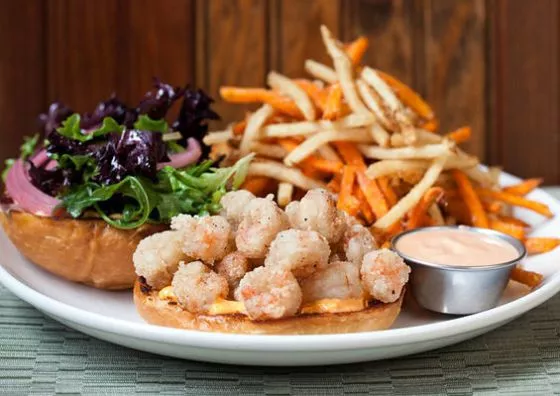 Cleveland-Heath | Jennifer Silverberg
Cleveland-Heath (106 North Main Street, Edwardsville, Illinois; 618-307-4830)
The culinary resume of Cleveland-Heath's owners, Jennifer Cleveland and Eric Heath, is impressive to say the least, and includes stints at national hot spots such as Jole, Ad Hoc, Farmstead and the French Laundry. The couple met in a kitchen, attended the Culinary Institute of America at Greystone in Napa Valley together and are now united in their passion -- nay, obsession -- for cooking. The gourmet comfort-food menu focuses on contemporary American cuisine and offers simple dishes prepared with extreme attention to detail, using fresh, quality ingredients. The kitchen sources much of its meats, seafood, produce and bread from local farms and producers.
Montelle Winery's Sunset Dinner | Slava Bowman
Montelle Winery (201 Montelle Drive, Augusta; 888-595-9463)
A gorgeous wine-country retreat any day at 400 feet above the Missouri River, Montelle Winery hosts sunset dinners every Friday and Saturday, spring through fall, in view of the surrounding farmland and vineyards covering the rolling hills of Osage Ridge. A three-course dinner includes an entrée, sides and dessert and is served at 7 p.m., and comes complete with white linens, chilled ice buckets and attentive waiters. Each course is paired, of course, with Montelle's award-winning wine. Wine tastings are available for guests who arrive early.
The Loading Dock Restaurant & Bar | Dreaming Tree Photography
The Loading Dock Restaurant & Bar (401 Front Street, Grafton, Illinois; 618-786-3494)
The Loading Dock Restaurant & Bar offers a unique waterfront dining experience accessible by boats and walk-ins at the confluence of the Mississippi and Illinois rivers. The small menu offers all you could want from a casual bar: chicken salad, cheeseburgers and fries, bratwurst, hot dogs, pulled pork and wings and, with a nod to its riverside setting, catfish fritters, white fish sandwiches and fish tacos. Stop by for a break from biking on the Sam Vadalabene Bike Trail, visiting nearby Pere Marquette State Park or boating, canoeing and parasailing on the river. Weather permitting, take the ferry from St. Charles to Grafton, Illinois. Open March through November.
Dining at Chaumette Winery | Courtesy of Chaumette Winery
Chaumette Winery's Grapevine Grill Restaurant (24345 State Route WW, Saint Genevieve; 573-747-1000)
Zagat award-winning chef Adam Lambay commands Chaumette Winery's Grapevine Grill Restaurant after a decade at St. Louis favorites Café Mira, 12 North Café and Portabella Restaurant. He is also an instructor at the Kitchen Conservatory in Clayton. His contemporary American menu is influenced by French, Indian, Asian and Italian cuisines, and is constructed with local produce, dairy and meats from regional farms and producers. Some herbs and produce are grown on site for Lambay's custom dishes. Don't just make the trip for the amazing food, however -- pamper yourself at the Spa at Chaumette and stay overnight in one of 26 private villas outfitted with fireplaces and overlooking the vineyard.
Sycamore (800 East Broadway, Columbia; 573-874-8090)
Sycamore chef Mike Odette was named a semifinalist in the Best Chef: Midwest at James Beard Foundation Awards in 2009, inspiring a growing number of St. Louisans to make the two-hour drive to Columbia. The casual restaurant features market-fresh, locally sourced ingredients and is a part of the Slow Food Katy Trail network. Everything on the menu is made from scratch, including housemade charcuterie. Monthly beer dinners showcase the restaurant's extensive beer list and pair different styles and varieties of beer with unique, seasonal dishes.
Stone Hill Winery Vintage Restaurant | Courtesy of Stone Hill Winery
Stone Hill Winery Vintage Restaurant (1110 Stone Hill Highway, Hermann; 573-486-2221)
After visiting Missouri's oldest winery and sampling some award-winning wines (the vineyard has won more than 3,700 awards since 1993, including seven Missouri Governor's Cups since 1994), stop by Stone Hill Winery's Vintage Restaurant. The globally inspired menu is heavily influenced by the region's German history and includes favorites like Bavarian pretzel sticks, sausage plates, fried pickles, schnitzel, sauerbraten and spatzle. The entire property is listed on the National Register of Historic Places, and the restaurant is located in a restored carriage house and horse barn.
Follow Sara Graham on Instagram at @SaraSunshineSTL and Twitter at @SaraSunshineSTL. E-mail the author at saralouisegraham@yahoo.com.
---