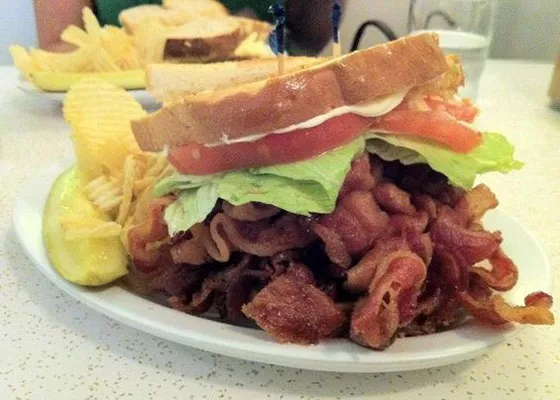 The heart-stopping BLT from Crown Candy Kitchen is now available at the Edward Jones Dome. | Laura Miller
It's officially football season! The Rams didn't pick up Michael Sam, and Sam Bradford is out for the season, but we have a feeling this just may be our year (OK, not really, but we can dream). Even if the Rams aren't winning, there's a pretty good reason to head over to the Edward Jones Dome (701 Convention Plaza Street; 314-342-5201) this fall: all-local concessions.
See also: Check Out the New Sub Zero Bars at Edward Jones Dome
For starters, Edward Jones is now offering the lowest-priced beer in the NFL, starting at just $4.50 (paging Busch Stadium...). SubZero Vodka Bar added two bars on either side of the 50-yard line last year, but the Rams have kicked it up a notch. You'll be able to find the new St. Louis Street Eats in sections 106, 122, 132 and 148.
Sugarfire Smokehouse will be serving its brisket cheesesteak sandwich and smoked sausage, along with its thirteen signature sauces. Grab the famous BLT from Crown Candy Kitchen and some chocolate-covered marshmallows. Sweetie Pie's will offer turkey legs, short ribs, peach cobbler and more. Strange Donuts will have its chicken and waffles doughnut, plus gooey butter, campfire and maple bacon dones.
You can also get a pulled-pork sandwich, pulled-chicken sandwich and barbecue nachos from Bandana's Bar-B-Que or cinnamon-sugar pretzels, bacon-wrapped pretzels, pretzel bites, a bratwurst pretzel sandwich and more from Gus' Preztels.
If you're feeling fancy, there are also two local additions to the club level. Vin de Set will serve croque monsieur and tarte flambée, while Eleven Eleven Mississippi will have butternut squash soup and a roasted porchetta sandwich.
Gut Check is always hungry for tips and feedback. E-mail the author at Nancy.Stiles@RiverfrontTimes.com.
Follow Nancy Stiles on Twitter:
---