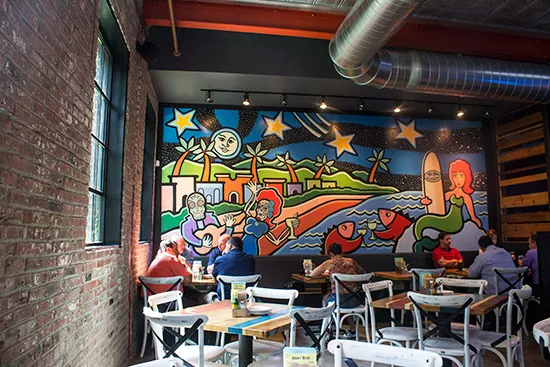 The dining room at Mission Taco Joint's Soulard location. | Photos by Mabel Suen
On August 12 Mission Taco Joint (908 Lafayette Avenue) opened in Soulard. Located adjacent to the Soulard Farmers Market, this location of Mission fills a niche in the neighborhood and provides an alternative to the flagship restaurant in the Delmar Loop.
The West Coast-inspired concept comes from brothers Adam and Jason Tilford, who also own and operate Milagro Modern Mexican, Tortillaria and Barrister's. Since establishing its University City location in February 2013, Mission Taco Joint has been named best Mexican restaurant in the RFT's Best of St. Louis 2013, also garnering favorable reviews for its food and innovative cocktail list.
See also: St. Louis Restaurant Openings & Closings: August 2014
Carne asada taco beside a chile roasted duck taco with crisp pork-belly carnitas and avocado serrano sauce.
The Soulard restaurant, designed by SPACE Architects, fills a historic building with high ceilings, exposed brick and tall windows to filter in plenty of natural light. A lively mural provides a colorful backdrop for diners to enjoy Mission's full menu of mid-priced appetizers, burritos, tortas, sides and of course, tacos -- try the carne asada and wood-fire grilled cactus.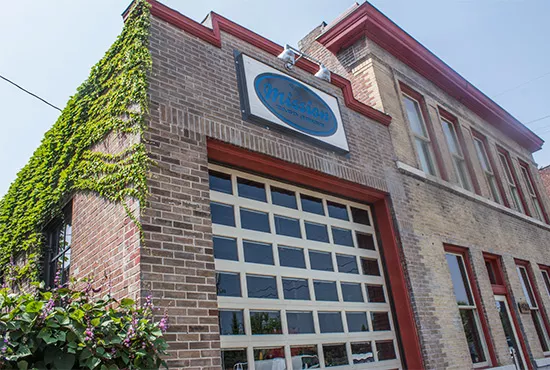 At the bar, expect plenty of draft and bottled beers as well as a variety of crafted cocktails including margaritas, daiquiris and more. Check out some options including the "Pepino Mental" in this guide from Gut Check's Drunken Vegan.
Mission Taco Joint's Soulard location is currently open Tuesday through Saturday from 11 a.m. to 1 a.m. and Sunday from 11 a.m. to 12 a.m. For more information, visit the Mission Taco Joint website or follow it on Facebook.
Click through for more photos.
The "New Year's Resolution" burrito.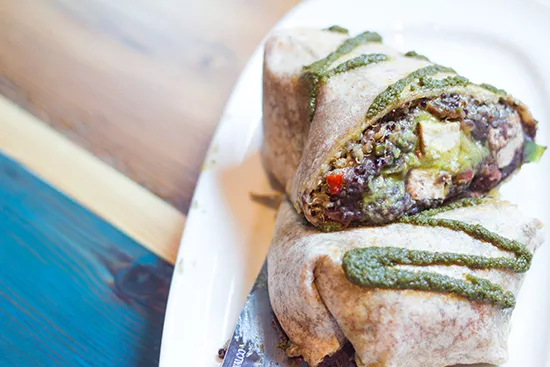 It's filled with grilled tofu, black beans, vegetable quinoa, pico de gallo, jalapeno salsa and cilantro pepita pesto.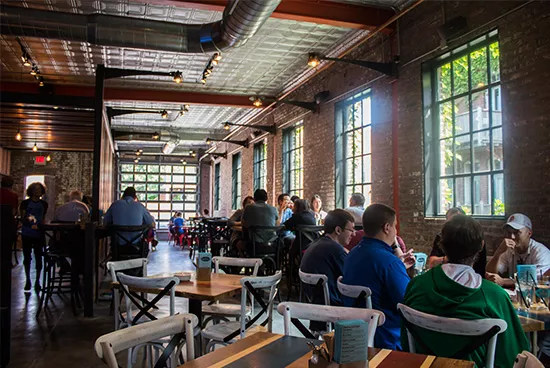 Another look at the dining room.
Churros with chocolate sauce for dessert.
See also: - First Look: Sauce on the Side in Clayton - First Look: Unkle Munkey's Coin Club - First Look: Tick Tock Tavern & Steve's Hot Dogs - First Look: Ices Plain & Fancy
Gut Check is always hungry for tips. E-mail us!