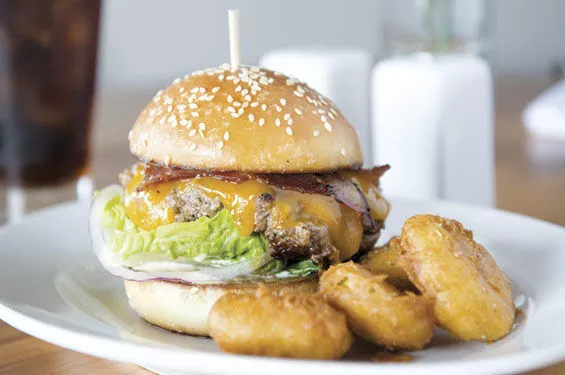 The brisket burger at Three Flags Tavern. | Corey Woodruff
"You know," the bartender said as she leaned in a little closer. "The servers from O'Connell's [Pub] come in here for our burger."
It's no wonder she had such a hushed tone. O'Connell's Pub has legendary burgers. That some of the employees have been spotted bellying up to the bar at Three Flags Tavern (4940 Southwest Avenue; 314-669-9222) for the brisket burger is akin to catching a Schlafly employee with a bottle of Busch. But who can blame them? Three Flags Tavern's brisket burger is, without question, the town's reigning burger champ.
See Also: High-Flying Three Flags Tavern: Is this the best restaurant opening of 2014?
That the brisket burger stands out amongst the array of stellar offerings at Three Flags Tavern is a testament to just how great it is. Amidst the lobster rolls, fried Manchego cheese, octopus tentacles and other goodies, a humble burger might be overlooked. This would be a grave mistake.
The house ground brisket is so juicy, it it's as if it has been studded with hunks of butter. No need to worry that this glorious ooze will get lost -- the pillowy sesame seed-coated potato roll soaks it up. Smoky bacon, crisp lettuce, thick slices of tomato and red onion garnish the scrumptious meat. For those looking to take it over the edge, ask for a slice of luscious Delice de Bourgogne cheese melted over the top.
It's worth the risk of getting caught with the competitor.
Previously: #69: Siam's Kimchi Hot Pot #70: Urban Chestnut's "Strammer Max" #71: "Mom's Special" at Mom's Deli #72: Broasted Chicken at Frank & Helen's Pizzeria #73: Parmesan Chicken Broth at Bocci Wine Bar #74: "Burger" at Small Batch Whiskey & Fare #75: Smoked Salami Sandwich at Adam's Smokehouse #76: Gyro on Pita at Olympia Kebob House & Taverna #77: The Johnny Cake at TreeHouse #78: A Classic Glazed Doughnut from Pharoah's Donuts #79: Skordalia at the Purple Martin #80: Beef Brisket Birria Taco Taco at Mission Taco Joint #81: Cappuccino from Sump Coffee #82: The Salted Caramel Croissant at Pint Size Bakery #83: Gnocchi at the Good Pie #84: Truffled Tater Tots at Blood & Sand #85: Marinated Feta Cheese at Evangeline's Bistro and Music House #86: Chorizo and Egg Sope at Spare No Rib #87: Duck Burger at Planter's House #88: WildSmoke's Smoked Chicken Wings #89: The Duck Prosciutto Flatbread at Bella Vino #90: The "Dam Burger" at the Dam #91: The "Hog Mess" at Blind Tiger #92: Khao Soi at Fork & Stix #93: The "Smokehouse Club" Sandwich at Bud's Smokehouse #94: Cafe Natasha's Yogurt Dip #95: Macarons at La Patisserie Chouquette #96: The Libertine's Fried Chicken #97: Pork Belly at Element #98: M'Lwee at Baida #99: Breadbasket at Juniper #100: Bucatini All'Amatriciana at Pastaria
Follow Cheryl Baehr on Twitter at @CherylABaehr. E-mail the author at Cheryl.Baehr@RiverfrontTimes.com.
---