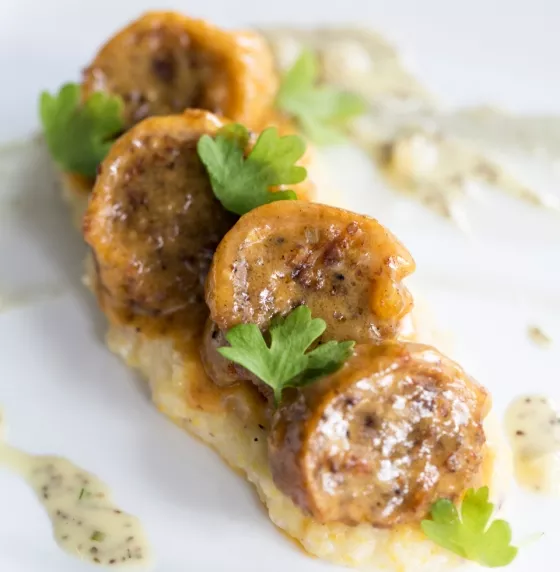 Crispy pig tails at the Libertine. | Jennifer Silverberg
Sometimes we just want to try something new. And when we do, St. Louis chefs are more than happy to rise to the challenge. We've compiled of some of the stranger local offerings that just might tempt you away from your comfort zone and into an extraordinary taste adventure you're sure to remember.
See also: The 10 Best Seafood Restaurants in St. Louis
Pig Tails The Libertine (7927 Forsyth Boulevard; 314-862-2999) Though the Libertine's menu changes seasonally, "Crispy Pig Tails" have been on the menu since the restaurant first opened. Chef Josh Galliano begins the preparation by salting and rubbing the skins with baking soda and then letting them sit. They are then rinsed and cooked "low and long" overnight. After cooking, the skins are removed, and the fat is discarded. The meat is then placed back into the skins and formed into a roll. After it cools, the roll is sliced into medallions that are fried twice. These are then dipped in a sauce of garlic, butter, grain mustard and chipotle Tabasco and served with a celery seed vinaigrette, micro celery greens, browned butter polenta and whipped blue cheese.
Octopus Tentacle Central Table Food Hall (23 South Euclid Avenue; 314-932-5595) For those who have yet to try octopus, Central Table Food Hall's executive chef Peter Valkenberg describes the taste thusly: "Think pork (but tender) or scallops (but meatier)." For Valkenberg's "Spanish Octopus," the mollusk's eight limbs are cooked sous vide -- sealed under pressure in special bags and then cooked in water at a low, consistent temperature for a long period of time. The final dish is served with arugula, pickled onions and harissa.
Beef tongue at Cafe Natasha. | Natasha Bahrami
Tongue Café Natasha (3200 South Grand Boulevard; 314-771-3411) Tongue has been a part of Persian culture and cuisine for a long time, and it's a common street food in Iran's larger cities. Cafe Natasha's preparation of tongue is slightly different from those street vendors, but the flavors are reminiscent of the popular dish. Slow braised with onions and green peppers in a savory tomato-based broth, the tongue is topped with caramelized mint and onions and served with a curry-mustard sauce.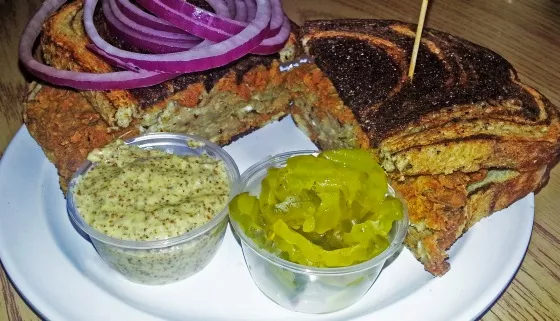 Brain sandwich at Schottzie's Bar and Grill. | Mike Carlson
Brains Schottzie's Bar and Grill (11428 Concord Village Avenue; 314-842-1728) St. Louis was one of the major meat-packing cities in the early twentieth century and is credited with the rise in popularity of the fried cow-brain sandwich. Today, Schottzie's Bar and Grill is the only restaurant that still serves brains (and has since 1947), but because of mad cow disease, the sandwich is now made with pork noggins. Raw brains are mixed with milk, eggs, flour and other spices and formed into patties. They are deep fried and served on rye bread with pickles, red onions and spicy mustard.
Fried Grasshoppers at Gringo | Cary McDowell
Grasshoppers Gringo (398 North Euclid Avenue; 314-449-1212) A staple in Mexico, grasshoppers are not often found on the menu in the United States. They were included on Gringo's opening-day menu, toasted and served in a taco (chalupines) for a truly adventurous taste experience. Though the tacos haven't been on the menu for several months, Cary McDowell, corporate executive chef of the Euclid Hospitality Group (which includes Gringo), will be bringing them back. He's working with his supplier to secure a larger insect and is also limited by availability -- they hatch in May through late summer. McDowell plans to announce the return of the grasshopper tacos through Facebook.
The Seoul Done at Seoul Taco | Corey Smale
Meaty Doughnuts Strange Donuts (2709 Sutton Boulevard; 314-932-5851) Strange Donuts isn't your ordinary donut shop. Sure, it offers the usual glazed, custard- and jelly-filled favorites. But each week also brings a new opportunity for experimenting with innovative flavor combinations, often in collaboration with local chefs. A recent team effort with Gringo yielded the "El Santo": guajillo-achiote marinated pork shoulder on a sweet-corn done topped with grilled red onion, pineapple and cilantro. Pictured is the "Seoul Done" created in partnership with Seoul Taco: a potato and pepper cake doughnut stuffed with spring mix that's dressed with a simple vinaigrette, Jack cheddar cheese and bulgogi beef topped with a chile glaze.
The hot salami sandwich at Gioia's. | Alex Donley
"Salami of the Head" Gioia's Deli (1934 Macklind Avenue; 314-776-9410) Gioia's Deli has been serving the salam de testa (salami of the head), also known as the "Hot Salami Sandwich," on the Hill for 96 years. The salami is handmade on site from ground parts of a pig's head (including the nose, ears and cheeks), beef top round and pork shoulder. After processing, the meat is boiled for more than two hours, giving it a salty, rich flavor. The salami is served on white, wheat or garlic cheese bread with pepper cheese, onions, peppers and hot mustard. Gioia's Deli sells more than 1,000 pounds of its "Hot Salami Sandwich" each week.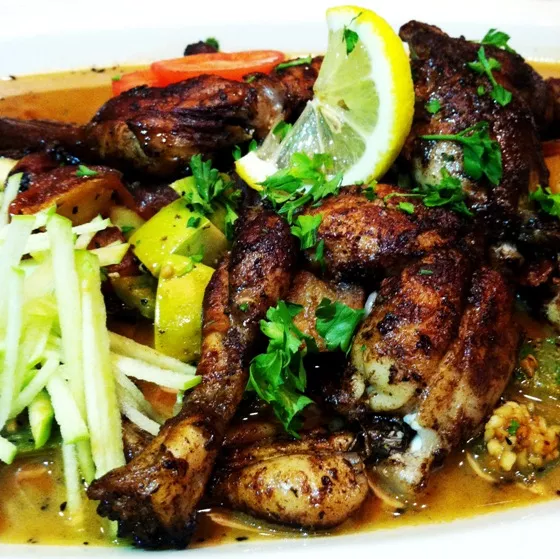 Evangeline's French Smoked Frog Legs | Don Bailey
Frog Legs Evangeline's (512 North Euclid Avenue; 314-367-3644) Chef William Coghlan wanted to offer a dish that that was unique in St. Louis, indigenous to Louisiana and influenced by French cuisine. And he's done it. Evangeline's frog legs are cold-smoked in-house. They are then dusted in fine ground cocoa, finished with a garlic butter and lemon white wine sauce, topped with shaved jalapeno, green apples and caramelized red onions and served with New Orleans Brabant potatoes.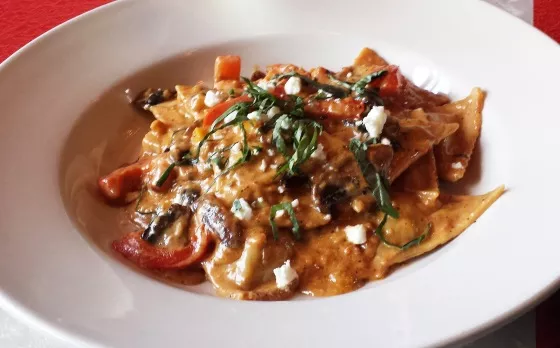 Alligator Ravioli at Mangia Italiano | Collier Evans
Alligator Mangia Italiano (3145 South Grand Boulevard; 314-664-8585) Alligator meat can only be legally sourced from alligator farms and is available to consumers via specialty grocery stores and mail order. It's popular in the Southern United States and is described as having a mild flavor and firm texture. Mangia Italiano's chef James Bonsanti specializes in working with wild game and exotic meats, and he's embraced the opportunity to bring this taste to St. Louis. His alligator ravioli is made with fresh pasta and tossed in a smoky mushroom tomato cream sauce with red bell peppers, corn, shallots, fresh basil and feta cheese.
Peanut Butter Jelly Bacon Dog at Dogs 'n Frys | Mo Mangal
Peanut Butter Jelly Bacon Hot Dogs Dogs 'n Frys (503 Paul Avenue, Florissant; 314-274-2000) Dogs 'n Frys specializes in loaded hot dogs topped with big flavors. Popular favorites include the "Mac 'n Cheese Dog", with macaroni and cheese seasoned with breadcrumbs and topped with bacon bits; the "Sweet and Spicy Dog," with a piquant raspberry sauce, nacho cheese and seared jalapenos topped with barbecue sauce; and the "Peanut Butter Jelly Bacon Dog" wrapped in hickory-smoked beef bacon with peanut butter and grape jelly and topped with caramelized onions.
Follow Sara Graham on Instagram at @SaraSunshineSTL and Twitter at @SaraSunshineSTL. E-mail the author at saralouisegraham@yahoo.com.
---