Welcome to Sugar High, a series devoted solely to spotlighting the best ways to sate a sweet tooth in St. Louis. We'll sample the best the city has to offer at restaurants, bakeries and holes-in-the-wall, and provide some insight on how these confections are made along the way.
Corner 17's "Green Tea Matcha Fluffy Ice." | Photos by Mabel Suen
In addition to its specialty hand-pulled noodles, Corner 17 (6623 Delmar Boulevard; University City; 314-727-2402) features a full menu of desserts and drinks, including tapioca-studded treats and fresh fruit juices. While the standard "Corner 17 Milk Tea" with boba hits the spot, it's the unique final item on the restaurant's chalkboard menu that most captures our dessert-loving eye: the fluffy ice.
See also: First Look: Corner 17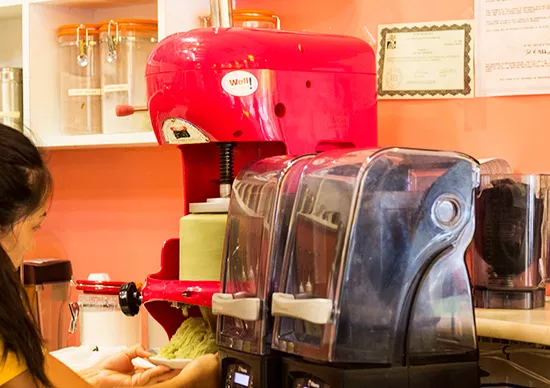 The machine clamps the ice down like a vice and spins it quickly through a blade on the bottom.
Corner 17's fluffy ice comes in small, medium or large -- each size is big enough for sharing. Available flavors include mango, strawberry, honeydew and a milk-based "original," but we recommend the "green tea matcha" for a lighter option. This particular flavor comes with some sweet red bean in addition to the fruit chunks, dessert sauce and juice-filled "pop-up boba" that also tops the others.
Everything about this dish is strictly Taiwanese -- from the recipe for the ice to the tools used to create it. A milky base makes up cylindrical blocks of ice that are flavored with fruit pulps, and it's all shaved down into creamy, dreamy ribbons piled into cloudlike mounds. The feathery texture seems otherworldly -- appropriate, given that its origins are on the other side of the globe.
Previously on Sugar High: - The Fountain on Locust's "Banana Bourbon" Sundae - Vinnie's Pinwheel Baklava - Red Fox Baking & Catering's Lemon Tart - Sugarfire Smokehouse's Crack Pie - Russell on Macklind's Coconut Cake - The Kitchen Sink's Sweet Potato Fries - Giovanni's Kitchen's Panna Cotta Trio - Crepes Etc.'s Crepe Cake - Cafe Ventana's Beignets - Frida's Raspberry-Chocolate Avocado Mousse - India Palace's Gulab Jamun - Melt's "Violet Beauregarde" Waffle - Brevan's Patisserie's "Brendan" - Winslow's Home's Chocolate Cake with Espresso Meringue - La Patisserie Chouquette's Eclair - Black Bear Bakery's Raspberry Oat Bar - Gelateria's London Fog Gelato - 4 Seasons Bakery's German Cheesecake - Libertine's "Candy Bar" - Cleveland-Heath's Old Fashioned Cherry Pie - Schlafly Tap Room and Bottleworks' Sticky Toffee Pudding
We're always looking for some sweet ideas. E-mail the author at mabel.suen@riverfronttimes.com.