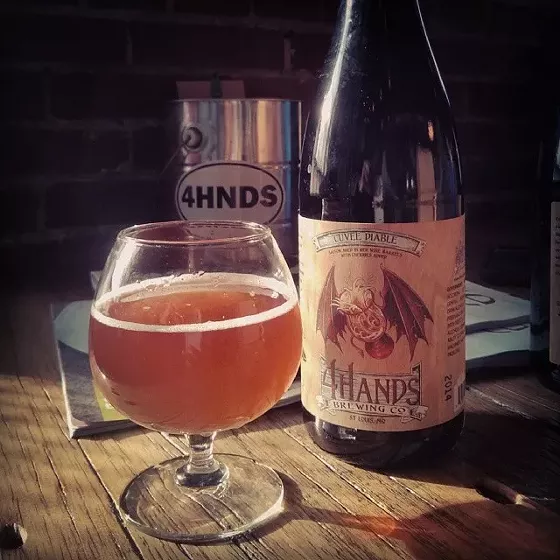 4 Hands' Cuvee Diable. | Justin L. Phillips
The craft-beer scene in St. Louis is growing rapidly, and 4 Hands Brewery (1220 South Eighth Street; 314-436-1559) is a perfect example. It opened in 2011, and just two years later announced a massive expansion plan. And it's finally (almost) ready.
See also: Bottled Wisdom: An oral history of St. Louis' craft-beer movement
In a press release, 4 Hands confirmed that the new and improved brewery will be open at the end of the month. The expansion adds 8,000 square feet to the second floor, including a temperature-controlled storage area for wine barrels to age its beers. It will also amp up 4 Hands' production to capacity at 24,000 barrels a year.
"Right now we're trying to position ourselves to be ahead of the game, instead of always chasing the tail," president Kevin Lemp told us in September.
4 Hands also just released its latest special brew, Ca$h Mony. It's an Imperial IPA, available at the brewery on draft and bottled in stores as well. Follow 4 Hands on Facebook for the latest updates.
Gut Check is always hungry for tips and feedback. E-mail the author at Nancy.Stiles@RiverfrontTimes.com.
Follow Nancy Stiles on Twitter:
---