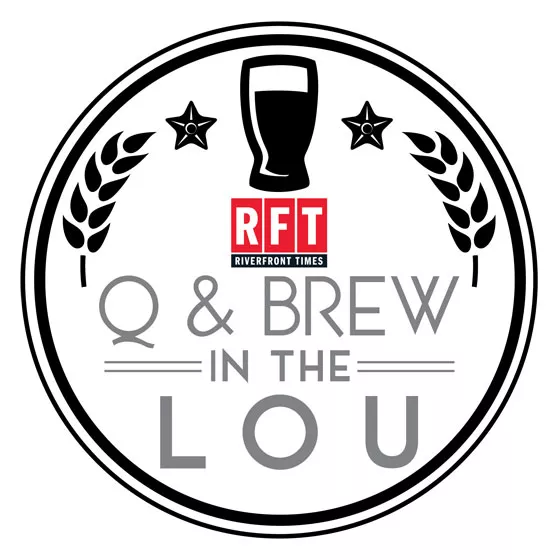 We've hate to break it to ya'll, but our first ever Q & Brew in the Lou event is sold out. That means there won't be any tickets available at the door. But we've got some tips for those who are attending.
See also: Check Out the Final List of Breweries and Barbecue for RFT's Q & Brew in the Lou
For parking, you'll want to go to Union Station's south lot near the Hard Rock Cafe or the west lot at 20th Street next to Maggie O's. Parking doesn't come with your ticket, so we can guarantee anything.
To start, pick up your commemorative tasting glass at the registration table, located on the second-level outdoor platform of Union Station. Check-in starts at 3 p.m. for VIP ticket holders and 4 p.m. for general admission. You'll need your glass for all that unlimited beer!
Barbecue from Sugarfire Smokehouse, the Rib Shack and the Precinct is complimentary for VIP ticket holders and available for purchase for general admission attendees, but don't forget that it's cash-only.
Best of all, it's supposed to be 99 degrees out on Saturday (we don't even want to think about the heat index), and the event is indoors and air conditioned.
Here's the list of breweries attending:
4 Hands Brewing Company (1220 South Eigth Street; 314-436-1559) Alpha Brewing Company (1409 Washington Avenue; 314-651-0936) Boulevard Brewing Co. (2501 Southwest Boulevard, Kansas City; 816-474-7095) Cathedral Square Brewery (314-805-3605) Charleville Brewing Co. (16937 Boyd Road, Ste. Genevieve; 573-756-4537) Crispin Hard Cider (1-800-648-0800) Excel Brewing Company (488 South Broadway, Breese, Illinois; 618-526-7159) Exit 6 Pub & Brewery (5505 Highway N, St. Charles; 636-244-4343) Ferguson Brewing Company (418 South Florissant Road, Ferguson; 314-521-2220) Goose Island Beer Company (1800 West Fulton Street, Chicago; 1-800-466-7363) Granite City Food & Brewery (11411 Olive Boulevard, Creve Coeur; 314-432-3535) Griesedieck Brothers Brewery (314-966-6061) Kirkwood Station Brewing Company (105 East Jefferson, Kirkwood; 314-966-2739) William K. Busch Brewing Company (314-932-7911) The Modern Brewery (5231 Manchester Avenue) Morgan Street Brewery (721 North Second Street; 314-231-9970) O'Fallon Brewery (26 West Industrial Drive, Saint Charles; 636-474-2337) Schlafly (7260 Southwest Avenue, Maplewood; 314-241-2337) Shock Top Beer (1-800-566-6424) Six Row Brewing Company (3690 Forest Park Avenue; 314-531-5600) Square One Brewery & Distillery (1727 Park Avenue; 314-231-2537) Urban Chestnut Brewing Company (4465 Manchester Avenue; 314-222-0143) St. Louis Wine & Beermaking (231 Lamp and Lantern Village, Chesterfield; 636-230-8277)
Gut Check is always hungry for tips and feedback. E-mail the author at Nancy.Stiles@RiverfrontTimes.com.
Follow Nancy Stiles on Twitter:
---