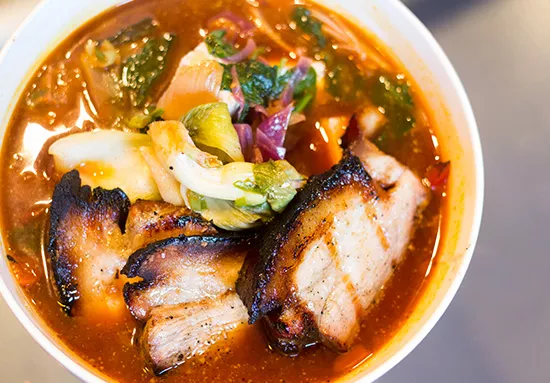 Siam's kimchi hot pot. | Mabel Suen
Siam (4121 Manchester Avenue; 314-533-7426) is a happening 3 a.m. bar on one of the town's hippest streets, but there is more to this Grove hot spot than the booze, music and revelry. Chef Tyler Davis heads up Siam's kitchen, preparing updated takes on pan-Asian cuisine and makes sure that patrons have some good eats before hitting the dance floor.
See Also: Siam Aims to Be a Place to Eat, Drink and Be Bear-y: Review
Davis makes everything in-house, and nowhere is his technique more impressive than the kimchi hot pot. He starts with a delicate yet flavor-packed pork and fermented vegetable broth, then adds pungent kimchi, enoki mushrooms, spinach, leeks and tofu. This alone is a satisfying feast, but Davis ups the ante by adding thick handmade udon noodles and slices of succulent pork belly into the already packed bowl. This warm, hearty dinner sets a perfect base for a night of dancing and imbibing.
Previously: #70: Urban Chestnut's "Strammer Max" #71: "Mom's Special" at Mom's Deli #72: Broasted Chicken at Frank & Helen's Pizzeria #73: Parmesan Chicken Broth at Bocci Wine Bar #74: "Burger" at Small Batch Whiskey & Fare #75: Smoked Salami Sandwich at Adam's Smokehouse #76: Gyro on Pita at Olympia Kebob House & Taverna #77: The Johnny Cake at TreeHouse #78: A Classic Glazed Doughnut from Pharoah's Donuts #79: Skordalia at the Purple Martin #80: Beef Brisket Birria Taco Taco at Mission Taco Joint #81: Cappuccino from Sump Coffee #82: The Salted Caramel Croissant at Pint Size Bakery #83: Gnocchi at the Good Pie #84: Truffled Tater Tots at Blood & Sand #85: Marinated Feta Cheese at Evangeline's Bistro and Music House #86: Chorizo and Egg Sope at Spare No Rib #87: Duck Burger at Planter's House #88: WildSmoke's Smoked Chicken Wings #89: The Duck Prosciutto Flatbread at Bella Vino #90: The "Dam Burger" at the Dam #91: The "Hog Mess" at Blind Tiger #92: Khao Soi at Fork & Stix #93: The "Smokehouse Club" Sandwich at Bud's Smokehouse #94: Cafe Natasha's Yogurt Dip #95: Macarons at La Patisserie Chouquette #96: The Libertine's Fried Chicken #97: Pork Belly at Element #98: M'Lwee at Baida #99: Breadbasket at Juniper #100: Bucatini All'Amatriciana at Pastaria
Follow Cheryl Baehr on Twitter at @CherylABaehr. E-mail the author at Cheryl.Baehr@RiverfrontTimes.com.
---