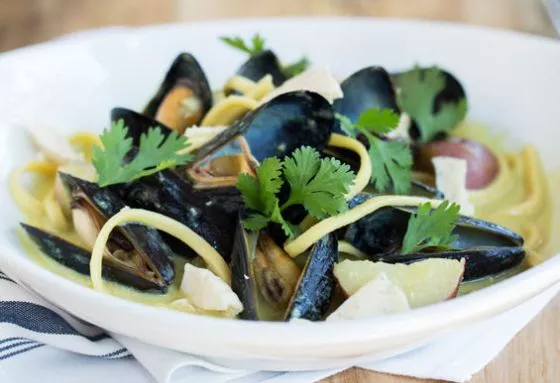 The Libertine's mussels with lo mein noodles, squid cracklins and coconut milk laksa. | Jennifer Silverberg
With exceptional seafood options like this, it's hard to believe St. Louis is hundreds of miles from the sea. These ten restaurants offer land-locked seafood lovers the variety of fresh and flavorful dishes one often associates with coastal towns just steps away from an ocean full of fish. No need to travel, we've got everything you need right here.
See also: The 10 Best Sushi Bars in St. Louis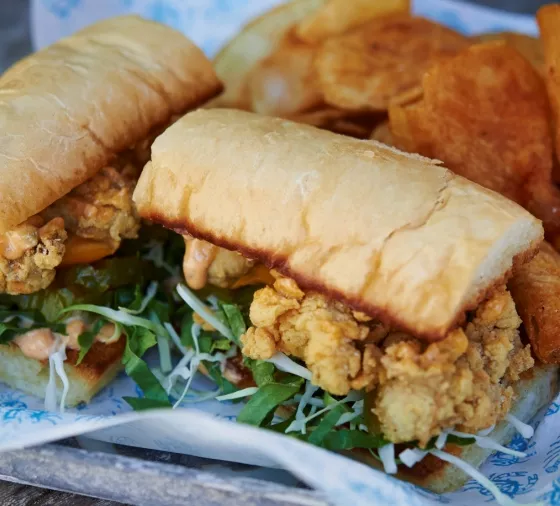 The Peacemaker poor boy. | Greg Rannells
The Peacemaker Lobster & Crab Co. (1831 Sidney Street; 314-772-8858)
The Peacemaker Lobster & Crab Co., which opened to much acclaim just last week, is the creation of Sidney Street Café chef and owner Kevin Nashan. The menu was inspired by Nashan's time spent cooking and living in New Orleans and his travels in Maine. The restaurant takes its name from its signature dish, "The Peacemaker" — a fried oyster version of the New Orleans po' boy sandwich made from a hollowed loaf of French bread that is buttered and filled with fried oysters and finished with lemon juice and pickles. Additional menu items include steamed blue crab, seafood boils, chowders, gumbos and a raw bar with crudos and oysters from the Gulf and Atlantic ocean.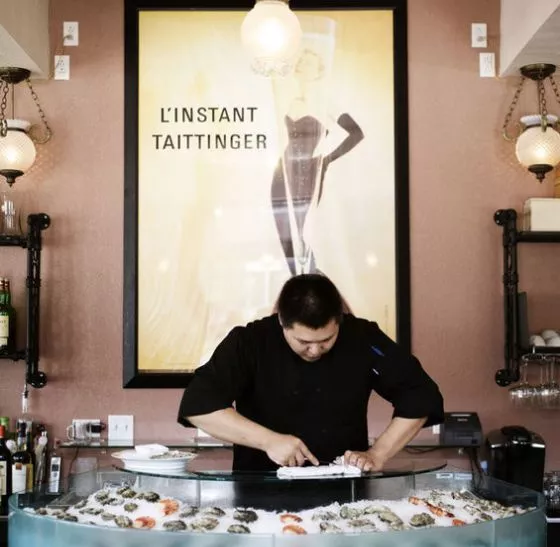 DeMun Oyster Bar's raw bar. | Jennifer Silverberg
DeMun Oyster Bar (740 DeMun Avenue; 314-725-0322)
If you're craving oysters, the DeMun Oyster Bar is the perfect spot to indulge in the creamy, sweet mollusks of the Pacific Northwest including the popular Kumamoto oyster and, when available, the coveted Olympia oyster. The selection changes daily according to the day's fresh delivery. For the uninitiated, a good way to dive in might be the oyster combination platter which offers three oysters to try — one fried, one grilled and one raw. Other menu items include a hearty oyster stew, stuffed oysters, mussels, clams, crab cakes, grilled salmon, ribeye and pasta. The quaint French bistro décor adds the perfect touch of pearly elegance.
Oceano's spiced South Pacific big eye tuna. | RFT Photo
Oceano Bistro (44 North Brentwood Boulevard; 314-721-9400)
With more than twenty seafood items on the menu (and just a few each from land —chicken, tenderloin and a pork chop), Oceano is a celebration of all things from the sea. The menu takes its cue from flavors that have stood the test of time from coastal cities around the globe and features many mouth-watering dishes not found anywhere else in St. Louis: spiced south pacific big eye tuna, fennel-dusted and seared scallops, walleye, steamed shellfish soffrito, grilled branzino and a red chili rock shrimp chop salad, just to name a few.
The European-style open-air fish market at Vin de Set. | Wendy Hamilton
Vin de Set (2017 Chouteau Avenue; 314-241-8989)
Vin de Set's French-American menu already includes a wealth of seafood dishes, such as spicy crab beignets, pan seared sea scallops, bouillabaisse and corn battered Troutdale trout. Thursdays, though, are a special day for seafood lovers. Executive Chef Ryan Buettner has partnered with Bob's Seafood to have whole fresh fish flown in every week for an open air, European-style seafood market held spring through fall. Diners can choose between whole fish, prawns or oysters and have them grilled to order right in front of you. Each week's fresh catch is listed on Vin de Set's Facebook page by 11 a.m. every Thursday morning.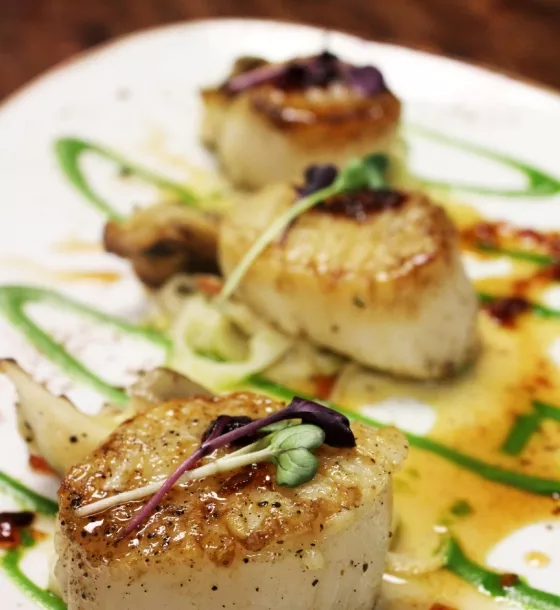 Cielo's sea scallops. | Sara Graham
Cielo Restaurant & Bar (999 North 2nd Street; 314-881-2105)
Known for its culinary excellence, Cielo Restaurant & Bar is located in the Four Seasons Hotel in downtown St. Louis in view of the arch and the Mississippi River. The menu, crafted by executive chef Gian Nicola Colucci, includes a wide variety of modern Italian dishes with focus on seafood befitting a country almost completely surrounded by the bountiful Mediterranean Sea. For starters, there is octopus, cured shrimp, mussels and clams, blue crab salad, Yellowtail crudo and panzanella with prawns. Main dishes include swordfish, lane snapper, seared albacore tuna, grilled salmon and corvina. Pictured is the sea scallop small plate with fennel apple salad, oyster mushrooms and vanilla bean agro dolce.
Scape's grouper dayboat special. | Brittany Zehr
Scape American Bistro (48 Maryland Plaza; 314-361-7227)
Scape is an eclectic blend of classic and contemporary American cuisine with a extensive selection of seafood dishes, such as caviar, mussels, crab cakes, scallops, tuna, swordfish, Alaskan halibut, Virginia sea bass and a rotating oyster and sashimi bar. The dayboat special is the chef's inspiration from the day's freshest catch and is listed daily on Scape's website and Twitter feed. Pictured is a Florida grouper dayboat special with grilled vegetable ratatouille and arugula pesto.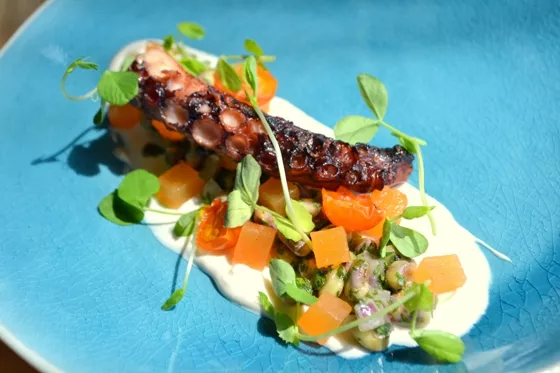 The Libertine's grilled octopus. | Josh Galliano
The Libertine (7927 Forsyth Boulevard; 314-862-2999)
The Libertine is billed as a "neighborhood eatery" that focuses on seasonal, regional and sustainable created in close relationship with local farmers. The menu is at once inventive and familiar with a slight nod to Chef Galliano's southern roots. The current menu features grilled octopus with yogurt tahini sauce, crowder pea caviar, melon and cherry tomatoes and a she crab soup with a blue crab spring roll, sherry pearls and Marash chile.
Lobster mac & cheese at Herbie's Vintage 72. | Greg Goldman
Herbie's (8100 Maryland Avenue, Clayton; 314-769-9595)
The menu at Herbie's combines French, Asian and American flavors in its French-style bistro. Now located in Clayton, large-format French posters still grace the walls, with tables covered with white linen and awash in the romantic glow of candlelight. The classic menu remains mostly the same, with a strong selection of universal seafood favorites such as shrimp dumplings, escargots, smoked Missouri trout, oysters on the half shell, Atlantic salmon, Yellowfin tuna, Maine lobster, shrimp and grits and sea scallops. A long time customer favorite is the lobster mac & cheese with lobster tail meat, corn, four cheese mornay, truffle oil and asiago gratin.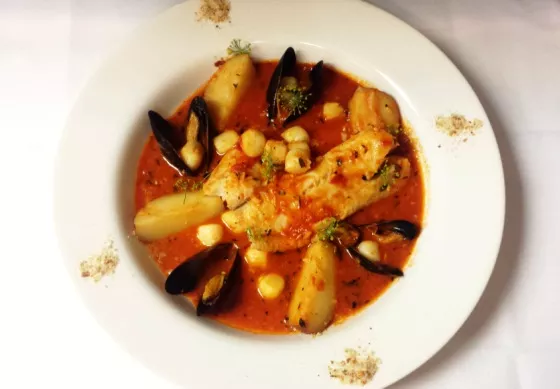 Bar Italia's cacciucco aromatic. | Brandon Kerne
Bar Italia (13 Maryland Plaza, 314-361-7010)
Bar Italia offers traditional Italian at its location in the heart of the Central West End and is the perfect spot for digging into a hearty cacciucco aromatic, a seafood stew with fresh fish and seafood in a tangy tomato-garlic white wine broth. Some say that at least five different types of fish be used, one for each of the "c"s in the word cacciucco (Italian for "mixture"). Pair it with some crusty garlic bread — it doesn't get much better than this.
Editor's note: This article was updated in 2017 to remove a restaurant that had closed since the post's original publication. It was also edited to show Herbie's updated name and address.
Follow Sara Graham on Instagram at @SaraSunshineSTL and Twitter at @SaraSunshineSTL. E-mail the author at saralouisegraham@yahoo.com.
---