Chef Haley Riley and owner Tom Schmidt. | Jennifer Silverberg
Salt + Smoke (6525 Delmar Boulevard, University City; 314-727-0200) 11 a.m.-11 p.m. Tues.-Sun. (Closed Mon.)
Sipping on a stiff bourbon cocktail at Salt + Smoke, I glanced out of the window and did a double take. A fire truck had stopped in the middle of Delmar Boulevard and its crew seemed to be surveying the scene. "Does someone think this place is on fire?" I asked my friend, only half joking. The new barbecue restaurant's Ole Hickory smoker can sometimes turn the air in the Loop a bit hazy.
With the number of new barbecue restaurants popping up around town, one has to wonder if the smoke cloud over St. Louis is visible from space. If a new place is going to throw its hat into the barbecue ring, it has to find a way to distinguish itself from the pack. Salt + Smoke has done just that.
See also: Tom Schmidt Talks Transforming Nico Into a Barbecue Restaurant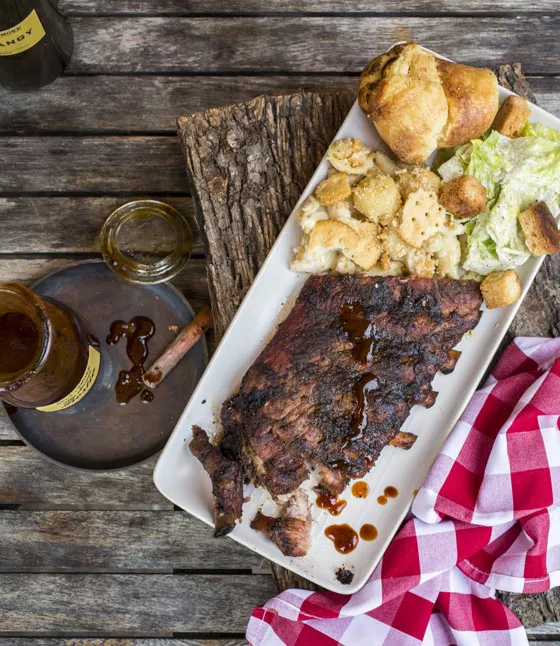 St. Louis Cut Ribs with a side of White Cheddar Cracker Mac and side Caesar salad. | Jennifer Silverberg
This is the latest concept from restaurateur Tom Schmidt, best known for his French restaurant in Soulard, Franco. His sophomore venture, the Mediterranean-themed Nico, had a good two-year run before Schmidt decided to rebrand the spot this past June. The transformation seemed to occur overnight -- actually, the make-under took a week. Paintings of animals on the range adorn the muted blue walls and shelves filled with folded-up blue jeans, a duck decoy and various other old-timey items give off a hip vintage vibe. Nico's polish still shines through -- Salt + Smoke is on the upscale end of barbecue, and its hipster vibe (a who's-who of indie music artists plays in the background, and everyone seems be wearing flannel) makes it feel like a Brooklyn interpretation of a Midwestern comfort-fare spot.
Salt + Smoke's fried pickles, served with flaxseed-mayo dipping sauce, are alone worth a visit. Dill spears, sweet mini gherkins and bread-and-butter slices are coated in delicate, tempuralike breading. Though deep-fried, the vinegary juice cuts through any greasiness. Classic hush puppies were light and fluffy, their exterior like a funnel cake. I probably didn't need to dip the little golden nuggets in the accompanying sweet maple butter, but it was worth the extra calories.
The barbecue reinterpretation of toasted ravioli is nice in theory, but it didn't have enough oomph. The crispy golden pasta is sparsely filled with beef burnt ends which needed more fat or juice -- it was just too dry.
The smoked Troutdale Farm trout sandwich was slightly fishy, and the tomato mayonnaise and onion confit did little to mitigate that. I much preferred the falafel burger. Rather than a throwaway meat-free option, the sandwich's warm spices tasted like a dry rub. The moist chickpea fritters, served on a soft, buttery roll, were complemented with sweet red-pepper jam. For vegetarians, this is as close to barbecue as it gets.
Brisket plate with a side of green bean and tomato salad and brisket chili. | Jennifer Silverberg
When ordering the beef brisket, diners are asked if they would like the fatty part, the lean portion or the burnt end. My burnt ends arrived pretty much inedible; the beefy flavor was replaced with charcoal that an entire bottle of sauce could not have reconstituted. Those who opt for the lean end, however, are rewarded with deeply smoked fall-apart hunks of spiced meat. No sauce required: It's some of the best brisket in town.
Acclaimed New York chef David Chang (of Momofuku fame) told GQ in February that bologna is the next "it" food. If Salt + Smoke's fried bologna is any indication, Chang is a prescient man. The thick, textured meat is closer to artisanal salami than Oscar Mayer deli slices. Flecked with fat, spicy jalapeños and cheddar cheese, this is a heart attack on a platter -- but what a way to go out. It's hard to handle more than a slice, though, so I'd recommend ordering it as part of a combination platter.
Salt + Smoke's ribs slide off the bone. Smoky and dusted with peppery rub, the St. Louis-cut pork ribs are perfect specimens. The cheddar and jalapeño popover served on the side was flaky on the outside, but the inside was light and airy.
Inside Salt + Smoke. | Jennifer Silverberg
Sides at Salt + Smoke are more than just afterthoughts. From creamy white-cheddar mac & cheese topped with crumbled butter crackers to apple coleslaw to sweet creamed corn, this is one of the few restaurants around that offers thoughtful accompaniments. The barbecue sauce selection is straightforward: Carolina mustard, sweet and smoky, hot and spicy, and tangy white.
For dessert, Salt + Smoke bakes classic Southern pies, served with homemade ice cream. The standout is the chocolate pie. Bittersweet chocolate cream -- like pudding -- is poured into a buttery shell. A dollop of whipped cream adds some extra sweetness.
The restaurant also offers a humongous bourbon selection, barrel-aged cocktails and a comprehensive craft beer list. The apple barrel cocktail is a great introduction for the bourbon neophyte -- applejack brandy, cinnamon- and walnut-infused bourbon, baked-apple bitters, lemon and ginger beer combine for a tart, refreshing drink.
Thank goodness those firefighters didn't put out the blaze -- Salt + Smoke's fire is a welcome addition to the Loop dining scene.
Outside Salt + Smoke. | Jennifer Silverberg
Check out the full slideshow of Salt + Smoke here.
Follow Cheryl Baehr on Twitter at @CherylABaehr. E-mail the author at [email protected].
---