Goat cheese artichoke spinach dip. | Photos by Mabel Suen
The Place: Square One Brewery (1727 Park Avenue; 314-231-2537)
The Hours: Happy hour is offered Monday, Wednesday, Thursday and Friday from 4 to 6 p.m.
The Deal: A selection of $4.95 appetizers. $1 off beers and mixed drinks.
The Scene: If the weather's cooperative, definitely opt for a seat outdoors, as the dining room surrounding the restaurant's main bar can feel a little claustrophobic during prime time. The shady, enclosed patio features pretty, brick-enclosed archways and stalks of greenery to set the scene.
Beer battered chicken tenders.
The Food: Happy hour food specials include "12 Pack Buffalo Hot Wings," "Black and Tan Nachos," goat-cheese artichoke dip, a trio of dips, beer-battered chicken tenders and beer-battered onion rings. We opted for the restaurant's take on two traditional American appetizers: the artichoke dip and the chicken tenders.
Did Square One Brewery make the grade? Find out on the next page.
Square One Brewery's "Oh Hawaii" seasonal beer made with caramelized pineapple puree.
The Verdict: At first glance the menu's traditional choices didn't seem all that impressive, but Square One proved that it excels at the standards. The goat cheese served as a tasty counterpart to the often mediocre dish of artichoke-spinach dip, and it's served warm with toast points and tortilla chips. The beer-battered chicken tenders, served with honey mustard, were plump and juicy with a crisp batter lightened by beer.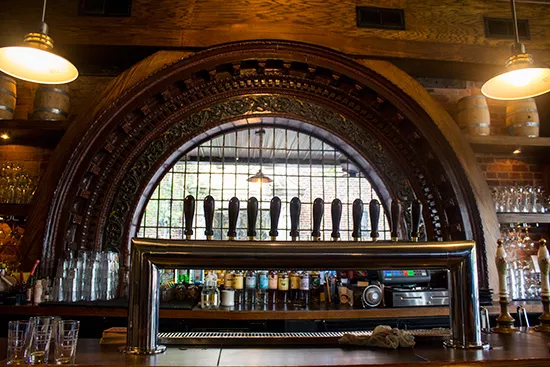 And speaking of the beer, Square One has several options to choose from. The menu features six "mainstay beers," including a "Belgian Spicy Blonde," and "Park Avenue Pale Ale." Seasonal brews include the "Oh Hawaii," an American wheat beer with fresh caramelized pineapple puree added to the kegs; it's a refreshing ode to summertime.
A dollar off doesn't seem like much, but after a few pints, the savings can certainly add up. If anything, it's a good excuse to have some hot, satisfying snacks while sampling all that Square One has to offer. We'll be back to try its specialty line of liquors, Spirits of St. Louis. The menu includes fifteen options ranging from ginger cello to "Island Time Crystal Rum."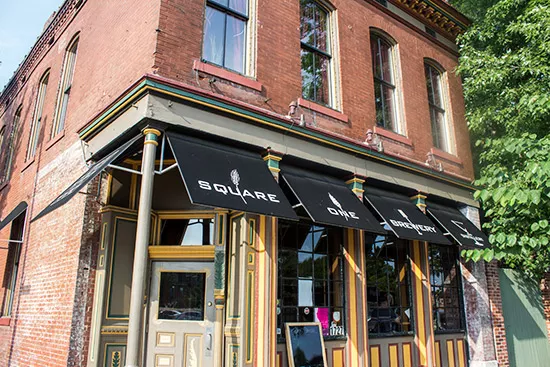 Located in Lafayette Square.
The Rating: On a scale of one to five...
Previously on Happy Hour Handbook: - Cicero's - SqWires - Layla - Five Star Burgers - Central Table Food Hall - Planter's House - Atomic Cowboy - Stella Blues - Triumph Grill - Lola - Basso - Blue Ocean Sushi - Hwy 61 Roadhouse and Kitchen - Gringo - Jax Cafe - Mile 277 Tap & Grill - Sandrina's - Mangia Italiano - Kirkwood Station Brewing Company - Steve's Hot Dogs on the Hill
We're always looking for some more happy hour meal deals. E-mail the author at mabel.suen@riverfronttimes.com.