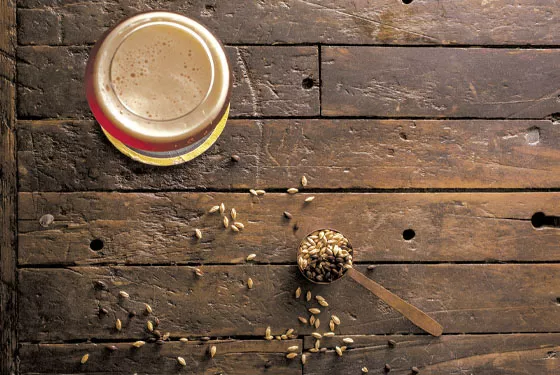 The taps behind many bars in St. Louis look very different today than they did two decades ago. Sure, there's probably still that familiar red Budweiser handle, but it's got additional neighbors in an ever-growing variety of local ales, porters, Hefeweizens and more.
Dan Kopman, cofounder of the Saint Louis Brewery (Schlafly), remembers how things used to be in St. Louis.
"You'd go into a bar, and you'd say, 'What beers do you have?' And people would say, 'We have them all,' meaning they had all the beers that Anheuser-Busch made," recalls Kopman.
Kopman and his business partner, Tom Schlafly, perhaps deserve the most credit for changing St. Louis' attitude about craft beers when they opened their Schlafly Tap Room in 1991. But the two entrepreneurs weren't alone. Other microbrew advocates were there early on, including Fran and Tony Caradonna, who operated a craft-brew distributorship called Signature Beer before later founding O'Fallon Brewery, and Steve Owings, cofounder of Morgan Street Brewery.
Here, then, is the history of how the microbrew movement started and flourished in St. Louis as told by the people involved from the beginning. It's a great tale, and one that eventually grew to include folks such as Bob Lachky (formerly of Anheuser-Busch), restaurateur Joe Edwards and newcomer Florian Kuplent of Urban Chestnut. So, go ahead and pour yourself your favorite brew and eavesdrop on the discussion. Or, better yet, come celebrate these beer-minded folks and others at Riverfront Times' Q and Brew in the Lou barbecue and craft-beer party Saturday, August 23, at Union Station.
Tom Schlafly, cofounder of the Saint Louis Brewery (Schlafly): By the late '80s, people still thought something like microbreweries would never exist in St. Louis. Anheuser-Busch was the brewery. That's just who it was, and you didn't start another brewery in the shadow of the brewery. So when we opened in '91, we got a lot of media attention because a lot of people were pretty skeptical that the concept that might've worked in Denver or Seattle had any hope whatsoever in St. Louis.
Fran Caradonna, co-founder of O'Fallon Brewery: We spent a lot of time explaining to people, what is a microbrewery beer. People, especially in St. Louis, were so loyal to Anheuser-Busch, and for good reason. People didn't know this small local-brewery movement that was happening on the East and West coasts. The first years were a lot of education.
Schlafly: I guess I had an instinct that somebody was going to be doing this successfully. I wasn't positive we were going to succeed, but if I hadn't tried, I'd be kicking myself forever. I was sure that within five years, somebody else [was] going to have a successful microbrewery, and I at least needed to give it a try.
Dan Kopman, cofounder of Schlafly: I was working for a brewery in London and Tom and my dad [Charles Kopman], they were law partners here in St. Louis. That's how I met Tom. We came up with this idea, and we came back from London to build the brewery but we were never going to stay. To me, [St. Louis] was not very entrepreneurial, it was very set in its ways.
Jennifer Silverberg
Dan Kopman and Tom Schlafly founded the Saint Louis Brewery in 1991 in the shadow of Anheuser-Busch.
Tony Caradonna, cofounder of O'Fallon Brewery: We opened [the distributorship Signature Beer] in 1990, and there literally were no microbreweries in St. Louis. I went around to the few craft breweries that were in the Midwest and corralled about 40 brands and brought them to St. Louis. Dierbergs was the first chain to give me a microbrewery section, and that was awesome. Schnucks followed after that. Millstream Brewery from Iowa was the first craft beer we brought in to St. Louis, and then Oldenburg [Brewing Company] from Fort Mitchell, Kentucky, followed.
Kopman: We knew, unlike others, that we were coming into a place where not only were consumers and retailers not necessarily looking for new beer styles, they weren't looking for a new brewery. In the late '80s, nobody [was] really interested in buying beer from another brewery, irrespective of other beer styles. So that's why we started with the pub attached — the brewery with a restaurant as the way in which we would introduce St. Louisans to new beer styles.
Steve Owings, cofounder of Morgan Street Brewery: My partner, Dennis Harper, and I, we've been partners on the Landing since 1982. We started Harpo's together. He had seen some breweries out in Denver — as soon as you walk in, you see these different colored beers sitting on tables, and it was kind of exciting. We thought we could make some great beers, too.
Kopman: A new brewery's opening — in this town you get a lot of press. It was more, "Wow, somebody's building a brewery, what's this all about? Are they challenging Anheuser-Busch?" That kind of thing. Obviously they figured out pretty quickly, or they should have, that we weren't trying to do that. We were essentially trying to fill a void.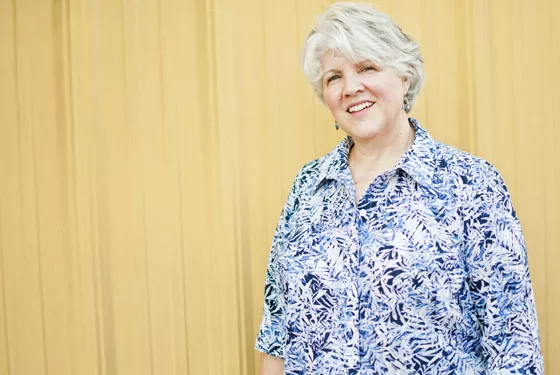 Jennifer Silverberg
Fran Caradonna was instrumental in introducing microbreweries to St. Louis before she cofounded O'Fallon Brewery.
Fran Caradonna: When people would say, "How is this beer different than Anheuser-Busch beer? Or, what is this thing you do?" We would say, "Beer brewed at a local brewery is like buying your bread from the local bakery down the street. It's made in small batches, it's made with more carefully selected ingredients a lot of the time and it's not sold on a massive scale. That doesn't mean it's better or worse, it's just different." And I was [recently] thinking: I haven't had to use that analogy in close to a decade because people know what craft beer is now.
Kopman: We knew we couldn't just do bar food. We had to have a menu that was consistent with the quality of the beer and also the styles of beer we were making. So the menu was, at the time, challenging for some consumers because there was no Budweiser. There were no TVs, there was no music, there were no toasted raviolis, there were no nachos, chicken wings. Items like sticky-toffee pudding, a Scottish dessert to go with Scotch ale. Nobody ever had that before. We had a sort of hope that there were enough people looking for something different.
Tony Caradonna: I was there on opening day for Schlafly celebrating with those guys. We knew how cool it was, we just didn't know how fast it would grow, how big it would grow. And here it is, twentysomething years later and it's like, holy shit.
Kopman: Tom and my dad, I call them the last men standing. The feeling I got was, these are the last two guys who think the city's actually going to come back. When I first came down to look at buildings, Tom and Charles [Kopman] said, "This has to be in the city." And we were just looking for a cute little building to renovate. I mean, there were no [working] streetlights on Washington Avenue. There was no reason for them. There was nobody there.
Owings: We found a great spot — I guess it was the Second Street Diner building at that time. It had been vacant for about four years. It's a huge building that we're in, 20,000 square feet, so it needed something that was going to be able to fill up the building and a microbrewery kind of fit the bill.
Kopman: There were other brewpubs like Morgan Street [by the mid-1990s], but the difference was, we always had this vision where we wanted to create a beer brand. We didn't sell anything but our beer. The others were opened by restaurateurs — and they're friends, Bob Kirkwood at Trailhead and the people down at Morgan Street. But they were restaurateurs, and they continued to sell A-B products, because they wanted to make sure they were pleasing their restaurant customers. We were willing to essentially say to people, "Look, if that's what you want, there's plenty of other places to go." It's not like the A-B tour center has samples of Schlafly beer.
Fran Caradonna: One of the things that changed dramatically since that time is that the craft-beer drinkers and their palates are so much more sophisticated, and they're interested in drinking lots of different styles.
Kopman: It was a very, very slow evolutionary process from 1991 through to 2004 when [Schlafly] Bottleworks opened.
Schlafly: We had a so-called microbrewery license, which meant we could only operate a brewpub. I started getting requests from other bars and restaurants saying, our customers are asking for your beer, can you sell it to us? And I said no. Missouri law won't let us. And I knew the demand was there. So in '93 I went back to the legislature and they changed the law that in essence allowed us to sell beers to other bars and restaurants through wholesalers, and it increased our production limits from 2,500 barrels to 10,000 barrels [per year].
Owings: I think Tom was instrumental in changing the liquor laws at that time. They were a little more restrictive than they are now, and of course we appreciate all the hard work he did for that.
Tony Caradonna: The beer-centric bars like Blueberry Hill, Mangia Italiano — they caught on real quick.
Kopman:
The first three accounts, and I can remember them, were Cardwell's in Clayton, Blueberry Hill and the Trainwreck in Rock Hill. And it was pale ale, Hefeweizen and oatmeal stout, the first three beers, along with a European pilsner we made here. In 1991 an oatmeal stout at 6 percent ABV was a pretty radical beer.
Joe Edwards, owner of Blueberry Hill: Other restaurants were hesitant [to serve Schlafly] because they were, "Oh, they'll compete with [our] restaurant." I didn't see it that way at all. Blueberry Hill had always been known for many, many years for having the biggest selection of beers in St. Louis by far, because in the beginning, we didn't have a full liquor license.
Fran Caradonna: We were Schlafly's second wholesaler. We distributed Schlafly's beer for the first six or seven years that they sold beer outside of the Tap Room. [Tony] went out to the retailers — the Dierbergs, the Schnucks, the specialty liquor stores and said, "Hey, there's this category out there that you've never heard of." He helped sell it in to the retailers back in the early '90s.
Edwards: It was difficult for customers to pronounce the name at first, but once they could pronounce the name, they would keep coming back and say, "I want a Schlafly pale ale. I want a Schlafly." It was kind of fun watching them learn how to pronounce Schlafly. The taste is what won out. That's why they kept coming back to it.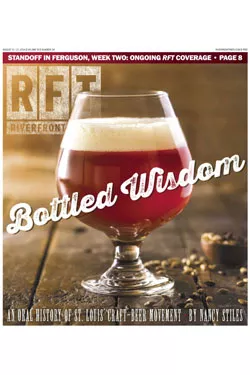 Photography by Jennifer Silverberg
The cover of the August 21, 2014, Riverfront Times.
Fran Caradonna: We ended up selling Signature Beer to Major Brands in 1998. Our dream had always been to have our own brewery, so we decided to start [O'Fallon Brewery] in St. Charles County, because we had been so close to Schlafly. We'd been their partners in growing their brand in St. Louis from about '93 to '98. It felt a little like virgin territory. Schlafly wasn't out there. It wasn't that we couldn't legally compete with them, but we didn't really want to compete with them because we'd been so close at that point.
Bob Lachky, former chief creative officer for Anheuser-Busch: There was no doubt in, oh, gosh, let's put it circa 2000, that the only real viable craft beer on the scene here in St. Louis was Schlafly. They had been the real pioneers as far as building any kind of critical mass. I got to know Tom and Dan through an initiative that [Anheuser-Busch] kind of recognized, and that was the deterioration of beer at the expense of other forms of alcohol, particularly spirits and wine. When we first got together we said, "Why don't we just do something to raise awareness about beer?" We came up with what we call our St. Louis Beer Festival [now the St. Louis Brewers Guild Heritage Festival], and we staged it the first year in Forest Park, and it was a huge success.
Schlafly: You don't realize it's happened until you're looking in the rearview mirror. You hear people talking about craft beer, and when we did the Brewers Heritage Festival and saw other brewers out there, that was an eye-opener for me.
Kopman: 2008 is really the defining year in my mind. That's when craft beer as it's known to consumers today started — November of 2008 with the sale of Anheuser-Busch. Because what happened then was consumers came to us and said, "We want you to replace A-B." We were 17,000 barrels in 2007 and people came to us asking, "Where can I buy Schlafly Light 30 packs?" And we said, "Look, that's not who we are." We spent a lot of time talking about this. It's like, that's not who we are, we're a craft brewer. We don't make light lager styles.
Fran Caradonna: I think that when Miller sold to SAB — South African Breweries — and a few years later Anheuser-Busch sold to the Brazilians, what it did was turn a spotlight onto the beer industry, and people started looking at it closely. And people said — regular, loyal beer drinkers, brand loyal to Bud, Miller and Coors — I want beer that's made in America. It became a story that the media chased down and it turned a spotlight onto this little tiny percentage. We were under probably 5 percent of the beer market at that point. And I think that directed attention towards us and people became interested in finding out more.
Florian Kuplent, cofounder of Urban Chestnut Brewing Company:
I worked here for A-B, so we were living here and had been living here for probably six, seven years at the time before we opened Urban Chestnut. Obviously, St. Louis is a beer town, that's always a good base. We weren't going to do it anywhere else.
Schlafly: I wasn't worried about competition. It was more if someone opened a microbrewery and put out lousy beer, that would poison the concept in people's minds. Most of the other breweries are making very good beers, and I think it's good for the craft-beer scene overall. If St. Louis has a reputation for having a good craft-beer scene, I think that benefits all of us who are part of it.
Fran Caradonna: I think the kinds of breweries that are opening up today are much different than, say, O'Fallon Brewery or Schlafly. In this day and age, selling off-premise is much harder than it was fifteen years ago because there's much more competition from all over the country.
Kuplent: When we first made the plan before we opened, brewery No. 2 was not anywhere near what we thought would happen. Yeah, you hope your business is going to grow, but we didn't anticipate that it was going to get that popular or that big in that short period of time.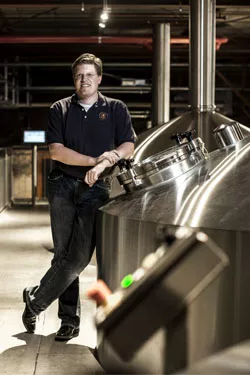 Jennifer Silverberg
Florian Kuplent of Urban Chestnut is leading the next generation of brewers in St. Louis.
Kopman: All of a sudden you have the start of all these new breweries after 2008 — O'Fallon was bought by the Gorczycas who worked for Budweiser, and Florian and David left A-B and started Urban Chestnut, and Kevin Lemp [at 4 Hands] brought a brewer down from Chicago and then Jake [Hafner, of Civil Life], who had thought about it for awhile opened up. I think all those new breweries sent a message to people that this was no longer going to be a town just owned by A-B, and we can do this. It gave people the confidence to do it.
Tony Caradonna: I wouldn't have predicted twenty-plus breweries in St. Louis. Not only am I glad to see it, I've been to all of them — the quality is amazing. Amazing. St. Louis, Missouri, is obviously a beer town, dominated by a big brewery in the last fifty years, and to see the quality and the passions of the brewers themselves — what a community.
Lachky: It has to crash. It has to slow down because it's not sustainable. These guys are not making enough money. The good ones will survive, the ones that have an understanding that's a long-term play, they have deep pockets, they have a desire to stay in the business because they love it.
Edwards: There's still room for more of that, I think, and then it gets to a limit where there are only so many people in this country and so many gallons of beverages they can consume.
Owings: There's probably 23 of us, something like that. We're all part of the Brewers Guild. All the brewers get together and of course talk, and from day one we could talk to Dan and Tom over at Schlafly and Bob out at Trailhead, and it's a nice community. We always help each other out, and I think the brewers kind of fed off each other. I consider the brewers more or less like great chefs — they do stuff that is artisinal as opposed to mass-produced stuff. So you let 'em go, let 'em do their stuff, and they make some great stuff to drink.
Kopman: The industry I think will continue to grow. Let's put it this way — I think the share of the total beer market that is made up by non-light lager beers will grow. The question is: Who's gonna brew those beers? Obviously Bud and Miller don't want to lose market share. They would like to be the ones to brew those beers.
Fran Caradonna: It creates challenges for those of us who are competing for a little bit of a share in the consumer's mind, but I think it's a good thing over all. We can differentiate it. It's about who we are and what we care about. Beer for a lot of people is just a passion. It becomes way more than just something they can consume. It's nice to have a larger number of the consumers becoming as passionate as we are.
Kopman: It's always been a bit jazz-like, less symphony-like in terms of how we've evolved and developed. So yeah, you'd love to say, if you build it they will come, but you also don't want to bet the whole shooting match on that. Non-light lager beer is still a small share in St. Louis, and the share of independent brewery sales versus A-B and MillerCoors is still very small in this market. So to me, there's plenty of growth opportunity long term. It's not easy to predict — you just have to plug away.
Tony Caradonna: Everybody that comes to me now — my advice is to do it yourself. The passion back then, I see in the craft brewers now. That is really cool.