Tick Tock Tavern and Steve's Hot Dogs shared a busy debut. | Photos by Mabel Suen
Last night hot-dog fanatics of all ages rejoiced for the anticipated opening of the second location of Steve's Hot Dogs (3457 Magnolia Avenue). The restaurant, owned by local musician Steve Ewing, made its debut with partners and adjoining neighbors Tick Tock Tavern (3459 Magnolia Avenue), a bar that opened its doors for the first time in twenty years under new ownership. As Gut Check reported in May, Tick Tock Tavern's revival comes from its new co-owners Thomas Crone, Fred Hessel and Steve Smith (of the Royale).
See also: Tick Tock Tavern to Reopen After 20 Years with Steve's Hot Dogs
Steve's "Micho" chorizo dog with cilantro, chipotle onions, relish, spicy brown mustard, jalapeno and avocado.
Steve's Hot Dogs offers its full menu of loaded sausages and Nathan's hot dogs, topped with everything from creamy pasta shells to veggies and chili cheese. The inside doesn't detract from the theme of the original location, with the Urge's music playing overhead and Star Wars toys on every ledge.
Next door, Tick Tock Tavern maintains its original '90s identity with wood-paneled walls decked out in original vintage signage, owl paraphernalia and more. Not yet operable Donkey Kong and Pac Man arcade cabinets occupy a couple corners, and a small, straightforward drink list features a selection of beer, wine and spirits. No-frills cocktails available for around $5 each include a "VO Highball," "Rye Manhattan" and "Gin Rickey" made with rail gin, fresh lime juice and club soda.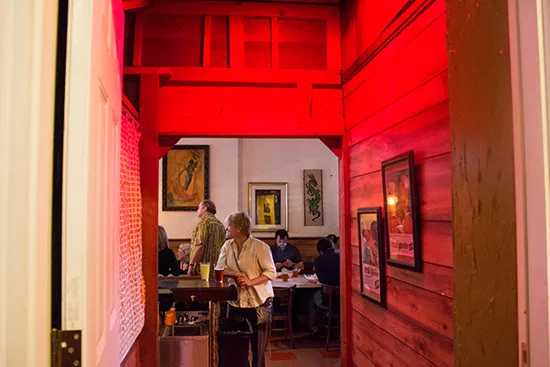 A short hallway connects Steve's to Tick Tock Tavern.
"Our hits on the night were Busch and Schlitz and Jameson, all sold out," says co-owner Thomas Crone. "It was an entertaining and interesting evening, and our to-do list grew, rather than shrank. We'll be ready for day two."
A set of doors in between the businesses serves as a short path inside to connect food with drink, while a shared patio brimming with visitors looks to be a welcome addition to the neighborhood. Steve's Hot Dogs' Tower Grove East location will be open Monday through Thursday from 4 to 10 p.m. and Friday through Saturday from 4 p.m. to 1:30 a.m. Sunday hours are yet to be determined.
Tick Tock Tavern's current hours are Monday through Friday from 4 p.m. to 1:30 a.m. and Saturday from noon to 1:30 a.m. from For more information, visit the Steve's Hot Dogs website or Facebook page as well as the Tick Tock Tavern Facebook page.
Click through for more photos.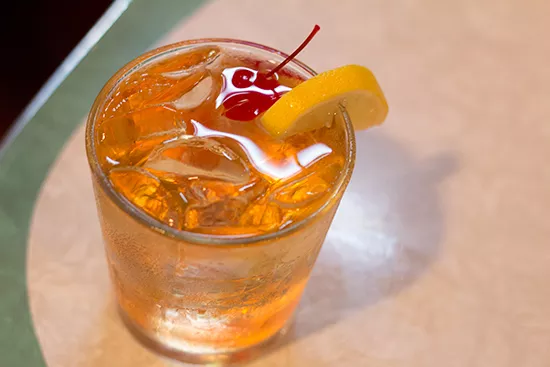 Tick Tock Tavern's "VO Highball" with Seagrams VO, Sprite, lemon and cherry.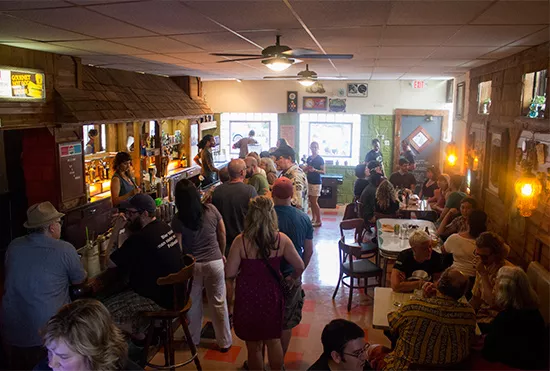 Busy crowd on opening night.
Co-owner Thomas Crone in front of some of Tick Tock Tavern's vintage signage.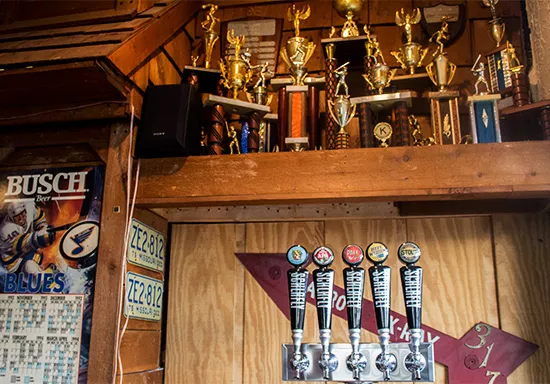 More vintage decor along with Schlafly on tap.
A view from the front window of the patio.
A tried and true combination.
Click through for photos Steve's Hot Dogs.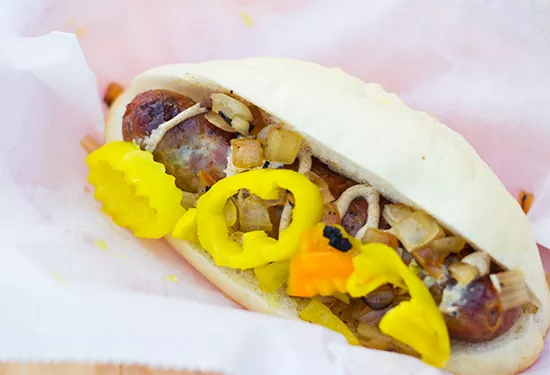 The Smoked "Stev-Imo" featuring Imo's salsiccia.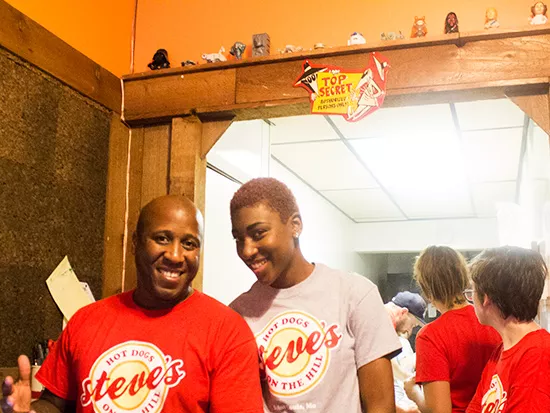 Owner Steve Ewing manning the helm on opening night.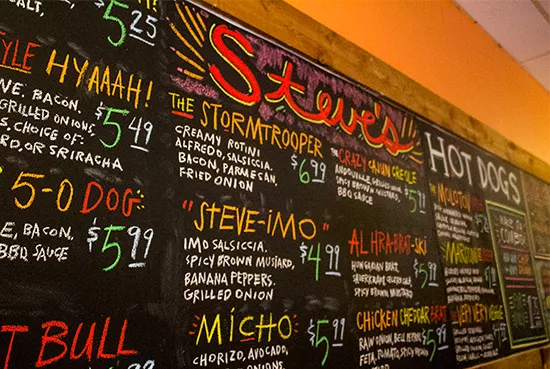 Colorful menu drawn by local artist Jason Potter.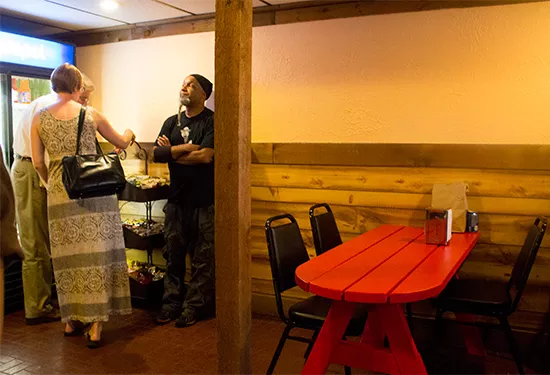 A corner of the dining room.
The "Bacon Bacon Jamaican" with bacon, pepper jack, jerk seasoning, bell peppers and sweet chipotle sauce.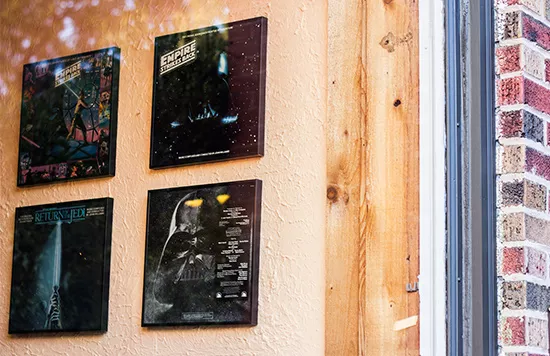 The main theme: Star Wars.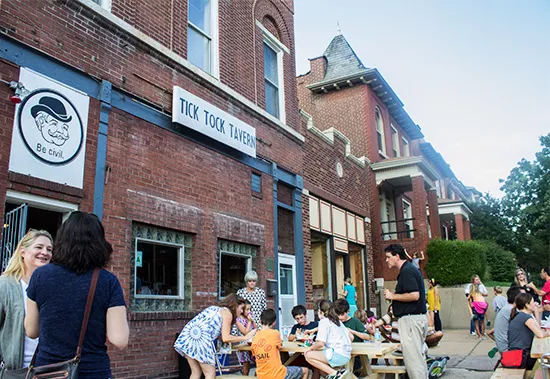 Now open in Tower Grove East.
See also: - First Look: Ices Plain & Fancy - First Look: A Pizza Story - First Look: Peacemaker Lobster & Crab Co.
Gut Check is always hungry for tips. E-mail us!