The Peacemaker bar. | Nancy Stiles
Kevin Nashan's highly anticipated restaurant, the Peacemaker Lobster & Crab Co. (1831 Sidney Street; 314-772-8858), opened last night in Benton Park with just a few hours' notice. The place was still lively, though, with Nashan himself dismantling crabs in the kitchen window and servers flitting around the rustic, beachy dining room. We stopped by to see just how good the seafood can be in the middle of America.
See also: Kevin Nashan to Open Peacemaker Lobster & Crab Co. in July
Lobster Frito pie comes in a Red Hot Riplets bag. | Nancy Stiles
Peacemaker is just steps away from Nashan's other restaurant, Sidney Street Cafe. "I just think it's a fun opportunity for us to do something that's a little different that I don't think has really surfaced in St. Louis. It's like when you say, 'Why do you do something?' I don't know -- sometimes it just picks you," Nashan told us in June.
The menu was influenced by his time in New Orleans, as well as Maine and Maryland. He said he wanted the decor at Peacemaker to "scream America," which it certainly does -- the larger-than-life photos of fishermen and oyster shuckers are surprisingly beautiful, and one can imagine the transformative feel it will provide come winter.
The Peacemaker is open Monday through Thursday from 4:30 to 10 p.m., Friday and Saturday from 4:30 to 11 p.m. and Sunday from 1 to 9 p.m.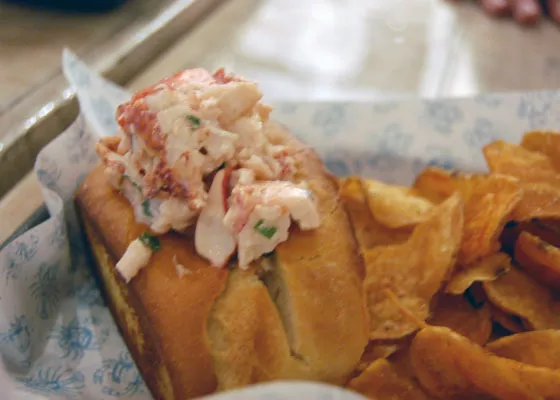 The Maine-style lobster roll. | Nancy Stiles
The raw bar. | Nancy Stiles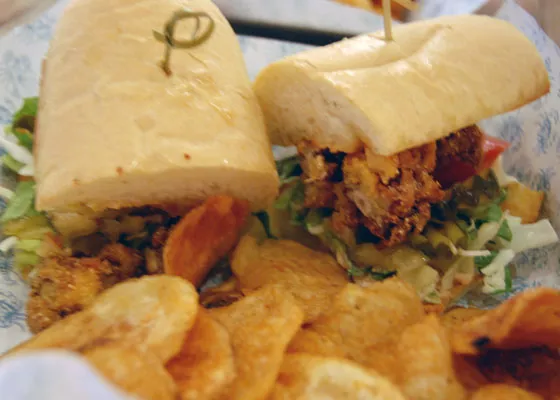 The restaurant's namesake is a fried oyster poorboy. | Nancy Stiles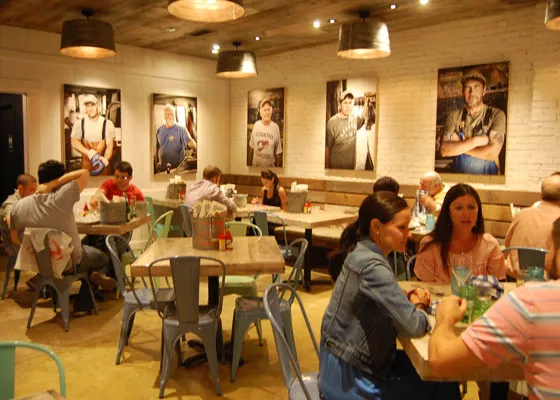 The back dining area. | Nancy Stiles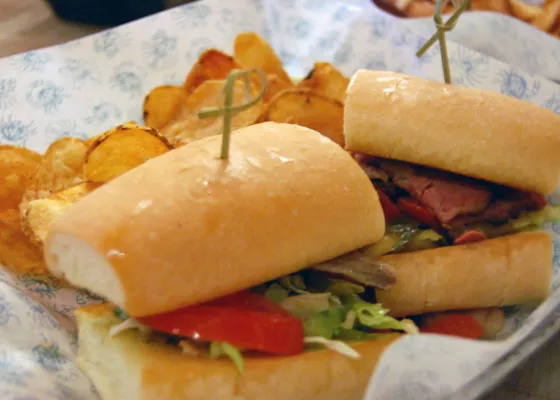 The smoked-brisket poorboy doesn't even need sauce. | Nancy Stiles
Continue for more photos and the full menu.
Hey, a corn dog that wasn't frozen! | Nancy Stiles
Another dining area. | Nancy Stiles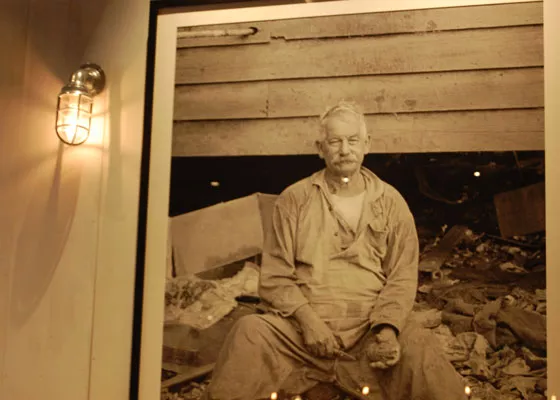 Americana and seafood-themed art lines the walls. | Nancy Stiles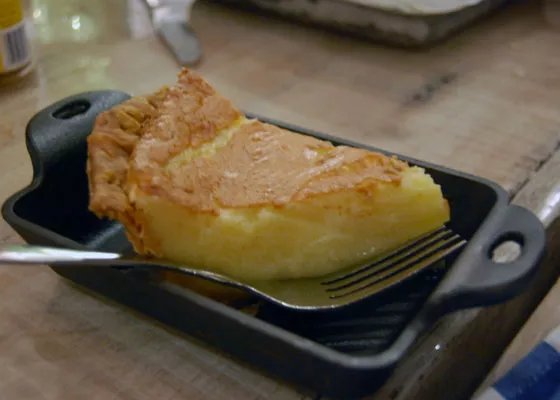 The chess pie is light enough to squeeze in after a hearty meal. | Nancy Stiles
Gut Check is always hungry for tips and feedback. E-mail the author at Nancy.Stiles@RiverfrontTimes.com.
Follow Nancy Stiles on Twitter:
---