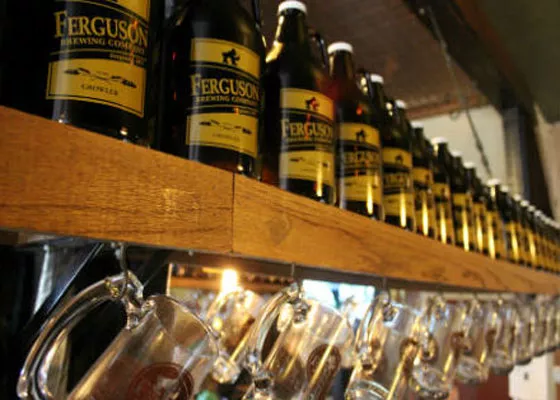 Growlers at Ferguson Brewing Company. | Pat Kohm
With so much bad news coming out of Ferguson this week, it's reassuring to see people building up the community and supporting each other. In that spirit, we'd like to suggest five of our favorite Ferguson restaurants that could use some love.
See also: Ferguson: An Updated Guide to Restaurants Along Florissant Road
Ferguson Brewing Company (418 South Florissant Road, Ferguson; 314-521-2220)
There's no shortage of craft breweries in St. Louis, but Ferguson is one of our favorites. Along with favorites like the Munich Dunkel and seasonal Peach Wheat, the former Hill Brewery also crafts wildcards like last year's Watermelon Saison. The food ain't bad either -- its sweet habanero wing won overall favorite at the 2012 UPC Heartland Wing Ding competition.
Strawberry shortcake at Cork Wine Bar. | Jennifer Silverberg
Cork Wine Bar (423 S. Florissant Road, Ferguson; 314-521-9463)
Prefer wine to beer? Head to this chic wine bar in Ferguson. Opened in 2009, Cork Wine Bar has bottles at nearly every price point, and many are available in three- or six-ounce pours. You can also get flights for between $10 and $15. Each wine comes with tasting notes; order some flatbread or sliders to go with the vino.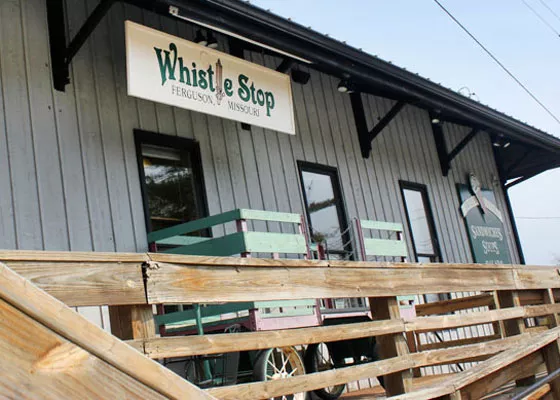 Whistle Stop Depot (1 Carson Road, Ferguson; 314-521-1600)
Ted Drewes isn't the only frozen-custard stand in town. Whistle Stop serves up its treats with whimsy -- watch the train roll by as you sip a malt or chow down on a waffle cone. There's an old-timey piano, too, and plenty of Ferguson history in the adjacent mini-museum.
Faraci Pizza North (520 South Florissant Road; 314-524-2675)
Family-owned Faraci Pizza has been making the same pies since 1968 with their grandmother's early-twentieth-century recipes. Owners Joseph and Dorothy retired in 1998, but their son Pete runs Faraci North while older brother Vince expanded the restaurant to Ellisville. Ferguson boasts the original location, though, so stop by and patronize one of the oldest and best pizza joints in St. Louis.
Corner Coffee House (100 North Florissant Road, Ferguson; 314-521-4600)
Yes, you can get a hearty breakfast for around five bucks. The Corner Coffee House has fresh-baked pastries and pies every morning, not to mention specialties like chocolate-vanilla caramel espresso. Stop by for sandwiches and wraps during lunch.
If you're looking for more places to visit in Ferguson, Ian Froeb over at the St. Louis Post-Dispatch has a few picks, too.
Gut Check is always hungry for tips and feedback. E-mail the author at Nancy.Stiles@RiverfrontTimes.com.
Follow Nancy Stiles on Twitter:
---