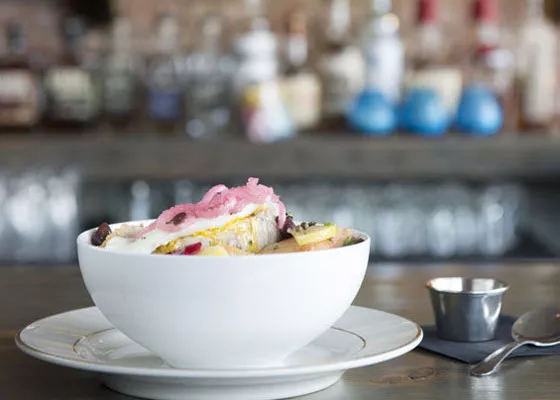 Lablabi at the Purple Martin. | Corey Woodruff
Fox Park standout the Purple Martin (2800 Shenandoah Avenue; 314-898-0011) has announced KT Ayers as executive chef, replacing Chase Overaker. Overaker revamped the menu shortly after we reviewed the restaurant in June but left in July.
See also: Critic's Notebook: The Purple Martin Revamps Menu to Focus on American Classics
As first reported by Sauce, Ayers is launching a new menu tomorrow, August 14, that will double the Purple Martin's current offerings. Ayers previously owned Riddle's Penultimate Cafe & Wine Bar until it closed in 2010.
Purple Martin co-owner Brooke Roseberry did not return calls for comment, but we'll update if we hear from her.
Here's Ayers' new menu:
Gut Check is always hungry for tips and feedback. E-mail the author at Nancy.Stiles@RiverfrontTimes.com.
Follow Nancy Stiles on Twitter:
---