Pizza chips with marinara sauce, black olives, tomatoes, green onions and mixed cheese. | Photos by Mabel Suen
The Place: Cicero's (6691 Delmar Boulevard; 314-862-0009)
The Hours: Happy hour is offered Monday through Friday from 4 to 7 p.m.
The Deal: Discounted appetizers. $1.25 off of all draft beers, $1 off wine by the glass, $2.25 domestic bottles, $2.50 well drinks.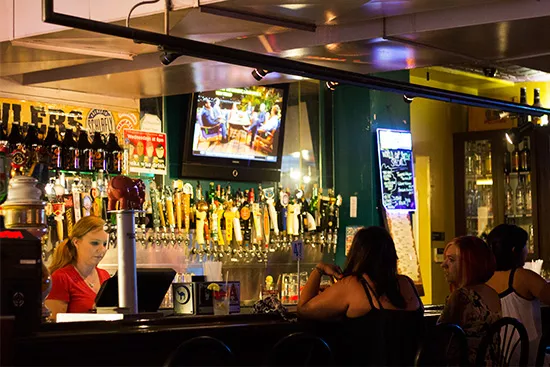 The Scene: Happy hour at Cicero's is relegated to the far side of the dining room, a lower-level seating area lit mostly by the glow of a projection screen displaying the game. Small groups seem to huddle in corners here while lone barflies grab a seat closest to the refreshments -- a wooden bar with a whopping 55 beers on tap. Non-regulars might have to throw some elbows to get an order in here, whether it's to place an food order or to simply grab a beer.
Salmon roll-up with red onions, tomatoes, spinach and cream cheese.
The Food: Cicero's offers sixteen different food items on its happy-hour menu, ranging from $1.50 to $6.59. Choose from typical fried options including beer-battered onion rings, toasted ravioli and three kinds of chicken -- wings, tenders and bites. Other selections, like spinach-artichoke and buffalo-chicken dips, seem pretty standard, too. We opted to begin with the item that seemed most unique to the restaurant's standard Italian-American menu -- loaded pizza chips.
Did Cicero's make the grade? Find out on the next page.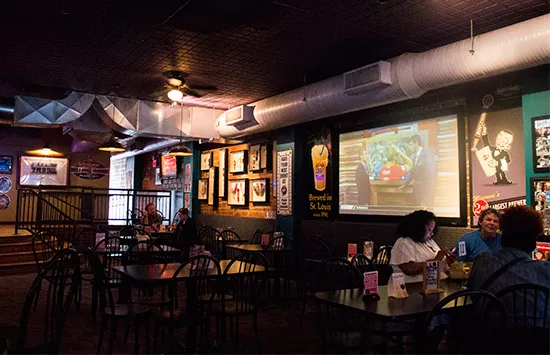 The designated dining area for happy hour.
The Verdict: The pizza chips begin with the base of a few different options on the happy-hour menu: "Cicero's Famous Homemade pizza dough," fried in hot oil until crispy and brown around the edges. The chips we ordered came topped with marinara, black olives, tomatoes, green onion and mixed cheese cooked until bubbly. The dish seemed fine, but after a few bites it began to taste like slices of St. Louis-style pizza unceremoniously stacked on top of one another. The same chips come with the menu's dips as well as dressed down with a simple topping of Parmesan, garlic, parsley and a side of a marinara -- likely a tidier alternative than the pizza chips we ordered.
Breaded portabella mushroom wedges with marinara.
An order of breaded portabella mushroom wedges provided a nice alternative to the regular white button variety, albeit dripping with excess oil in each bite. A grilled salmon wrap proved a tad too juicy for a finger-food but came with an addictingly tangy, spicy dipping sauce.
All in all, the selections and execution here were pretty average. If a low-key spot to catch the game with some cheap brews and fried food is all you're after, Cicero's has that down pat.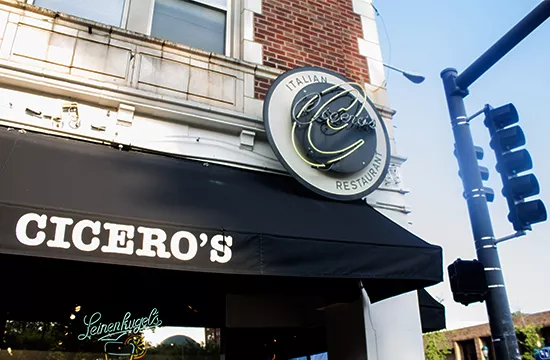 Cicero's in the Delmar Loop.
The Rating: On a scale of one to five...
Previously on Happy Hour Handbook: - SqWires - Layla - Five Star Burgers - Central Table Food Hall - Planter's House - Atomic Cowboy - Stella Blues - Triumph Grill - Lola - Basso - Blue Ocean Sushi - Hwy 61 Roadhouse and Kitchen - Gringo - Jax Cafe - Mile 277 Tap & Grill - Sandrina's - Mangia Italiano - Kirkwood Station Brewing Company - Steve's Hot Dogs on the Hill
We're always looking for some more happy hour meal deals. E-mail the author at mabel.suen@riverfronttimes.co