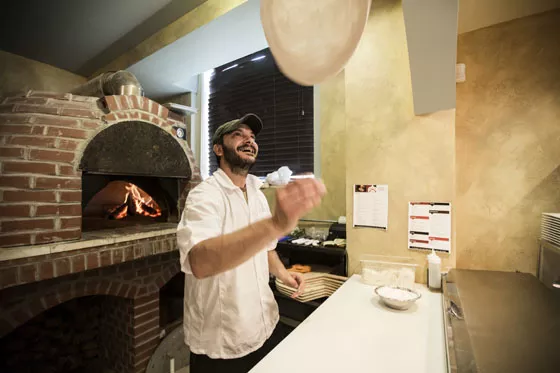 Chef Ivan Malinov making a pizza at Pizzeria Mia. | Jennifer Silverberg
Pizzeria Mia (4501 Maryland Avenue) Hours: 11 a.m.-11 p.m. Sun.-Sat.
"I keep forgetting we're in St. Louis," my friend said as she bit into a slice of Pizzeria Mia's pepperoni pie. "Everything about this place -- the food, the furnishings, it's like I'm home."
The home to which she refers isn't Naples, Rome or any other exotic Italian locale. It's New Jersey. And as soon as she made the connection, it clicked. Up to that point, I didn't know what to make of Pizzeria Mia -- nothing about the place is Italian. The restaurant occupies a storefront that used to be a travel agency on the corner of Maryland and Taylor avenues in the Central West End, and it doesn't seem like much has changed in the way of décor since then. The yellow walls, painted with an antiqued effect, are dotted with conference-room art, and the seating is shiny black tables and red leather chairs. It's a little cheesy, a little tacky and a little, well, Jersey.
But tacky isn't necessarily a bad thing.
See also: Siam Aims to Be a Place to Eat, Drink and Be Bear-y: Review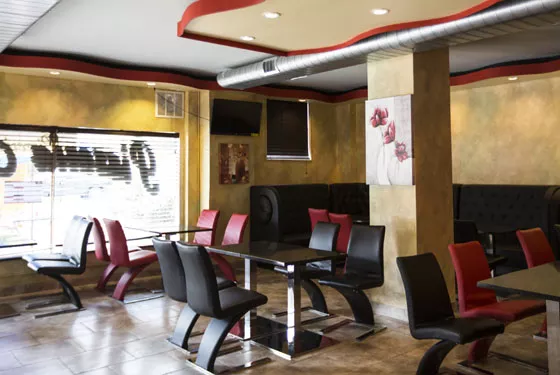 The dining room. | Jennifer Silverberg
In fact, my friend meant her comment as a compliment, and after a meal filled with endearingly earnest service and pretty good East Coast-style pizza, I can see why Pizzeria Mia filled her with nostalgia for her beloved Garden State diners. Dado Beganovic, a Bosnian émigré who also owns Café Milano in the Bevo Mill neighborhood, opened Pizzeria Mia in May. His friend had a secret family recipe for crust that he brought from Bulgaria, and he was willing to teach him the art of pizza making. Beganovic sought out a wood-fire oven and got down to business.
Stylistically, the pizzas are Neapolitan: soft, doughy crust dotted with a little crispness around the perimeter. It lacks the characteristic char blisters, however -- the oven simply doesn't get hot enough. (Pizzeria Mia's clocks in at about 650 degrees, whereas classic Neapolitan pizza ovens are at least 200 degrees hotter.) The generous toppings also make them closer to their American cousins. Like the Neapolitan classic, Pizzeria Mia's Margherita is simply crust, sauce, cheese and basil. Unlike the traditional version, however, the sauce is spiked with spice and oregano, and the mozzarella is cow's milk (not buffalo mozzarella). Purists will nitpick, but it satisfies.
Mia Pizza - pesto, shredded mozzarella, chicken, red peppers, artichoke, olive. | Jennifer Silverberg
The pepperoni pizza is straight out of a Jersey diner. The pie is covered with so much pepperoni that the grease leeches out all over the cheese -- so much so that the mozzarella turns orange.
Pizzeria Mia's gyro pizza is a nod to its east of Italy heritage. There is no tomato sauce. Instead, the dough is brushed with olive oil then piled high with thinly sliced gyro meat, sliced tomatoes and a drizzle of creamy tzatziki sauce. It was a tasty Greek twist, but mysteriously, the lettuce and feta cheese described on the menu were missing. These elements would have vastly improved the pizza's color, crispness and flavor.
Pizzeria Mia's calzone lacks the cheesy, gooey decadence one expects from the stuffed treat. Mine was filled with a watery mix of capers, mushrooms and olives, and served with a side of pizza sauce. There was no cheese inside; rather, the top of the calzone was covered in melted mozzarella. It didn't seem fried either -- the doughy crust was spongy, not flaky or crispy as it should be. It tasted as though they took one of their pizzas and just folded it in half.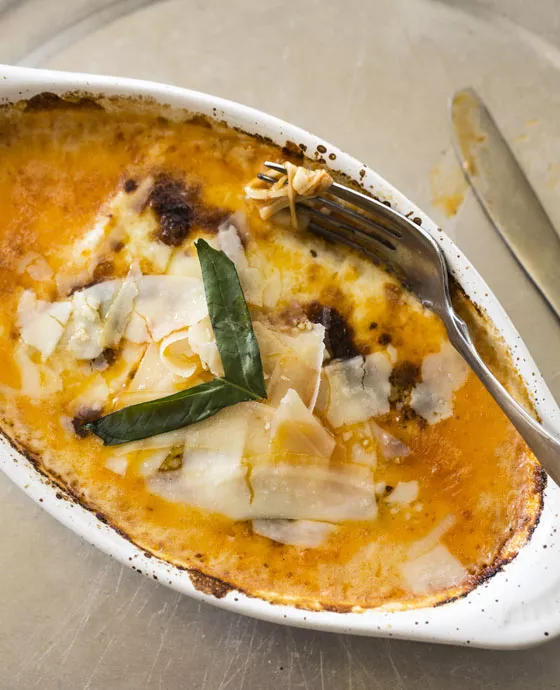 Cannelloni. | Jennifer Silverberg
Perhaps the missing cheese from the calzone found its way to the cannelloni. The meat-filled pasta was covered in tangy tomato sauce and smothered in mozzarella and shredded Parmesan. Though not exactly highbrow Italian cuisine, it's shamefully tasty. Pizzeria Mia's best dish, by far, is the spinach pizza. Smashed roasted garlic is spread over the shell in place of tomato sauce. That's topped with rich ricotta cheese, which mingles with the spinach to create a creamed effect, then the whole thing is finished with a layer of fresh mozzarella. This is the restaurant's No. 1 seller, and it is easy to see why.
Bagonovic's mother, a former baker, serves as the restaurant's pastry chef. She whips up fresh European pastries out of her home kitchen and brings them to Pizzeria Mia in Rubbermaid containers, filling a display case with a rotating variety of options. On the day of my visit, she was offering a spiced chiffon cake layered with strawberries and cream. The airy dessert was a tasty summertime treat.
Pizzeria Mia may not bring diners to the Mediterranean coast, but that's all right -- Jersey has a pretty nice shore, too.
Follow Cheryl Baehr on Twitter at @CherylABaehr. E-mail the author at Cheryl.Baehr@RiverfrontTimes.com.
---