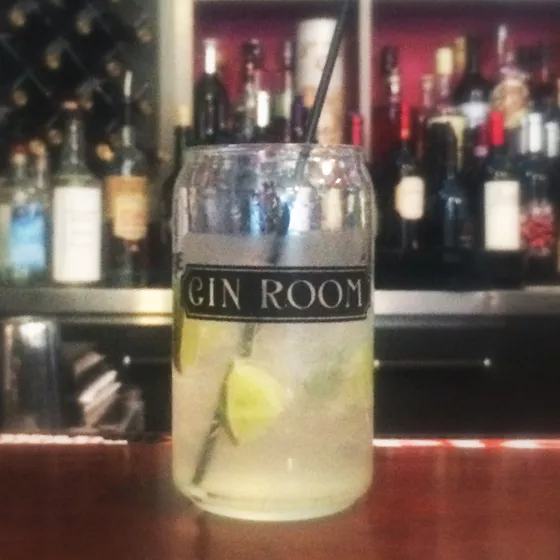 Gin and Tonic at the Gin Room at Café Natasha's | Patrick J. Hurley
The Drunken Vegan, a.k.a. Patrick J. Hurley, is a full-time barman at the Civil Life Brewing Company and cocktail enthusiast about town. He's an unapologetic drunkard, a vegan and a bon vivant, and, no, he doesn't think those last two terms contradict each other.
Natasha Bahrami is as passionate about her mixers as she is about her gin. It makes sense. Why mix a great gin with an inferior tonic? She makes her own and is getting ready to offer classes in how to do it at the Gin Room in Café Natasha's (3200 South Grand Boulevard; 314-771-3411). She recently gave the Drunken Vegan a private tutorial. It turns out making tonic water is a lot easier than you might think.
See also: Local Bartender Tyler Baublitz Invents Cocktail-Themed Beard Oils
"The better tonics on the market are concentrated syrups that tend to dominate the gin, or lighter varieties like Fever Tree [a type of "premium" tonic water] that have a little citrus and a little lemongrass, but that's about it," Bahrami explains. "Why make your own tonic? It just makes gin more fun ... and it's easy."
Bahrami also likes to make her own tonic water because she can concoct special blends to pair with the individual flavor profiles of the gin.
On our visit, Bahrami shows the Drunken Vegan how to make a very Persian-influenced tonic: Saffron-barberry, which she says is a perfect match for big, juniper-forward gins.
"Most commercial tonics contain quinine, lemongrass and allspice," she says. "Beyond that, you can add what you like."
Our ingredients included (clockwise) cinchona bark (raw and then ground), barberries and saffron. | Patrick J. Hurley
The two main natural sources of quinine are cinchona bark, which is dark and bitter, and cassia bark, which is lighter and even more bitter. The bark looks like small wood chips and needs to be ground into a fine powder -- a coffee grinder will do the trick. This is the one ingredient that is tough to find in a local grocery store -- we found some on Amazon.
While most of the ingredients can be eyeballed, Bahrami advises carefully measuring the cinchona bark.
"The more you add, the more the bitter aspect of the tonic," she warns.
Start with about eight cups of cold water.
Add one tablespoon cinchona bark.
Add a handful of saffron-safflower mixture, which will give the finished tonic an earthy flavor and aroma, as well as a gorgeous golden color.
Toss in a handful of sliced lemongrass for a big citrusy flavor.
Add four dried allspice berries and a dozen barberries. These latter are used in Persian cuisine. They look like red currents but have a very tart flavor.
Bring everything to a boil, then simmer it for ten minutes or so.
Let the mixture cool completely. As the spices continue to steep, they will impart more flavor to the tonic.
Find a clean jar that will hold the tonic and strain the fluid into it. Use a double strainer, a very fine strainer, or a cheese-cloth-lined strainer because the cinchona powder is quite fine and you want to remove it all.
Refrigerate your tonic water and use within a couple of weeks.
Some people would probably add a sweetener to this recipe, but Bahrami prefers to add simple syrup to the cocktail afterward. "I like to sweeten the drink to the taste of the individual customer," she says.
Now you're all set to make the best gin and tonic you've ever had. Feel free to experiment with your tonic. You can use gentian root, cinnamon sticks, cardamom pods, any citrus zest or peel, peppercorns or Sichuan peppers, cloves, or star anise.
There's also a whole lot more to learn at Bahrami's tonic class at the Gin Room on Wednesday, September 24th at Cafe Natasha's. For more information or to RSVP, contact Natasha Bahrami at cafenatasha30@gmail.com or head to the Facebook page.
Follow Patrick J. Hurley on Twitter at @VeganDrunkard. E-mail the author at Patrick.J.Hurley@HurleyHouse.com.
---