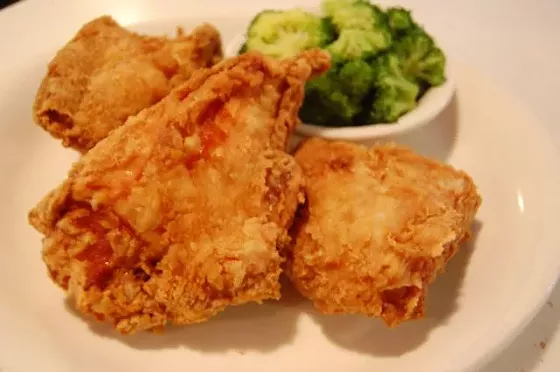 Frank & Helen's Pizzeria's broasted chicken. | Cheryl Baehr
Frank & Helen's Pizzeria (8111 Olive Boulevard, University City; 314-997-0666) is a St. Louis institution. The University City eatery has been serving diners its signature thin crust pizza, "charcoal steaks" (you have to love that sign out front) and Italian specialties since opening in 1956. On any given night the dining room is filled with multiple generations of guests -- some settling into tables adorned with a "reserved" placard like in the old days.
See Also: Olive Boulevard Asian Eateries & Much More: An Updated Guide to Restaurants Along Olive, Westward From University City
This charming scene alone is reason enough to love Frank & Helen's, but its broasted chicken is what keeps folks coming back. To the uninitiated, the menu looks like it may have a typo. Broasted chicken? Don't they mean "roasted"? A quick description quickly clears up the confusion. Broasting is basically a way of frying the bird in a pressure cooker so that the chicken cooks from the inside out (rather than from the outside in, like in traditional fried chicken). Before placing the chicken in the pressure fryer, Frank & Helen's marinates the meat for twelve hours. It's then lightly breaded, placed in the broaster and served searing hot. Bite into the skin without letting it rest, and you'll be given an impromptu facial from the steam that pours out. It's advisable to wait a few minutes to dig in, but how can one resist this crispy masterpiece?
Previously: #73: Parmesan Chicken Broth at Bocci Wine Bar #74: "Burger" at Small Batch Whiskey & Fare #75: Smoked Salami Sandwich at Adam's Smokehouse #76: Gyro on Pita at Olympia Kebob House & Taverna #77: The Johnny Cake at TreeHouse #78: A Classic Glazed Doughnut from Pharoah's Donuts #79: Skordalia at the Purple Martin #80: Beef Brisket Birria Taco Taco at Mission Taco Joint #81: Cappuccino from Sump Coffee #82: The Salted Caramel Croissant at Pint Size Bakery #83: Gnocchi at the Good Pie #84: Truffled Tater Tots at Blood & Sand #85: Marinated Feta Cheese at Evangeline's Bistro and Music House #86: Chorizo and Egg Sope at Spare No Rib #87: Duck Burger at Planter's House #88: WildSmoke's Smoked Chicken Wings #89: The Duck Prosciutto Flatbread at Bella Vino #90: The "Dam Burger" at the Dam #91: The "Hog Mess" at Blind Tiger #92: Khao Soi at Fork & Stix #93: The "Smokehouse Club" Sandwich at Bud's Smokehouse #94: Cafe Natasha's Yogurt Dip #95: Macarons at La Patisserie Chouquette #96: The Libertine's Fried Chicken #97: Pork Belly at Element #98: M'Lwee at Baida #99: Breadbasket at Juniper #100: Bucatini All'Amatriciana at Pastaria
Follow Cheryl Baehr on Twitter at @CherylABaehr. E-mail the author at Cheryl.Baehr@RiverfrontTimes.com.
---