Welcome to Sugar High, a series devoted solely to spotlighting the best ways to sate a sweet tooth in St. Louis. We'll sample the best the city has to offer at restaurants, bakeries and holes-in-the-wall, and provide some insight on how these confections are made along the way.
The Fountain's "Banana Bourbon" sundae. | Photos by Mabel Suen
Did you know that July is National Ice Cream Month? OK, so we're a little late in the game, but summer's as good a time as any for frozen treats -- especially at the Fountain on Locust (3037 Locust Street; 314-535-7800), where ice cream takes center stage year round. The Fountain has a number of old-fashioned sundaes for kids of all ages to enjoy, but it's the booze-infused cocktails and dessert sauces that really take the menu of sweet treats over the top.
Since 2008 the Fountain has served up frozen creations featuring ice cream from Cedar Crest Dairy, a family dairy in Manitowac, Wisconsin.
"We are ice-cream snobs. We can tell when ice cream is made from a commercial base. That's why we recommend that the best ice cream is either from a dairy or ice cream you make at home," says the Fountain's creator and owner Joy Grdnic. "Cedar Crest is the only dairy in the country that ages their ice cream. Other dairies are in a hurry to make their ice cream and move it out as fast as they can, but aging the ice cream gives it a rich, full flavor."
The interior of the Fountain.
Luscious ice cream meets spiked syrup and crisp, caramelized banana slices in one of Grdnic's favorites on the menu: the "Banana Bourbon." The sundae begins with unadulterated vanilla ice cream, turned up a few notches with hot buttered brown sugar bourbon sauce, bruleed bananas and fresh whipped cream.
For a citrus-y spin on this dessert, Grdnic suggests the "Italian Orange" made with oranges sauteed in a buttery brown sugar Grand Marnier sauce. Indecisive sugar addicts can also opt for the "Sundae Gambler," a surprise creation custom-made by the soda jerk on duty behind the bar. We had a hard time picking one as well, but we do have one piece of advice to impart: Choose one with booze.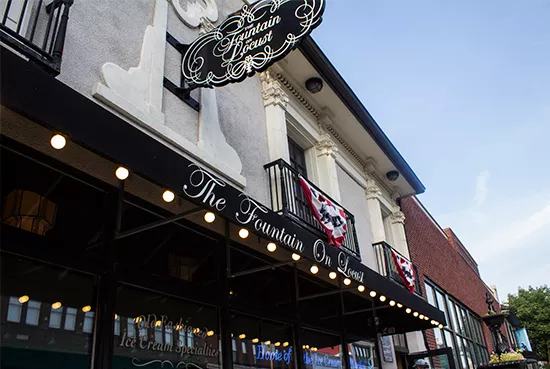 Previously on Sugar High: - Vinnie's Pinwheel Baklava - Red Fox Baking & Catering's Lemon Tart - Sugarfire Smokehouse's Crack Pie - Russell on Macklind's Coconut Cake - The Kitchen Sink's Sweet Potato Fries - Giovanni's Kitchen's Panna Cotta Trio - Crepes Etc.'s Crepe Cake - Cafe Ventana's Beignets - Frida's Raspberry-Chocolate Avocado Mousse - India Palace's Gulab Jamun - Melt's "Violet Beauregarde" Waffle - Brevan's Patisserie's "Brendan" - Winslow's Home's Chocolate Cake with Espresso Meringue - La Patisserie Chouquette's Eclair - Black Bear Bakery's Raspberry Oat Bar - Gelateria's London Fog Gelato - 4 Seasons Bakery's German Cheesecake - Libertine's "Candy Bar" - Cleveland-Heath's Old Fashioned Cherry Pie - Schlafly Tap Room and Bottleworks' Sticky Toffee Pudding
We're always looking for some sweet ideas. E-mail the author at mabel.suen@riverfronttimes.com