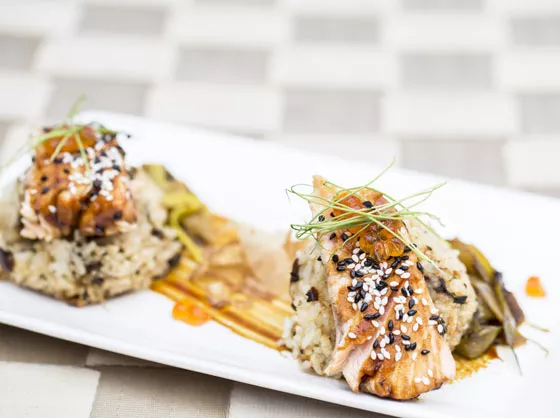 Onigiri: Tea smoked salmon, teriyaki sauce, fried rice ball, spring onion. | Jennifer Silverberg
Siam (4121 Manchester Avenue; 314-533-7426) Hours: 4 p.m.-3 a.m. Wed.-Sat., 1 p.m.-3 a.m. Sun. (Closed Mon. and Tues.)
It was an early Friday night at Siam, and the place was filled with its usual suspects: young professionals bidding farewell to the week over martinis, a gaggle of beautiful people in their nightclub best and a large group of puppies. Not the adorable, furry kind — the fetish kind. The leather-clad-men-on-leashes kind.
Indeed, the scene at Siam doesn't exactly scream "restaurant" (unless that's the safe word), but owners Steven Preston and Ron Bray are challenging diners to think differently. When the two acquired the former Novak's space, they had a choice — either reopen as just another Grove gay bar or try something new. They created Siam to be equal parts restaurant, bar and nightclub, inviting diners to partake of its "elevated comfort food."
See also: Giovanni's Kitchen Has Quality of the Hill without the Bill: Review
Exterior on Manchester. | Jennifer Silverberg
Though Preston and Bray want the restaurant component of Siam to receive equal billing, it is visually first and foremost a nightclub. At the entrance, you'll find a large wood dance floor and an elevated DJ booth with flashing lights. For the dining set, it is advisable to come early and opt for the patio, where stone walls, umbrella-topped tables and greenery set a lower-key scene. I found it somewhat telling that, more often than not, our wine arrived in plastic cups.
Executive chef Tyler Davis, whose pedigree includes stints at Ernesto's Wine Bar, the Crossing and DeMun Oyster Bar, heads the kitchen. Though its pan-Asian theme was conceptualized before Davis came on board (Preston and Bray parted ways with original chef Tanya Brown before the restaurant opened), the menu is all his own. His interpretation sometimes works and sometimes doesn't.
Korean fried chicken or "KFC." | Jennifer Silverberg
The Korean fried chicken appetizer, or "KFC," is a platter of large, crispy breaded chicken wings. The meat was unevenly drizzled with a sweet soy reduction rather than evenly coated, but perhaps this was a blessing. The sauce was awfully salty. Our tuna tataki was overcooked. The tender ahi was closer to medium than rare, though the accompanying salad of tomato, cucumber, daikon and mango was a refreshing mix of flavors that complemented the meaty fish.
Davis puts a twist on traditional pot stickers by stuffing his with chorizo and chopped dates — a delectable blend of sweet and spicy. The dumplings are served with goat-cheese dipping sauce spiked with shiso (a slightly citrusy and pungent relative of mint). The ground sirloin "Umami Sliders" are topped with creamy housemade tofu, wild mushrooms, fried shallots and a chunky tomato jam. The earthy blend of flavors was great, but it all sat atop a dry, overdone patty.
Siam's kimchi hot pot is the best thing on the menu. The base of this bright, mildly spicy Korean stew is a delicate pork and fermented vegetable-infused broth. The bowl teems with pungent kimchi, thick handmade udon noodles, enoki mushrooms, spinach, leeks, tofu and thick slices of pork belly for a warm, satisfying feast.
Chef Tyler Davis in the kitchen at Siam. | Jennifer Silverberg
Nanda Nyunt, formerly of Café Mochi and Drunken Fish, brings an impressive pedigree to Siam's sushi program. Of the mammoth specialty selections, the "Goku" roll is the most exciting. The sticky rice is stuffed with shrimp tempura, avocado and Japanese mayonnaise, then topped with tuna, radish sprouts and masago. The highlight of the dish is the accompanying baked scallop and crab salad, a generous portion of seafood tossed in a spicy sauce.
Davis was in charge of pastry at his former restaurant, and he continues to demonstrate a passion for sweets. The chocolate-matcha entremets consists of rich chocolate mousse, creamy matcha dacquoise (a green-tea-powder-laced meringue) and black-sesame sponge cake. A thick layer of bittersweet chocolate ganache coats the cake — and that actually caused a problem. The ganache was frozen so solid that my friend and I had to take turns holding the dessert while the other chiseled off a bite. The plum-wine poached pears, served halved in a bowl and topped with honey mascarpone cheese, were the star of this course. Crumbled sesame nougatine gave the dish a delicious crunch.
As was made clear to me by the fact that half the guests around us were wearing muzzles, not everyone goes to Siam to eat. They were having a great time anyway, just dancing and drinking. But if the owners want "elevated comfort food" to be just as big a draw as the scene, they'll have to figure out a way to make the tail wag the dog.
Follow Cheryl Baehr on Twitter at @CherylABaehr. E-mail the author at Cheryl.Baehr@RiverfrontTimes.com.
---