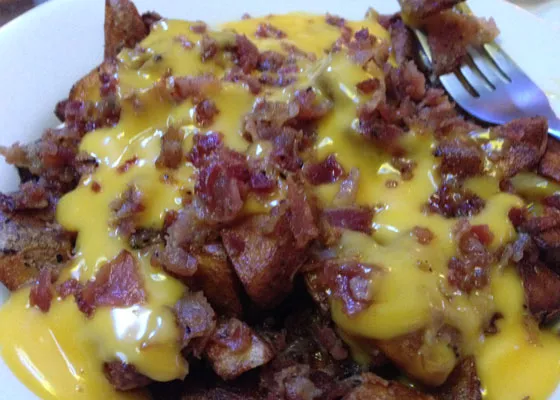 Potatoes topped with bacon, cheese and sour cream on the side. | Nancy Stiles
Good morning Gut Checkers. It's another hot Monday morning in St. Louis, but we're here for you. Guess where we got these super duper healthy loaded potatoes and we'll hook you up with some free grub. Here's a hint: it's in West County!
UPDATE: In a tragic turn of events, no one got it right. We were at Murphy's Restaurant (1229 Castillion Arcade, Creve Coeur; 314-205-0072).
See also: Guess Where I'm Eating This Flatbread and Win $25 to Hokkaido Grill
Simply study the photo and leave your best guess in the comments. If you're the first correct answer, we'll give you $25 to Olympia Kebob House & Taverna (1543 McCausland Avenue, Richmond Heights; 314-781-1299).
Rules: To be eligible, you must leave a valid e-mail address (or Twitter handle or Facebook profile URL) in the comment-entry field. One guess per e-mail address. Employees of the restaurant in question and the Riverfront Times are not eligible.
Gut Check is always hungry for tips and feedback. E-mail the author at Nancy.Stiles@RiverfrontTimes.com.
Follow Nancy Stiles on Twitter:
---