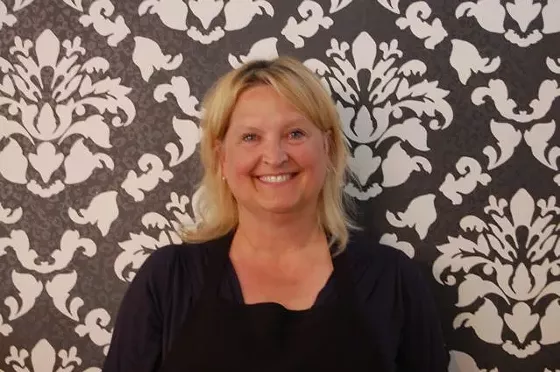 Colleen Thompson of Colleen's Cookies | Cheryl Baehr
Colleen Thompson says that if she could have one superpower, it would be to translate difficult situations into amusing entertainment. It's fitting, then, that as chef and owner at Colleen's Cookies (7737 Forsyth Boulevard, Clayton; 314-727-8427), she spends her day spreading joy to all who taste her delectable baked goodies.
See Also: First Look: Inside Caife Caife From Colleen's Cookies
Thompson got her passion for baking from her grandmother, but she didn't realize how much of a knack for it she had until she was asked to make a few hundred cookies for a charity event. People were dazzled, and the next thing she knew, she had a full time cookie-making business. Last year, Thompson expanded, adding a café that serves as a showroom for her beautiful pastries (she's quite the artist), as well as a place to grab breakfast, lunch or a cup of delicious Intelligentsia coffee.
Thompson took a break from making cookie magic to share some thoughts on the St. Louis dining scene as well the morning ritual that leaves her buzzed and dewy.
What is one thing people don't know about you that you wish they did? I do love my privacy...and yet, I'm an open book...does that sound a bit ambiguous at all?
What daily ritual is non-negotiable for you? Good coffee and even better moisturizer--buzzed and dewey is essential.
If you could have any superpower, what would it be? Translate difficult situations into amusing entertainment.
What is the most positive trend in food, wine or cocktails that you've noticed in St. Louis over the past year? I have noticed that people are going back home.. home kitchens, home gardens, local breweries to local wineries we are all approaching food and drink on a more comfortable level. That might be why they call it "comfort food."
Who is your St. Louis food crush? We are trying to work our issues out...I'll get back to you on that one!
Who's the one person to watch right now in the St. Louis dining scene? That's kind of like kissing and telling...
Which ingredient is most representative of your personality? Saffron...expensive & pretty and a little goes a long way.
If someone asked you to describe the current state of St. Louis' culinary climate, what would you say? Creative, eclectic and fulfilling!
Name an ingredient never allowed in your kitchen. Unappreciative guests.
What is your after work hangout? In my back yard with a glass of wine, my Frenchies and the trickle of our stream...private party for one.
What's your food or beverage guilty pleasure? Peanut Butter and Jelly on Bunny bread with an ice-cold glass of milk...And an afternoon nap.
What would be your last meal on earth? My mother's fried chicken with mashed potatoes, biscuits and gravy, with her Molasses pineapple upside-down cake....going out with a big smile!
Follow Cheryl Baehr on Twitter at @CherylABaehr. E-mail the author at [email protected].
---