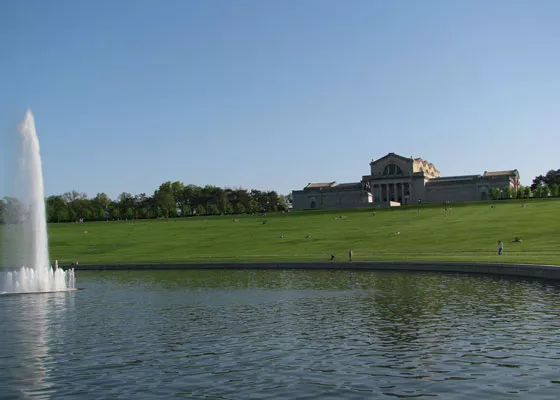 Catch food trucks and Field of Dreams on Art Hill tonight. | Tyson Blanquart
St. Louis Craft Beer Week kicks off this weekend with lots of events. It's supposed to be a beautiful weekend, so even if craft beer isn't your thing, we've got some ideas for you. Check out our food-related recommendations after the jump.
See also: 15 Must-Drink Events at St. Louis Craft Beer Week 2014
Friday (July 25):
Movies St. Louisans Love @ Art Hill
The latest in SLAM's outdoor film series is Field of Dreams. "Food trucks include Completely Sauced, Chop Shop STL, Hot Aztec, Lulu's Local Eatery, Vincent Van Doughnut, Seoul Taco, Sia's Italian Ice, Hot Aztec and more. iLLPHONiCS will also be playing. Music and food starts at 7 p.m., and the movie starts at 9. Admission is free."
Live in the Alley: A Creative Block Party @ the Fountain on Locust
TOKY Branding + Design is shutting down the neighborhood from Garrison to Cardinal. Elemental Shakedown will provide live music, and there's food and drinks from Small Batch. What better way to get to know your neighbors?
Saturday (July 26):
Scoops of Fun Family Carnival @ Union Station
I scream, you scream, in the heat of July we can all scream for a good cause to eat ice cream (and frozen custard, of course). Head to St. Louis Union Station to support SSM Cardinal-Glennon's Children's Medical Center at its Scoops of Fun Family Carnival. This all-you-can-eat ice-cream buffet from 2 to 5 p.m. features the coolest treats from Ben & Jerry's, Serendipity, Oberweis, the Fountain on Locust, Sia's Frozen Ice and Andy's Frozen Custard. Dance off the sugar rush by rocking out to local band Lunar Levitation, or take a spin on the amusement park rides (though you might want to hold off if you're prone to ice-cream motion sickness). There's also balloon art, button-making and face painting for the kids. Admission is $8 for children and $20 for adults, but a $50 "sprinkle pass" is good for two adults and two children. For more information call 314-678-6639 or contact www.glennon.org."
Craft Beer Week kicks off, as usual, at 33 Wine Bar. It's got a great beer list, but this year there will be a special cask of Katy Barrel 15 from 2nd Shift Brewery, which was barrel-aged for two years instead of the normal three months. Enjoy brats from 33 and Mac's Local Buys. From 11 a.m. to 6 p.m. It's free, but you've got to buy your own beer and brats.
Midwest Belgian Beer Festival @ the MOTO Museum
Perennial Artisan Ales takes the lead in this celebration of Belgian beer. More than 40 breweries will be serving America's finest Belgian-style brews. Completely Sauced and chef Brian Moxley will provide food available for purchase. Tickets were rumored to be sold out, but it looks like you can still get them here for $50. Check out the full list of beers here. From 1 to 5 p.m.
Field to Fork @ Bellecourt Manor
"The HeartLands Conservancy of Southwestern Illinois is holding its fifth annual Field to Fork benefit at Bellecourt Manor, described as 'an exquisite culinary experience in local cuisine.' Guests will meet local growers and farmers and learn about the economic, health and environmental benefits of supporting local agriculture. This year's chefs are Jenny Cleveland of Cleveland-Heath, Meaghan Boyer of Element, Jennifer Kennedy of J. Fires, Josh Galliano of the Libertine, Joe Hemp of Robust Wine Bar and Tim Faltus of Bellecourt Manor. Tickets are $90 for non-members, available here."
Sunday (July 27):
Huevos con Cerveza Beer Brunch @ Milagro Modern Mexican
"Just when we thought brunch couldn't get any better, Milagro goes and adds beer. Beermosas start 10 a.m., followed by a four-course Mexican-inspired brunch with pairings from local breweries. Tickets are $50 each, available here."
Sunday Funkday @ International Tap House Soulard
"Get funky at iTap with unusual and sour beers set to funky jams. This week it'll be the 4 Hands Pomegranate Prussia, Perennial Anniversari, 2013 Perennial Beersal, Gueze Tilquin, bottles of Love Child, Jolly Pumpkin La Roja, HaandBryggeriet Haandbakk and Evil Twin Femme Fetal Yuzu. From 1 to 7 p.m. Admission is free and beer is available for purchase."
Gut Check is always hungry for tips and feedback. E-mail the author at [email protected].
Follow Nancy Stiles on Twitter:
---