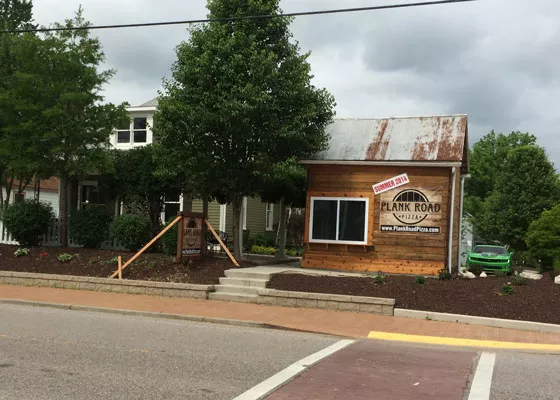 Outside Plank Road Pizza. | Andrew Brewer
Plank Road Pizza (5212 Highway N, Cottleville; 636-477-6155) is now open in Cottleville in St. Charles. It's one of several new restaurants out west, including Rack House Winery and Se7en Cupcakes and Martinis. An 1841 home -- the oldest still standing in Cottleville -- houses the restaurant.
See also: Plank Road Pizza Nears Opening in Cottleville
The menu includes the promised "pizza chips" -- co-owner Andrew Brewer told us last month it's sort of like a pita chip -- served housemade garden vegetable salsa. Specialty pizzas range from the Plant Road, a chicken club pizza topped with seasoned roasted chicken, smoked bacon, olive oil, red onion, mozzarella, tomatoes, fresh romaine lettuce, mayonnaise aioli and fresh avocado to the Hillencamp Drive, with housemade tomato sauce, sausage, pepperoni, bacon, mozzarella, parmesan and fresh oregano.
There are even dessert pizzas -- we're eyeing the "Strawberry Surprise," topped with Nutella, fresh strawberries, crushed pretzels and fresh mint. You can check out the full menu here.
"We had been talking about it for a few years, me and my partner, and we talked around the idea of maybe an ice-cream place," Brewer told us in June. "We've always liked pizza, so we thought that would be more of a year-round thing for people to enjoy and around here."
Gut Check is always hungry for tips and feedback. E-mail the author at Nancy.Stiles@RiverfrontTimes.com.
Follow Nancy Stiles on Twitter:
---