Inside Hiro Asian Kitchen downtown. | Jennifer Silverberg
If you haven't been downtown in a while for anything other than a ball game, here's your chance. Downtown Restaurant Week celebrates all the food the neighborhood has to offer. From August 11 to 17, 25 downtown restaurants are offering three courses (sometimes more) for just $25. It's pretty impossible to hit that many places in just a week, so we've picked the five menus we think are the most promising.
See also: Two for Peru: Mango sallies forth from Shrewsbury with a loft-district outpost
Braised lamb shank pappardelle at Robust. | Jennifer Silverberg
Robust Wine Bar (635 Washington Avenue; 314-287-6300)
Robust has one of the best wine lists in the city, and you can take advantage by adding a glass of wine or a cocktail for $7 and a beer for $5. Start with Robust chowder (Gulf rock shrimp, corn, Spanish chorizo, Andouille sausage with diced potatoes, sweet peppers and onions), a Greek salad or the house salad. Then choose from pan-seared artic char over spring vegetable succotash with red wine-herb butter, roasted mushroom flatbread, cast-iron chicken breast, shrimp and grits with bacon, corn, shallots, garlic, herbs and creole barbecue butter, lamb ragu or a bone-in strip steak. For dessert, it's vanilla-scented goat cheese cheesecake on graham cracker crust with blackberry gastrique or dark chocolate mousse on melted chocolate, toffee, and pretzels with whipped cream and caramel sauce.
Blondie's Coffee and Wine Bar (1301 Washington Avenue; 314-241-6100)
Blondie's is one of our favorite brunch spots, but it's worth stopping by for dinner, too. This menu actually has four courses, so you're really getting your money's worth. Start with roasted red pepper soup, a house salad or caesar salad. Then choose from crab cakes, brie en croute, goat cheese bruschetta and salmon bruschetta. For your entree, it's blackened salmon, pork tenderloin, lemon chicken scaloppini or pasta primavera. Finish up with strawberry cheesecake, bananas foster or double caramel cake.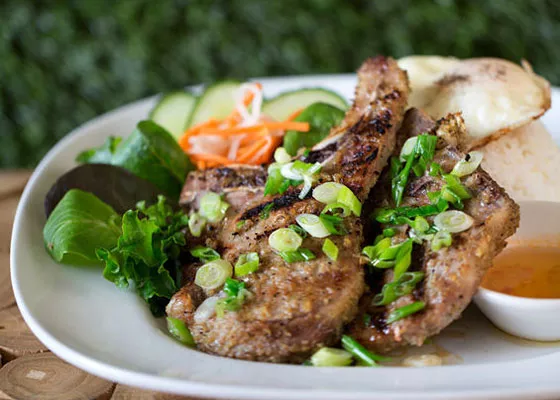 The lemon bone-in pork chop at Hiro Asian Kitchen. | Jennifer Silverberg
Hiro Asian Kitchen (1405 Washington Avenue; 314-241-4476)
Get an introduction to Hiro Asian Kitchen with its abbreviated restaurant week menu. Start with a dim sum sampler with sweet ponzu, chicken satay with savory peanut sauce or crispy tofu with pickled summer vegetables. For your entree, choose from the chicken claypot with roasted broccoli, grilled bone-in pork chop with Vietnamese salad, carmelized beef stew curry with jasmine rice or squash noodles with edamame and Korean black bean paste. Dessert is a choice of ginger creme brulee with ginger candy or a pandan crepe with roasted coconut with brown sugar.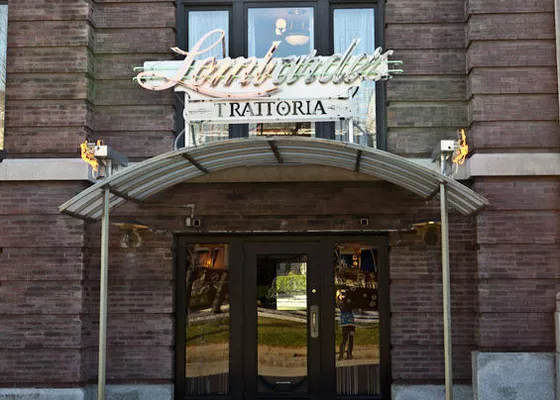 Outside Lombardo's. | RFT Photo
Lombardo's Trattoria (201 South Twentieth Street; 314-621-0666)
Get some classic St. Louis Italian food with Lombardo's picks. Start with Lombardo's house-made toasted ravioli, bruschetta with onion, tomato and basil, sautéed shrimp with garlic butter, Romano and tomato, flash-fried spinach or sausage risotto. There's a huge selection of entrees available: Cappellini Anthony (strips of chicken, garlic, olive oil, sundried tomatoes, fresh tomato, Cappellini noodles), rigatoni trattoria (sautéed Italian sausage, with onions and mushrooms in a red and white sauce blend), seafood linguini (Clams, shrimp, scallops and crab meat in an olive oil garlic sauce or spicy marinara), petite filet Angelou (Italian breaded and grilled filet mignon with a white wine lemon butter sauce with mushrooms and pancetta topped with provolone cheese), veal parmigiano (breaded veal cutlet topped with marinara and melted provolone cheese, served with pasta in a marinara sauce), beef pepperloin (grilled tenderloin rolled in cracked black pepper, topped with a sherry wine sauce with green pepper, onion and mushroom), Atlantic salmon, chicken lucciano (Italian breaded and grilled chicken breast with a white wine sauce with peas, mushrooms and artichoke hearts served with risotto), petit filet mignon or scampi Lombardo (Four large prawns topped with garlic butter, capers and Italian breadcrumbs). You can either add a salad (caesar or house) or a dessert (Black Russian Pie, New York cheesecake or a house-made cannoli).
Inside Mango. | Jennifer Silverberg
Mango Peruvian Cuisine (1101 Lucas Avenue; 314-621-9993)
Switch it up with some Peruvian food at the excellent Mango. It's gearing up to celebrate the Peruvian New Year, but if you can't make it, stop by during restaurant week. Start with bolas de yuca (mashed yuca breaded and fried served with huancaina and rocotto aioli), anticuchos de corazon (grilled beef heart skewers with salsa verde), ensalada exotica (mixed greens and herbs tossed in fresh citrus juices with roasted red peppers, mango slices and almonds), causita trio (chilled potato cakes finished with mushroom, crab and salmon salads and avocado) or chicharron de pollo al sillao (soy and aji amaraillo marinated chicken wings fried and served alongside spicy mint aioli and chimichurri). There are six choices for your entree: aji de gallina (shredded chicken in creamy aji amaraillo, parmesan cheese and walnut sauce, served over baby Yukon gold potatoes and with garlic infused white rice), saltado de champiñones (shiitake, button, portabella, and oyster mushrooms, sweet onions and tomatoes sautéed in olive oil, white wine, Peruvian spices and garlic and served with white rice), salmon de kenji (pan-roasted salmon served alongside chilled cucumber and quinoa salad finished with avocado aioli and mango-pisco chutney), lomo saltado (beef tenderloin strips stir fried with sweet onions, tomatoes, garlic and Peruvian spices and served with garlic infused white rice and topped with fries), lomo fino (eight-ounce grilled beef tenderloin with aji panca-peppercorn-cream sauce and served with herb roasted vegetables and whipped potatoes) or conchitas al horno (pan-roasted scallops served with aji amarillo risotto, asparagus and sweet tomato demi-glace). For dessert, it's pionono (soft sponge caked rolled in manjarblanco and dusted with powder sugar), chocolate cake with fudge icing or Inca Kola con helado (an Inca Kola float with vanilla ice cream).
Gut Check is always hungry for tips and feedback. E-mail the author at [email protected].
Follow Nancy Stiles on Twitter:
---