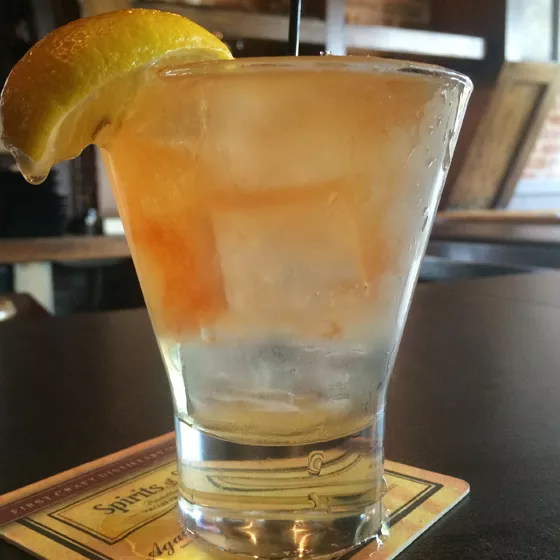 The "Fitzgerald." | Patrick J. Hurley
The Drunken Vegan, a.k.a. Patrick J. Hurley, is a full-time barman at the Civil Life Brewing Company and cocktail enthusiast about town. He's an unapologetic drunkard, a vegan and a bon vivant, and, no, he doesn't think those last two terms contradict each other.
More and more bars have been touting their housemade syrups, mixers and their fresh juices, but how many make their own booze? Missouri has a few micro-distilleries now, but the first was Square One Brewery and Distillery (1727 Park Avenue; 314-231-2537). The Drunken Vegan enjoyed some unique cocktails based on some of its house spirits.
See also: Modesto Puts a Spanish Spin on Classic Cocktails
The "Fitzgerald" is a lighter take on the classic pink gin. The gin and bitters are augmented by lemon and a little simple syrup. This addition keeps the herbaceous bitters from being too assertive. The bright citrus joins the gin's piney botanical character, and the simple syrup keeps the drink balanced.
The "Fleur de Lis" is also based on the house Regatta Bay gin. It has freshly made sour mix and bitters, and it's topped with an India pale ale (an example of using beer in cocktails, something we've noticed is becoming more common). There's some bright hops character on the nose and the palate with a little clean bitterness. The botanical notes of the gin are subtle and well-integrated.
The "Fleur de Lis" | Patrick J. Hurley
Summer in St. Louis makes the Drunken Vegan crave lighter, more refreshing tipples, and the "Garden Spritzer" is definitely one of these. It's clean with noticeable cucumber from the house-infused vodka and some tart lime. The basil is a subtle element. Club soda gives the whole drink a sharp effervescence.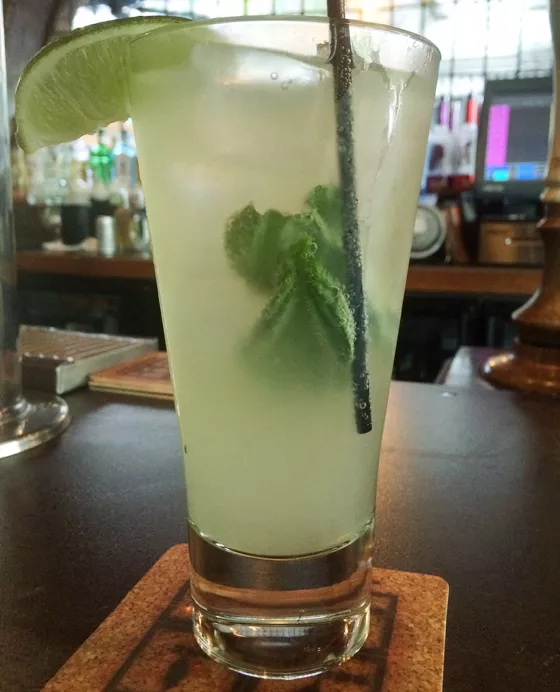 The "Garden Spritzer" | Patrick J. Hurley
"Hopskey" is a hop-infused whiskey, which is a great way to showcase the prominent flavors of brewery and distillery together. The "Cascade Cocktail" is built on this spirit. It's all bourbon-ish sweet whiskey flavor with some pine and citrus hop notes. The grapefruit juice marries with the citrus element in the hops, but otherwise doesn't play a big role in the drink. Some herbaceous earthy and floral notes come through, and there is a lovely hint of subtle smoke on the finish.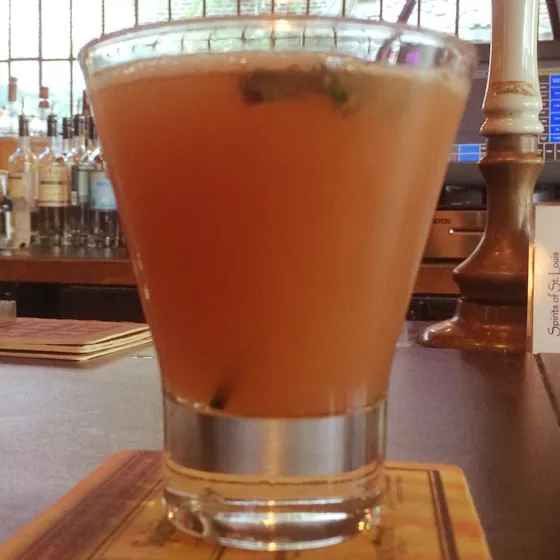 The "Cascade Cocktail" | Patrick J. Hurley
Follow Patrick J. Hurley on Twitter at @VeganDrunkard. E-mail the author at Patrick.J.Hurley@HurleyHouse.com.
---