Lasagnette a.k.a. an individually baked lasagna. | Jennifer Silverberg
Giovanni's Kitchen (8831 Ladue Road, Ladue; 314-721-4100) Hours: 11 a.m.-11 p.m. Mon.-Sat. (Closed Sun.)
Several years ago, my friend and I got all gussied up and treated ourselves to dinner at Giovanni's on the Hill. Clad in semi-formal attire, we wined and dined in exquisite style as tuxedoed waiters prepared our dinners tableside, flambéed our desserts and served us warmed cognac. Don King was at the bar. It was fabulous.
The superior food and service came at quite a price, though, and no matter how strong a hankering I get for "Pappardelle alla Bella Oprah," I can't fork over that kind of cash on a regular basis.
Frank and Carmelo Gabriele seem to understand this sentiment. Their father, Giovanni's on the Hill patriarch Giovanni Gabriele, taught the brothers all about fine Italian dining. He also taught them business savvy, and the duo saw a market for a dressed-down version of their dad's upscale flagship. The result is the comfortably elegant Giovanni's Kitchen.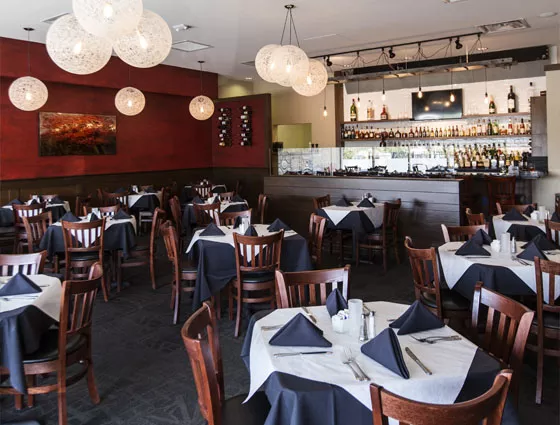 Dining room. | Jennifer Silverberg
Located in the stark white Colonial Marketplace strip mall in Ladue, the Gabrieles have done their best to warm up the space. Deep red paint and silver floor-to-ceiling artwork give the walls a rich feel, but the white butcher paper covering black tablecloths conveys a casual air. Large straw globes hang from the ceiling, and attentive (exclusively male) servers buzz about the room, fawning over guests with the same level of attentiveness seen on the Hill. Chef Alessandro Bozzato, an Italian expatriate and veteran of Giovanni's on the Hill, oversees the kitchen, making everything from the pasta to the mozzarella to the ricotta from scratch.
I began with his housemade salsiccia, a spicy, fennel-laden sausage with a snappy casing. It was sliced and topped with sautéed red and green peppers. The "Mozzarella in Carrozza," was like a high-end grilled cheese -- soft focaccia bread was stuffed with housemade mozzarella, dusted with pecorino Romano cheese, then pan fried so that it oozed from the sides. The accompanying sun-dried-tomato confit had a pleasantly sweet, tangy punch.
I was less impressed with the "Polpettine Nonna Licia" -- miniature meatballs served in a butcher-paper-lined metal basket. At first bite, the meatballs were tender with a crispy exterior. However, as they cooled, I realized how excessively bready they were. They crumbled apart so easily that it was difficult to dip them in the side of tomato sauce -- several broke down completely and sat mashed at the bottom of the basket.
Giovanni's Kitchen serves two excellent salads. The "Burrata al Pomodoro," consists of baby greens, tomatoes, basil and burrata cheese that was so creamy, it mixed with the extra virgin olive oil to form a kind of dressing. I spooned the concoction over the accompanying grilled bread to make my own bruschetta. The "Rucolina e Spinaci" was an updated spinach salad. In place of bacon bits, Bozzato uses guanciale (cured pork jowl). Sliced grapes and caciocavallo cheese (similar to provolone) topped the arugula and spinach, which was finished with red-wine vinaigrette. The salad was a balanced mix of sweet, sour and salt.
Double pork chop. | Jennifer Silverberg
Bozzato's mastery of Italian cuisine is on full display in his handcrafted pastas. The thick, hollow noodles of the "Mezzemaniche alla Puttanesca" served as the perfect vehicles for scooping up the zesty garlic, tomato and caper sauce (no anchovies in this version). It was bright, pungent and had just the right amount of salt, with just a sprinkle of parmigiano reggiano cheese to give the dish some creaminess.
The luscious "Casoncelli," prosciutto-and-cheese-filled ravioli sautéed with butter, cream and fresh -- rather than dried and rehydrated -- porcini mushrooms, is one of the most decadent dishes in town. The pasta was as delicate as silk. A few shavings of black truffles infused it with an intense earthiness.
The "Maialina al Forno," or double-cut pork chop, was less exciting. Though still juicy, the pork was overcooked (medium-well), and the mint syrup seemed to be missing. A few diced apples did little to brighten the dish. The "Scampi alla Griglia" was better. I appreciated that the prawns were grilled rather than sautéed -- the slight char gave the dish some complexity. The prawns were tossed with white wine, diced tomatoes, lemon, garlic and basil for a light, summery dish.
The star of the evening was the "Filetto ai Ferri," a thick-cut filet that had been marinated for seven days in Chianti and fresh herbs. The beef -- so soft I barely needed to chew -- is grilled and smothered in an ambrosial porcini mushroom ragout. It does not get better than this.
The panna cotta trio includes chocolate, orange and berries. | Jennifer Silverberg
As if that were not enough, Giovanni's Kitchen also serves an indulgent amaretti parfait. Hunks of the amaretto-flavored cookies were layered with fresh whipped cream and liquor-soaked berries -- it was the perfect cap to an impressive meal.
Not every meal can be a formal affair -- you wouldn't want it to be, anyway. Fortunately, Giovanni's Kitchen proves you can loosen your tie without loosening your standards.
Follow Cheryl Baehr on Twitter at @CherylABaehr. E-mail the author at Cheryl.Baehr@RiverfrontTimes.com.
---