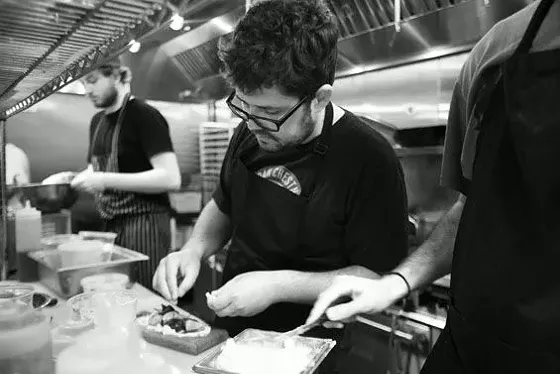 Urban Chestnut's chef Andy Fair | Jennifer Silverberg
Urban Chestnut's (4465 Manchester Avenue; 314-222-0143) chef Andy Fair grew up going to the old German restaurants around town, and it is his job to bring those flavors to the new Grove Brewery & Bierhall. It sounds like an easy task for someone who is proud of his German heritage, but Fair's passion for food was ignited significantly south of Deutschland. While working at a vineyard and olive farm in Tuscany, Fair was shown a way of eating that blew his mind -- beef hearts grilled over an open fire, raw sausage scooped up with charred bread. The experience influenced the way he approaches food. If you look close enough, Fair jokes, you can see him sneak these Italian tidbits here and there onto the traditional German menu. Just don't expect to see Chianti flowing from the beer taps anytime soon.
Fair took a break from his German-Italian culinary fusion to share his thoughts on the St. Louis dining scene and why you'll probably have to keep reintroducing yourself when you meet him.
See Also: Urban Chestnut Grove Brewery and Bierhall delivers food as flavorful as its beers
What is one thing people don't know about you that you wish they did? I'm terrible with names and faces until the second or third time around. And I'm really embarrassed about it.
What daily ritual is non-negotiable for you? My morning shower.
If you could have any superpower, what would it be? Teleportation. Which is odd, because I also enjoy long journeys.
What is the most positive trend in food, wine or cocktails that you've noticed in St. Louis over the past year? I'm seeing a lot of intelligent, thoughtful food served in warm, inviting neighborhood joints.
Who is your St. Louis food crush? Ted Wilson [the Good Pie].That guy has a way with fermentation.
Who's the one person to watch right now in the St. Louis dining scene? Not so much one person, but I think and hope we're about to see some small, quality butcher shops open up. We really need that in the city -- a place you can get personal service, quality and variety of fabricated animal products, and unpretentious, knowledgeable advice.
Which ingredient is most representative of your personality? Vinegar. The right amount has a bright, lifting effect. Too much, though, is overwhelming. I also have a preservative effect over time.
If someone asked you to describe the current state of St. Louis' culinary climate, what would you say? Awakening.
Name an ingredient never allowed in your kitchen. I'm generally not a fan of anything overly processed. I prefer the old ways.
What is your after work hangout? My apartment.
What's your food or beverage guilty pleasure? Rotel dip and Tostitos.
What would be your last meal on earth? A proper Tuscan grill, after the first olive harvest and pressing: salciccia cruda on fettunta, followed by sliced pork belly, liver, and heart, followed by pork back ribs and beef short ribs, finished with steak Fiorintina. The first oil of the season, Vermentino, and Chianti on the table. Finished with grappa.
Follow Cheryl Baehr on Twitter at @CherylABaehr. E-mail the author at Cheryl.Baehr@RiverfrontTimes.com.
---