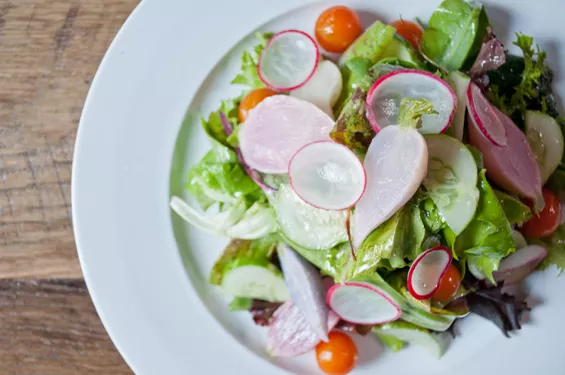 Juniper's "Mr. Macgregor's Garden Salad." | Caroline Yoo
While temperatures have cooled this week, the mercury is set to soar again before long. A scorching St. Louis evening is not the ideal time for a heavy, hot, stick-to-your-ribs kind of meal. You're more likely to go looking for a beautiful, light and fresh salad. And just because it's good for you doesn't mean it has to be boring.
Gut Check called around to some of our favorite spots and found ten salads we think are must-tries before the season is over.
See also: 10 Places to Take (and Impress) Your Visiting Foodie
Juniper (360 North Boyle Avenue; 314-329-7696) "Mr. Macgregor's Garden Salad" (pictured above) with pickled red beets, shaved radishes, Sun Gold tomatoes and cucumbers with honey vinaigrette.
Bocci Wine Bar | Caroline Yoo
Bocci Wine Bar (16 North Central Ave; 314-932-1040) Tabouli salad with whole wheat couscous, heirloom tomatoes, English cucumbers and parsley emulsion.
Dressel's (419 North Euclid Avenue; 314-361-1060) Heirloom tomato and grilled cantaloupe salad with cilantro-lime vinaigrette and saba.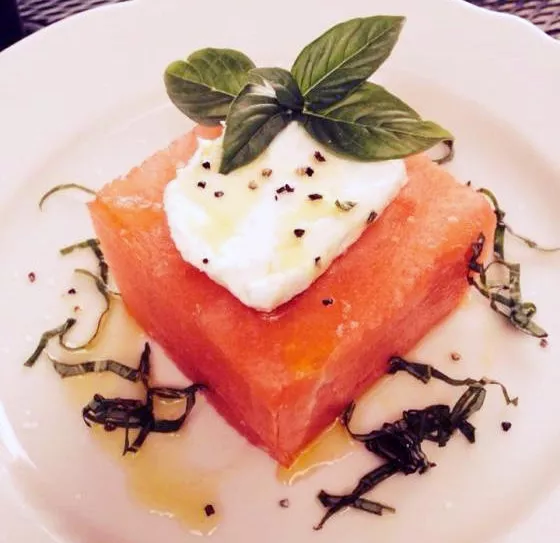 Cafe Provencal | Eddie Neil
Café Provencal (26 North Meramec Avenue; 314-863-8400) Watermelon and goat-cheese salad with basil, olive oil, sea salt and cracked black pepper.
Baida (3191 South Grand Boulevard; 314-932-7950) Orange and lettuce salad with cinnamon, powdered sugar, red onions, golden raisins and honey-balsamic vinaigrette.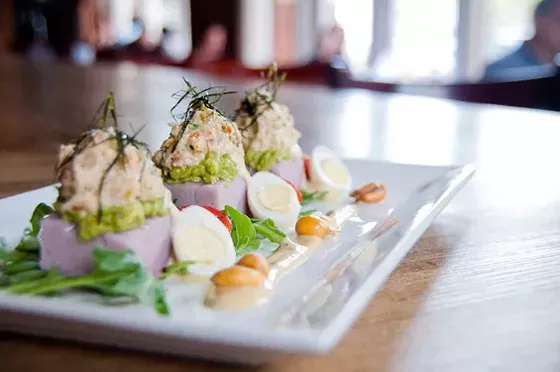 Mango Peruvian Cuisine | Caroline Yoo
Mango Peruvian Cuisine (1101 Lucas Avenue; 314-621-9993) "Casua de Cangrejo": aji amarillo-infused purple potato cakes layered with creamy crab salad and finished with yuzu aioli, fried wontons, boiled quail eggs and citrus-dressed arugula.
Winslow's Home | Caroline Yoo
Winslow's Home (7213 Delmar Boulevard; 314-725-7559) "Winslow's Harvest Salad" with green beans, zucchini, cherry tomatoes, corn, radishes, cucumbers, housemade ranch dressing and ricotta salata.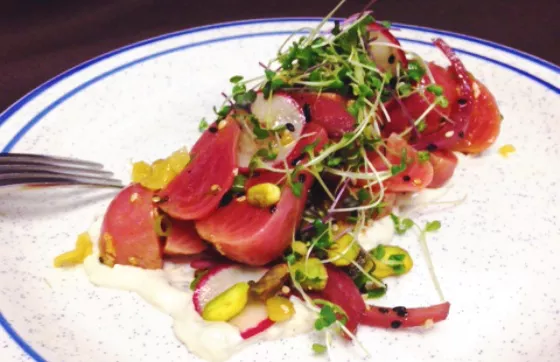 Cleveland Heath | Jennifer Cleveland
Cleveland Heath (106 North Main Street, Edwardsville, Illinois; 618-307-4830) Baby beet salad with pickles, red onions and radishes tossed with a lemon juice, olive oil, sesame seed, cayenne and orange-zest dressing and served over Greek yogurt mixed with tahini and charred scallions; it's all topped with candied lemon peel, pistachios and micro greens.
Home Wine Kitchen | Caroline Yoo
Home Wine Kitchen (7322 Manchester Road; 314-802-7676) Yellow bean salad with radicchio, feta, candied walnuts and honey vinaigrette.
Water Street Cafe and Cocktail Bar | Gabriel Kveton
Water Street Cafe and Cocktail Bar (7268 Manchester Road, Maplewood; 314-646-8355) Orange and raspberry salad with aged cheddar cheese, red onions, pistachios and balsamic and olive oil dressing.
Follow Sara Graham on Instagram at @SaraSunshineSTL and Twitter at @SaraSunshineSTL. E-mail the author at saralouisegraham@yahoo.com.
---