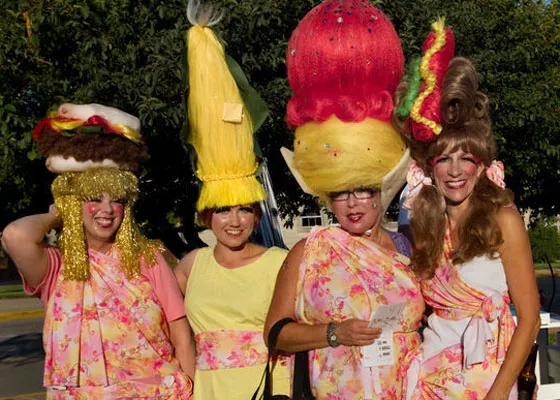 Let Them Eat Art 2011. | Erin Kinsella
It's the middle of summer in St. Louis, and it's only going to get hotter. And we don't just mean the food scene! (We'll be here all week.) Hit up this month's Food Truck Friday, or the annual celebration of Bastille Day in historic Maplewood. Or hey, eat some elk! Check out our food-related recommendations after the jump.
See also: 10 Places to Take (and Impress) Your Visiting Foodie
Friday (July 11)
Let Them Eat Art @ Downtown Maplewood
Sample all the great restaurants Maplewood has to offer in its annual Bastille Day celebration. Participants include Schlafly Bottleworks, Acero, Mystic Valley, Water Street, Kakao Chocolate, A Pizza Story, Foundation Grounds, Vom Fass, Home Wine Kitchen, the Crow's Nest, Boogaloo, Las Palmas, La Cosecha, Great Harvest, the Post, Blind Tiger, Tiffany's, Stone Spiral, Strange Donuts, Pie Oh My, the Wood, Maya Cafe and more. From 6 p.m. to 11 p.m. Admission is free.
Food Truck Friday @ Tower Grove Park
"One of the summer's best events is back for its June takeover of Tower Grove Park. Yes, the lines are long, but the food is totally worth it. Grab some friends and pick from trucks like Chop Shop, Guerrilla Street Food, Completely Sauced, Hot Aztec and lots more. Live music this week is from Swamp Tigers. From 4 to 8 p.m. Admission is free."
Throwdown on the Showdown @ Urban Chestnut Brewery & Bierhall
New guy in town Vincent Van Doughnut took part in the Cooking Channel's Donut Showdown; the episode airs tonight. Come to Urban Chestnut in the Grove for a viewing party. There will be Urban Chestnut food, doughnuts and of course, beer. The show starts at 9, but get there at 8:30 p.m. Admission is free.
Saturday (July 12)
Full Moon Weekend @ Compton Hill Water Tower
The Compton Hill Water Tower is one of the highest points in the city -- perfect for taking advantage of this weekend's full moon. You can climb to the top, and then party underneath with food trucks, live jazz and piano. From 5 p.m. to midnight. Admission is free; it's $5 to climb the tower.
Chanterelle Mushroom Hunt @ LHC
Follow mushroom aficionado T.R. Davis, who also owns Earth Angel Mushrooms, on a hunt through Eureka for those yummy fungi (not an oxymoron, we promise). After the hunt, take tour of Davis' farm and learn about his mushroom program. Tickets are $25 for adults and $10 for kids and include a box lunch from LHC. Call 314-865-5260 to reserve your spot.
Sunday (July 13)
Maplewood isn't the only place celebrating France's biggest holiday. Snack on French hors d'oeurves with an open bar. You can also check out period fashions created by local designer Luann Carmody -- wear your own if you've got it! Tickets benefit the Soulard Entry Marker Project. From 7 p.m. to 9 p.m. Tickets are $25, available here.
It's All About Elk: Chefs' Field Day @ Hinkebein Elk Farm
Chamuette Winery's Adam Lambay is bringing together five local chefs for a dinner celebrating the majestic elk. Rex Hale of the Restaurant at the Cheshire, Lou Rook of Annie Gunn's, Josh Galliano of the Libertine, Matt Bessler of Schlafly Bottleworks and Dewayne Schaaf from Celebrations in Cape Girardeau. Each chef will make their favorite elk dish, with sides and desserts served family style, along with wine and beer pairings from Chaumette and Schlafly. From 5 p.m. to 8 p.m. Tickets are $66 per person, available here.
Gut Check is always hungry for tips and feedback. E-mail the author at Nancy.Stiles@RiverfrontTimes.com.
Follow Nancy Stiles on Twitter:
---