We need this pizza back. | Mabel Suen
Monte Bello (3662 Weber Road; 314-638-8861) is a delightful little pizza joint that happens to be tucked away in a basement. It's been around for 64 years and is somehow St. Louis best-kept secret. Tom Nix just took over the family business last year. Some kitchen upgrades were needed, which Monte Bello was ready for -- until the plumbing inspector informed Nicks a lot more needed to be done.
See also: Monte Bello: A Basement Pizza Kitchen That's About to Become St. Louis' Worst-Kept Secret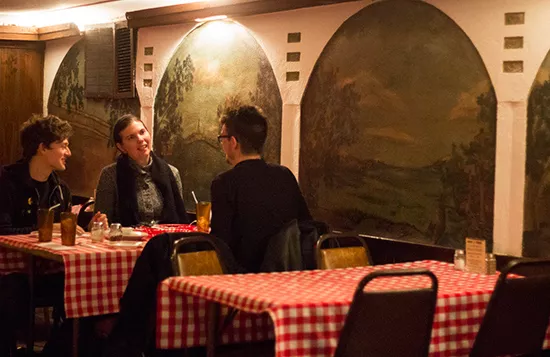 The dining room at Monte Bello. | Mabel Suen
Nix had been posting a series of increasingly frustrated announcements on Facebook this week, and he says Monte Bello has already been closed for three weeks.
We called and emailed Nix to see what was going on. "We had to upgrade the kitchen, then the plumbing inspector turned it into a nightmare! Hopefully two or three weeks," he told us via email.
Now Nix is following the advice of his customers and turning to crowdfunding on gofundme. He says Monte Bello was prepared to put in a new hood system, redo the floors and install new refridgerators and freezers. But when the inspectors said they had to rip up the new floors for plumbing and add an expensive dishwasher, Nix turned to his customers.
"All of our customers are wanting us to stay open, but without assistance that will not happen. We have worked extremely hard over the past year and turned things around with hard work, dedication and sincere caring about our patrons enjoying a great meal!" Nix wrote on the fundraising page. "I don't want to lose the family business that has been here for 64 years! I DO NOT want to disappoint our loyal and happy customers!"
Monte Bello is trying to raise $25,000 for the repairs; you can check out the campaign here.
Gut Check is always hungry for tips and feedback. E-mail the author at Nancy.Stiles@RiverfrontTimes.com.
Follow Nancy Stiles on Twitter:
---