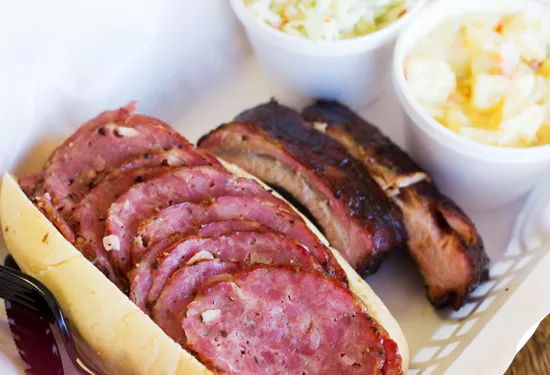 The smoked salami sandwich at Adam's Smokehouse. | Mabel Suen
The secret to the smoked salami at Adam's Smokehouse (2819 Watson Road; 314-875-9890) is the 70/30 blend of pork and beef. Or is it the fruitwood smoke that spreads throughout the meat? Then again, it could be the generous flecks of black pepper and blend of spices the pit-masters keep as closely guarded as classified material.
See Also: First Look: Adam's Smokehouse Serves as a Sister Restaurant to Pappy's and Bogart's
All are contenders, but the folks at Adam's Smokehouse think the key to their soon-to-be-iconic salami is the garlic -- loads of it, smoked until it turns sweet and creamy, then folded into the meat. Smoking the garlic takes away some of its punch so it gently permeates the meat. And it lingers.
Adam's Smokehouse's salami is served without any fuss; a simple soft bun and some grain mustard let the meat steal the show. One of the pit-masters does add a touch of mayonnaise for when he is " feeling fancy." However one chooses to dress it, this is one of the best sandwiches on town.
Previously: #76: Gyro on Pita at Olympia Kebob House & Taverna #77: The Johnny Cake at TreeHouse #78: A Classic Glazed Doughnut from Pharoah's Donuts #79: Skordalia at the Purple Martin #80: Beef Brisket Birria Taco Taco at Mission Taco Joint #81: Cappuccino from Sump Coffee #82: The Salted Caramel Croissant at Pint Size Bakery #83: Gnocchi at the Good Pie #84: Truffled Tater Tots at Blood & Sand #85: Marinated Feta Cheese at Evangeline's Bistro and Music House #86: Chorizo and Egg Sope at Spare No Rib #87: Duck Burger at Planter's House #88: WildSmoke's Smoked Chicken Wings #89: The Duck Prosciutto Flatbread at Bella Vino #90: The "Dam Burger" at the Dam #91: The "Hog Mess" at Blind Tiger #92: Khao Soi at Fork & Stix #93: The "Smokehouse Club" Sandwich at Bud's Smokehouse #94: Cafe Natasha's Yogurt Dip #95: Macarons at La Patisserie Chouquette #96: The Libertine's Fried Chicken #97: Pork Belly at Element #98: M'Lwee at Baida #99: Breadbasket at Juniper #100: Bucatini All'Amatriciana at Pastaria
Follow Cheryl Baehr on Twitter at @CherylABaehr. E-mail the author at Cheryl.Baehr@RiverfrontTimes.com.
---