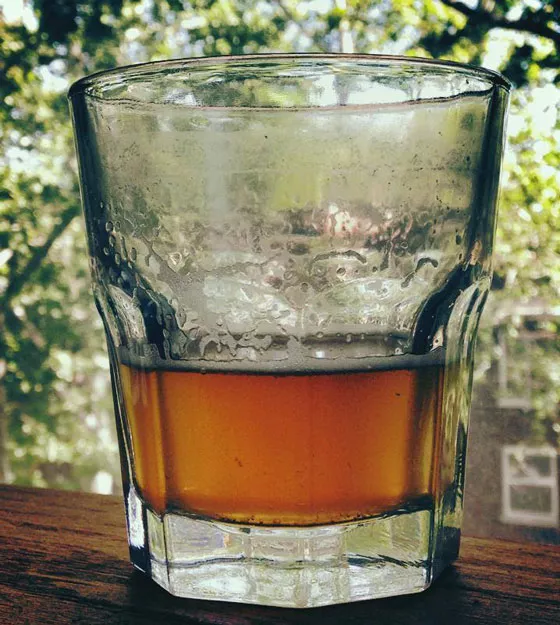 The thai basil IPA. | Earthbound Brewing
There is no shortage of craft breweries in St. Louis. You know that, we know that, Earthbound Brewery knows that. That's why its three founders like to incorporate a bit of history into each beer. We spoke to co-owner Rebecca Schranz about what makes the upcoming brewery different.
"We're living in St. Louis -- there's microbreweries everywhere," she says. "There's obviously going to be a good beer everywhere we go. But with us, we like to have a little bit of background on what you're drinking -- there's a backstory to the beer."
See also: Old Bakery Beer Will Be Alton's First Craft Brewery
For example, the Kentucky Common is a sour brown ale that moonshiners preferred in the nineteenth century. Schranz says Earthbound uses "interesting and innovative ingredients," but the funny part is, those ingredients are the ones used by brewers hundreds of years ago.
"We have been brewing inside of an apartment for about four years now, since 2010 -- the three of us friends. We figured out that it was time to take it to a brick and mortar location," Schranz says referring to her co-owners Jeff Siddons and Stuart Keating. "We've been entering competitions with the beer and it's been doing well, so we decided to take this historical perspective to sharing our beer with St. Louis."
The interior of Earthbound will have a cozy feel -- it's a pretty small space. There will be a seating area and a bar with four taps, plus the brewing area is behind the bar. Schranz says they will have whiskey -- but only for shots and Boilermakers.
"Don't ask us to make you a drink. You can go across the street," Schranz laughs. "We want to make you feel welcome and cozy and want [you] to learn about the beer. It's also very small, so it should be an intimate experience between the bartender and yourself."
The name Earthbound comes from a video game; Schranz admits she and her partners are kind of nerds. She and Keating actually run a gaming business together, so it has a bit of a double meaning: Earthbound is also using sustainable ingredients and is "very loyal" to the environment.
New brews are rolling out in the next few weeks, and follow Earthbound's Facebook page for news of an opening.
"It's very much a taste-and-go process and that's the really exciting part," Schranz says. "Something will always be new and different in the bar."
Gut Check is always hungry for tips and feedback. E-mail the author at Nancy.Stiles@RiverfrontTimes.com.
Follow Nancy Stiles on Twitter:
---