A feast for eyes and stomach at Niche. | Greg Rannells
Many have said that St. Louisans have an inferiority complex about our fair city, but there's nothing to be ashamed about when it comes to the culinary clout in our kitchens. St. Louis is increasingly being recognized nationally for its chefs and burgeoning restaurant scene. What better way to help spread the gospel than to do it up big when your friends and family come to stay.
If your summer out-of-towners are foodies, they'll want you to show them what we have to offer beyond great barbecue (although our barbecue is unbeatable, let's not forget). Here are Gut Check's picks for the restaurants that are sure to impress your guests' palates and send them home talking us up.
See also: 10 St. Louis Restaurants Growing Their Own Food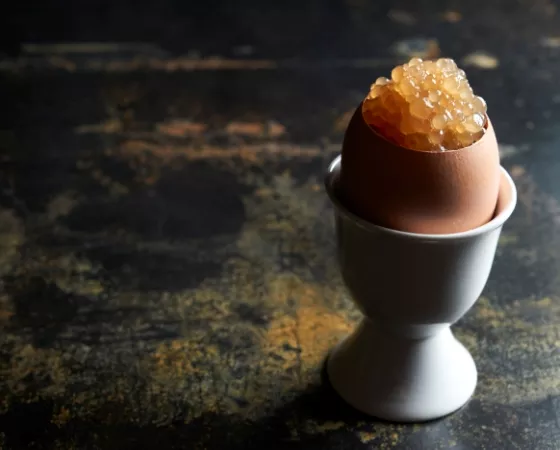 "Signature Egg" with bonito caviar, roasted shiitake mushroom, citrus custard and maple syrup served in a cut eggshell. | Greg Rannells
Niche (7734 Forsyth Boulevard; 314-773-7755) Pedigree: Executive chef and owner Gerard Craft is a five-time James Beard Foundation finalist for Best Chef: Midwest, and named Food and Wine's Best New Chef in 2008.
Chef Gerard Craft's passion for the art of cooking is infused in Craft's flagship restaurant, Niche, which focuses on the tastes of Missouri, celebrating just-picked produce, uniquely Midwestern flavors and local farmers. With either the four-course prix fixe or ten-course chef's tasting menu to choose from, your guests can sit back, relax and prepare for a once-in-a-lifetime experience.
Eel and uni bouillabaisse with cauliflower puree, uni bottarga, pickled shrimp and rouille crostini with backyard kale. | Greg Rannells
Sidney Street Café (2000 Sidney Street; 314-771-5777) Pedigree: Chef and owner Kevin Nashan is a James Beard Foundation Best Chef: Midwest finalist for 2014, and a four-time James Beard Foundation Best Chef: Midwest semifinalist.
Sidney Street Café is a long-time neighborhood staple in Benton Park. Chef and owner Kevin Nashan's menu is inspired by his Hispanic roots, love of southern food, training in French cuisine and experience working under several noted chefs. He sources locally when he's not harvesting from the restaurant's own garden.
Tomato Toast with caponata, crispy Such and Such Farm basil, Sungold cherry tomatoes and uni sorbet. | Jennifer Silverberg
The Libertine (7927 Forsyth Boulevard; 314-862-2999) Pedigree: Chef Josh Galliano is a James Beard Foundation Best Chef: Midwest semifinalist, and was named Food and Wine's People's Best New Chef-Midwest.
Chef Josh Galliano and his polished team have perfected the craft of simple, inventive dining. Meat, seafood and vegetable dishes are all given the spotlight. The desserts also cannot be skipped. The craft cocktail, wine and beer lists are just as impeccable as the food. In short, make sure your out-of-towner tries everything.
Stone fruit and fig salad with cardamom-orange blossom yogurt. | Greg Rannells
Elaia (1634 Tower Grove Avenue; 314-932-1088) Pedigree: Chef and owner Ben Poremba is a James Beard Foundation Best Chef: Midwest semifinalist, 2014 and Food and Wine's Best New Chef semifinalist, 2014.
Tucked behind its sister wine and tapas bar, Olio (a magnificently renovated Standard Oil gas station), both the food and the setting at Elaia is rustically elegant. The intimate restaurant offers upscale Mediterranean-inspired fare as a ten-course tasting menu or a la carte. The extensive wine list is also assembled with care by Andrey Ivanov, who recently tied for first in the national Chaine des Rotisseurs' Best Young Sommelier competition.
Roasted Ozark Forest mushroom Salad with Crop Circle spicy greens, Baetje Farms goat's milk cheese, toasted Missouri pecans, warm bacon vin. | Greg Rannells
Farmhaus (3257 Ivanhoe Avenue; 314-647-3800) Pedigree: Chef and owner Kevin Willman is a James Beard Foundation Best Chef: Midwest semifinalist.
Farmhaus was inspired by rural life, specifically, one lived on a sustainable farm. Kevin Willman's menu changes daily, according to the day's fresh harvest from local farms and products gathered from area cheesemakers, bakeries and coffee roasters. Willman takes inspiration from his childhood in the Midwest and his culinary training in Florida, where the restaurant sources most of its seafood from.
Brasserie Burger with blue cheese and pickled red onion. | Greg Rannells
Brasserie by Niche (4580 Laclede Avenue; 314-454-0600) Pedigree: Another Gerard Craft joint!
Brasserie by Niche celebrates the foundation of cooking haute cuisine from France. The third restaurant from Gerard Craft, Brasserie offers simple food, prepared with his distinctive attention to subtle flavoring and texture. Casual French dishes are offered as amuse bouche, salades, hors d'oeuvres, fromage and plats. The weekend brunch is also a treasured St. Louis institution.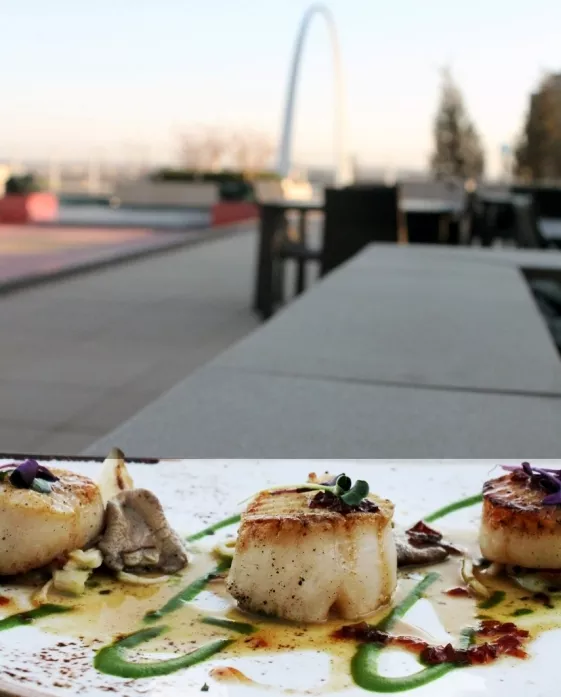 Seared sea scallops with fennel apple salad, oyster mushroom and vanilla bean agro dolce. | Sara Graham
Cielo at the Four Seasons (999 North 2nd Street; 314-881-5800)
What visitor can resist Cielo's rooftop patio and its impeccable view of the iconic Arch. Another reason to celebrate is the recent arrival of executive chef Gian Nicola Colucci. Born in Turin, he brings authentic flavors of Italy to each flawlessly executed dish. It's a style worthy of the remarkable view.
Spanish octopus with arugula, pickled onions and harissa. | Courtesy Central Table
Central Table Food Hall (23 South Euclid Avenue; 314-932-5595)
Central Table Food Hall brought a new dining concept to St. Louis. One gorgeously rustic space houses seven distinct food "stations" where you can purchase a variety of food during the day. There's a market, a grill, a coffee house, a sushi bar and a raw bar, just to name a few. In the evening, the area is transformed into a seated, "upscale casual dining experience" with table service where diners choose between eclectic but masterfully executed dishes such as raw oysters, lamb shank, pizza and bone marrow. Featured Dish: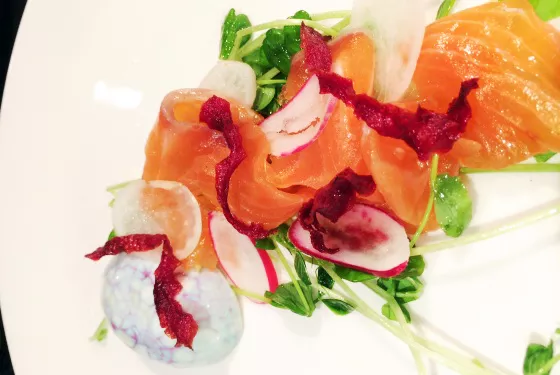 House-cured salmon with pea shoots, red wine-marinated six-minute egg, crème fraiche, beet chips and pink peppercorns. | Brian Hardesty
Element (1419 Carroll Street; 314-241-1674)
The thing that makes Element unique is that in the kitchen you'll find multiple chefs working together, reviewing each dish, brainstorming and sharing in the menu creation. Your guests are treated to both dinner and a show, as the kitchen is open in the dining room and the gorgeous art of food plating is on display. The two outdoor patios offer tremendous views of downtown St. Louis as well as the restaurant's kitchen garden.
Duck Burger with remoulade, prairie breeze Irish cheddar, mixed greens, onion jam, and a duck egg on a challah bun with french fries. | Jennifer Silverberg
Planter's House (1000 Mississippi Avenue; 314-696-2603)
Owners Ted and Jamie Kilgore opened Planter's House at the end of last year. Ted had already made a name for himself through his dedication to the craft of the cocktail as a bartender at Monarch and later at Taste by Niche. However, the kitchen, led by executive chef Bradley Hoffman, has put together a noteworthy menu of small plates and entrees assuring the food is on its way to earning accolades of its own.
Follow Sara Graham on Instagram at @SaraSunshineSTL and Twitter at @SaraSunshineSTL. E-mail the author at saralouisegraham@yahoo.com.
---