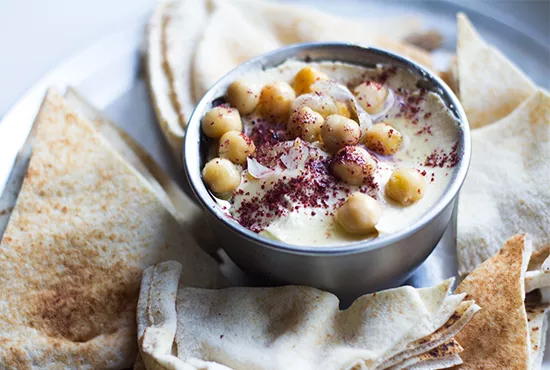 Hummus with pita. | Photos by Mabel Suen
The Place: Layla (4317 Manchester Avenue; 314-553-9252)
The Hours: Happy hour is offered daily from 4 to 7 p.m.
The Deal: $3 select appetizers, $3 featured drafts, $3 well drinks, $5 wine by the glass.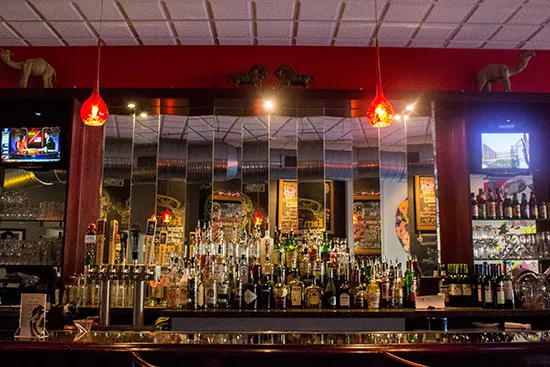 The Scene: In the midst of a recent menu update, Layla's concept currently features Middle Eastern fusion. The interior reflects this eclecticism with bright red walls accentuated with a colorful chalk menu and psychedelic pop-culture portraits hung around the seating areas. On an early weeknight evening, we practically had the restaurant to ourselves and settled into a table in the back of the primary dining room.
The Food: Layla's happy hour doesn't have a separate menu, so ask your friendly server for the specials -- ours informed us that happy hour typically featured around two or three appetizers each day, depending on the kitchen's whim. Available options could include hummus, wings, "batatas" and falafel fries. Despite the menu only offering a few varieties of wings as the happy-hour selection that evening, we sampled some more dishes for the sake of evaluation.
Did Layla make the grade? Find out on the next page.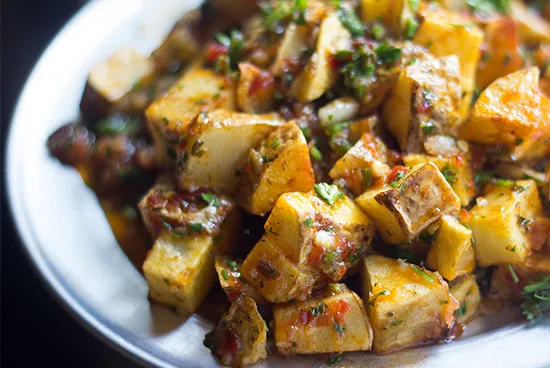 "Batatas" tossed with tabbouleh and chile sauce.
The Verdict: The house jumbo fried wings come tossed in a housemade chile sauce, garlic and fresh herbs. This particular sauce is a sweet and sticky one, so have some napkins handy. The same flavor components coat the "batatas" -- spicy flash-fried potatoes -- in addition to a toss in tabbouleh, which lends a nice, light counterpart to mellow out the robust flavors.
The house hummus comes with plenty of pita for dipping, making it a solid traditional staple, whereas Layla's falafel fries put an interesting twist on a classic Middle Eastern dish. Described on the menu as the "superfood of french fries," the ground chickpeas take on a new form as rectangular-shaped wedges with toasty, crispy edges served with tzatziki aioli for dipping.
Falafel fries with tzatziki aioli.
The appetizers quickly quelled our appetites, but when it came down to it, the happy-hour selection actually only included wings that day. While the food menu varies during the restaurant's midday specials, we're told the "late night lounge" consistently offers a larger selection over the weekends. Check those specials out Thursday through Saturday from 9 p.m. to close for half-price hookah and more.
The Rating: On a scale of one to five...

Previously on Happy Hour Handbook: - Five Star Burgers - Central Table Food Hall - Planter's House - Atomic Cowboy - Stella Blues - Triumph Grill - Lola - Basso - Blue Ocean Sushi - Hwy 61 Roadhouse and Kitchen - Gringo - Jax Cafe - Mile 277 Tap & Grill - Sandrina's - Mangia Italiano - Kirkwood Station Brewing Company - Steve's Hot Dogs on the Hill
We're always looking for some more happy hour meal deals. E-mail the author at mabel.suen@riverfronttimes.com.