Cooking with produce, meat and dairy from local farms and growers is a growing trend across the country, but there are several restaurants in St. Louis that are taking this a step further. Gut Check spoke with ten local restaurants that are actually growing their own produce, cooking seasonally, saving money and having fun while they're at it.
Schlafly Gardenworks | Jack Petrovic
Schlafly Bottleworks (7260 Southwest Avenue; 314-241-2337) and Schlafly Tap Room (2100 Locust Street; 314-241-2337) Schlafly Gardenworks is the name of the small urban garden located on the east side of Schlafly Bottleworks in Maplewood. Thousands of pounds of produce are grown each year for use at Schlafly Bottleworks and the Schlafly Tap Room downtown, such as tomatoes, beets, Japanese white turnips, radishes, eggplant, summer squash, sunchokes, garlic, onions, apples, herbs, peppers, nopales (edible cactus), mustard greens, kale, collards, bok choi, sweet potatoes, Swiss chard and lettuce. The garden is nourished by compost created from vegetable scraps and coffee grounds from both restaurants. Bottleworks hosts free educational events and seed swaps to share their expertise with the community. The garden is maintained by Gardenworks manager Jack Petrovick.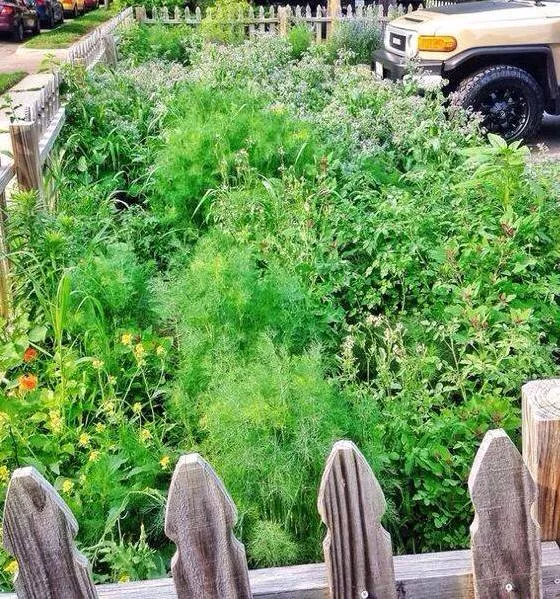 Sidney Street Cafe | Polished Pig Media
Sidney Street Café (2000 Sidney Street; 314-771-5777) Sidney Street Cafe chef Kevin Nashan converted his parking lot into a 100-yard urban garden about five years ago. Each station in the restaurant's kitchen has its own bed, and Benton Park neighbors who help to maintain the garden are welcome to pick freely from it. The garden grows more than 50 varieties of fruits, vegetables and herbs, depending on the season. Currently the garden has rue, saltwort, borage, stevia, lovage, purslane, hemlock, cumin, dill, epazote, nasturtium, chamomile, magenta lambsquarters, native Missouri black raspberry, dewberry, blueberry, sumac, Dorman red raspberry, sunchokes, Tokyo turnips, beets, Egyptian walking onions, red dragon carrots, cardoons, horseradish, fennel, tomatoes, melons and peppers. Local elementary schools and the Hoover YMCA have visited the restaurant to learn first hand about gardening and healthy eating.
Katie's Pizza and Pasta | Katie Lee
Katie's Pizza & Pasta (9568 Manchester Road; 314-942-6555) Six 9-foot-by-3-foot raised bed gardens and twenty planters are the first thing diners see as they enter the restaurant. The garden is currently growing herbs, San Marzano tomatoes, heirloom tomatoes, heirloom peppers, heirloom eggplant, green beans, Swiss chard, nasturtium (edible flowers), zucchini, squash blossoms and arugula. Owner Katie Lee explains the garden was created out of a love of the hands-on experience of growing food to cook. The squash blossoms are used for a ricotta-stuffed fried squash blossom appetizer, the Swiss chard is added to a pear and fig salad, the San Marzano tomatoes are the base for Katie's sauce, the heirloom tomatoes are reserved for the caprese salad, the nasturtium flowers garnish the burrata plates, and the herbs "go in everything."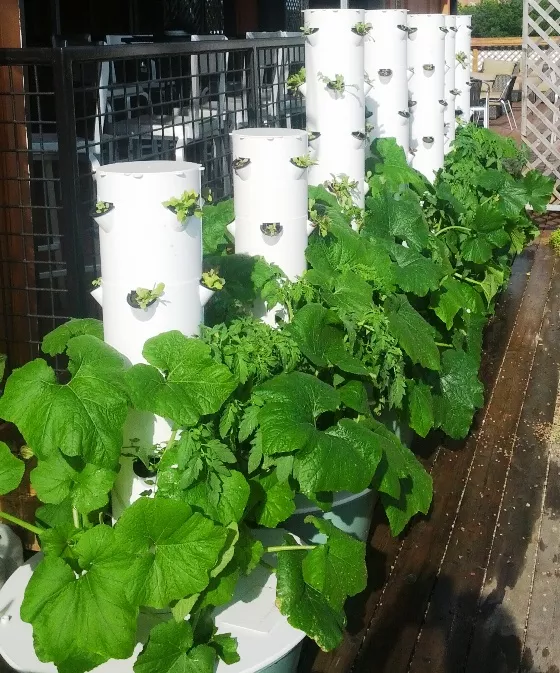 Vin de Set | Paul Hamilton
Eleven Eleven Mississippi (1111 Mississippi Avenue; 314-241-9999) and Vin de Set (2017 Chouteau Avenue; 314-241-8989) Three years ago co-owners Paul and Wendy Hamilton started growing crops in soil-free aeroponic towers on the patios of both restaurants to combat the rising cost of fresh produce. The fifteen towers are capable of holding 420 individual plants. This year, they are planted with several different varieties of lettuce. Two years ago the patio at Eleven Eleven was converted into a winter greenhouse that allowed for year-round growing and lots of new produce such as winter squash, Brussels sprouts, frisee, kale and Swiss chard. Last year a parking lot next to Vin de Set was converted into an organic urban farm for additional space and is currently growing lettuces, Swiss chard, kale, radishes, broccoli, cauliflower, tomatoes, squash, peppers, beets, cucumbers, carrots and a large selection of herbs. All crops are heirloom and started from seed.
Element (1419 Carroll Street; 314-241-1674) The rooftop patio garden at Element was just started two months ago, making good use of an area that wasn't being utilized, providing fresh produce and herbs for the kitchen, and connecting patio diners to the source of their food. The garden contains herbs, radishes, onions, chile peppers, Brussels sprouts, lettuces and broccoli. The herbs are used throughout the menu, while the vegetables are featured in daily specials and the tasting board. Owner Brian Hardesty has hopes of adding a street-level garden soon.
Five Bistro | Anthony Devoti
Five Bistro (5100 Daggett Avenue; 314-773-5553) Chef-owner Anthony Devoti started the garden behind Five Bistro a couple of years ago with the intention of growing herbs, lettuce and tomatoes for his family. After the first year, he acquired additional land from a neighbor, expanded the garden and began growing crops for the restaurant. This spring, the garden was re-created in the back yard of his new home down the street. This "victory garden" features vegetables, herbs and flowers. The spring harvest included radishes, berries, kale, lettuce and herbs. So far, the summer season has yielded green beans, zucchini and squash. The tomatoes have just stared to ripen, and the cucumbers and melons are starting to produce fruit. Devoti includes one appetizer and salad made entirely from the garden every day at the restaurant, such as: roasted "Calima" green beans with "breakfast" radish chanterelle mushrooms and Missouri pecans; raw "Striata d'Italia" zucchini salad with crispy kale and Parmigiano-Reggiano; black raspberry sorbet; bok choy kimchi; roasted onion with green onion gnocchi and onion puree; and scarlet radish salad with deviled chicken eggs and crispy pork jowl.
Quincy Street Bistro | Rick Lewis
Quincy Street Bistro (6931 Gravois Avenue; 314-353-1588) Chef Rick Lewis of Quincy Street Bistro started his 50-by-150-feet garden in 2006 to support the restaurant's kitchen and his family in the large green space behind his house. Located just fifteen minutes away from the restaurant, it provides about a third of the produce used by Quincy Street Bistro during the spring, summer and fall seasons. All plants are grown from seeds planted as soon as the ground has thawed enough to work in a thick layer of compost, horse manure and fish emulsion. Crops are then staggered into three planting seasons to maximize harvests. Currently, Lewis is growing watermelons, radishes, beets, baby turnips, Thumbelina carrots, Chinese broccoli, kale, collard greens, sweet and hot peppers, bell peppers, assorted heirloom and hybrid tomatoes, sweet corn, okra, watermelons, cucumbers, pole beans, French beans, wax beans, black eyed peas, lima beans, Italian eggplant, patty pan squash, Italian zucchini, buttercup squash, red onions, Walla Walla sweet onions, basil, chives, oregano, thyme, rosemary, sage and several varieties of pumpkins. He is also growing perennials, such as strawberries, asparagus, peaches, apples, figs and cherries. Two bee hives were added last year and are expected to yield ten gallons of honey this year. Lewis even uses the bee wax by mixing it with mineral oil to oil the restaurant's wood cutting boards. Next summer's plans include chickens for eggs and a rhubarb patch.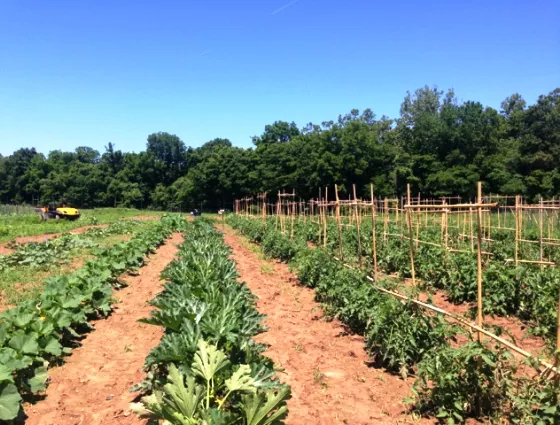 Winslow's Home | Ann Sheehan
Winslow's Home (7213 Delmar Boulevard, University City; 314-725-7559) Winslow's Farm is a five-acre organic (not certified) farm located 35 miles west of St. Louis in Augusta, and it is in its eighth growing season. Owner Ann Sheehan Lipton started the farm fourteen years ago, intending to grow a cash crop such as native medicinal herbs, but after opening Winslow's Home in 2008, she decided to focus on crops for the restaurant. This was before the "farm to table" movement had caught on, so there was no organized distribution network that directly connected restaurants to farmers. Before Winslow's Home was opened, all produce was sold at local farmers' markets and a community supported agriculture (CSA) program. Now, Winslow's Home chef Wil Fernandez-Cruz is offered first dibs and the rest is sold in the grocery at Winslow's Home. Harvests are done twice weekly and delivered throughout the growing season. The farm produces a large variety of squash, cucumbers, radishes, lettuce, onions, herbs, carrots, tomatoes, sweet and hot peppers, tomatillos, asparagus, herbs, flowers, blackberries, strawberries, apples, cherries and peaches.
Follow Sara Graham on Instagram at @SaraSunshineSTL and Twitter at @SaraSunshineSTL. E-mail the author at saralouisegraham@yahoo.com.
---