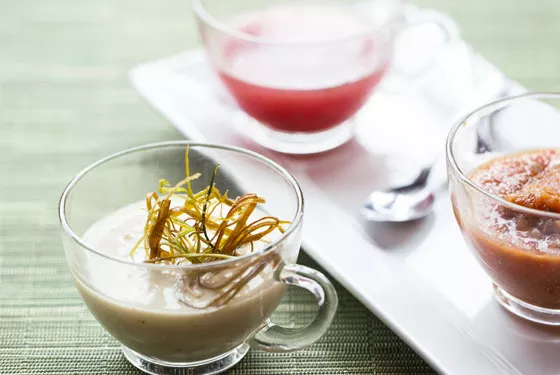 Jennifer Silverberg
Bocci's flight of soups features vichyssoise, gazpacho, and watermelon and mint.
Restaurateur Frank Schmitz owns two places just a block from one another in Clayton. While BARcelona Tapas restaurant hustles and bustles, the other, Bocci Wine Bar, has floundered as a moderately upscale Italian bistro. Schmitz decided to temporarily shutter Bocci for remodeling and retooled it as a small-plates restaurant and wine bar. His logic makes sense: BARcelona clicked; Bocci did not. BARcelona is casual, small-plates-style dining, and Bocci was more formal with traditional, coursed offerings. So it seemed simple enough: Take a successful business model and replicate it.
See also: Review: Urban Chestnut Grove Brewery and Bierhall
Outside of Bocci Bar. | Jennifer Silverberg
The problem with Bocci, however, is more about content than form, and whatever the original Italian bistro's problem was, it hasn't been solved with a fresh coat of paint and a new menu. The new Bocci Wine Bar lacks a cohesive identity. Unlike its sister restaurant that oozes Catalan character, Bocci Bar doesn't seem to know what it wants to be. On the one hand, it's a wine bar, with fancy temperature-control systems and a comprehensive selection of wines by the glass to encourage tastings. Then again, it takes on some of the character of a pop-up with a monthly theme based around a particular country (on one of my visits it was Argentina; on the other, France). As such, Bocci serves a core menu that changes regularly, but it also has a secondary menu based on the theme month. If all of this sounds confusing, it is.
As a wine bar, Bocci succeeds by having a comprehensive but not overwhelming wine list, a large selection of flights and a well-versed bar staff that can guide patrons through. Kudos also goes to Schmitz for having the city's largest by-the-glass selection of rosé. On the night of my visit, there were eight different rosé offerings, none of which bore any resemblance to the cheap saccharine stuff peddled by the box.
The food, however, is mixed. The menu is divided up into the categories "Farm," "Sea" and "Land" rather than into traditional courses — not a problem in itself. The results, however, are all over the place both conceptually and execution-wise. A trio of chilled summer soups was fair. Of the three — chilled watermelon, vichyssoise and gazpacho — the vichyssoise was the best. Executive chef Neil Alkobri does not mess with the classic, elegant potato and leek soup. The gazpacho was average, but the watermelon soup was overly sweet and thick, like melted sorbet. The pickled watermelon rind garnish did nothing to temper the syrupiness.
When we ordered the "BBQ chicken flatbread" — which turned out to be a total misnomer — our server gave us a strange warning: "It's really sweet." He was not kidding. The flatbread crust was limp, chewy and covered in a cloyingly sweet watermelon paste that was billed as a "jam." The chicken-confit topping tasted old, the cheddar cheese looked like prepackaged sandwich slices, and a scattering of pickled rind failed to save the day.
Inside Clayton's retooled Bocci Bar dining room. | Jennifer Silverberg
But the disastrous flatbread was not the worst thing we tried. I was initally intrigued by the "baked burrata" appetizer, curious what magic the kitchen might perform to keep the luscious cheese intact in the oven. Apparently, the trick was to perform a disappearing act. In its place was a crock of warm marinara that tasted like V-8 and a slice of fresh mozzarella. We were instructed to mix the cheese and sauce together and dip slices of garlic bread into the concoction (when we stirred the dish, a little buratta rose to the surface), but despite our best efforts, the mozzarella and marinara did not incorporate, leaving us with bites of either sauce or stringy cheese, but not both.
To Bocci's credit, the missteps mostly ended after our first course. A dish of two buttery jumbo sea scallops, pan-seared to a perfect medium-rare, were served atop a subtly sweet English pea purée and a drizzle of honey. These understated accompaniments allowed the delicate scallop flavor to shine through. Alkobri's Korean barbecue pork is a play on the tradition of serving soju (Korean rice liquor) in a hollowed-out apple. Instead of soju, he stuffs the baked apple with soy and sesame-roasted pulled pork and serves it with a dollop of sour cream. The flavors worked together wonderfully.
The highlight of the meal was the chicken confit, some of the best I have ever tried. The leg and thigh meat was so juicy and perfectly cooked that it slid off the bone with only the slightest prodding, yet its exterior remained crispy. The chicken was served in a bowl of rich Parmesan broth good enough to be served on its own. This was accompanied by kale and rice noodles, and while I would have preferred some potatoes, it's a small complaint.
We finished the meal with a bittersweet flourless chocolate torte — good, yet unremarkable on its own, elevated by a generous sprinkling of Nutella dust and a scoop of peanut-butter ice cream. It wasn't the most innovative dessert, but it was a satisfying sendoff.
Rebranding Bocci Wine Bar may have been the right move, but its identity got lost in the process. Even with some good food and a nice wine list, the X factor that makes Bocci's Spanish sister sing is still missing.
Follow Cheryl Baehr on Twitter at @CherylABaehr. E-mail the author at Cheryl.Baehr@RiverfrontTimes.com.
---