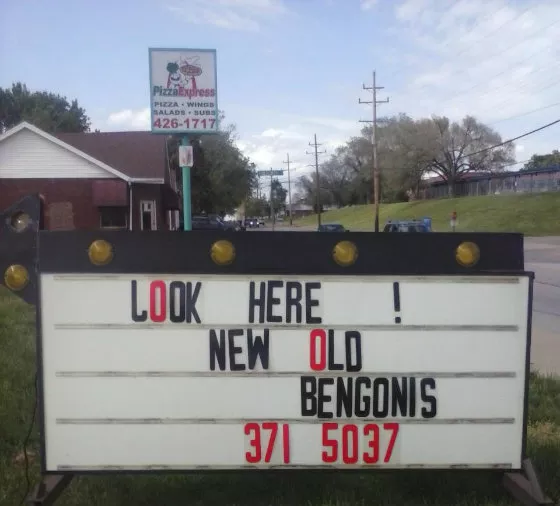 The sign that started the trouble. | Courtesy Darin Smith
Update, July 2: Restaurant owner Darin Smith tells Gut Check he's come to a decision regarding the name "Bengoni's." Scroll through to the bottom of the post to find out what it was.
From 1982 until the early 2000s, Bengoni's Restaurant was the place to go in Overland. Teenagers took their prom dates there, families gathered to celebrate communions and commencements -- it was an institution.
"The salads were superb, their pizzas were great. They just had really good Italian food," recalls Overland city councilman Jay Fetsch. "We all, over the years, enjoyed it."
Then in 2006 Bengoni's abruptly closed its doors without much explanation. Fetsch says he still sees people walk up and shake the door handles of the locked and empty restaurant all the time.
Earlier this month a sign appeared outside of 2239 Woodson Road, just down the street from the old location, proclaiming the return of the "New Old Bengoni's." While this was great news to some who missed their favorite Italian eatery, it caused others -- including the former owner of Bengoni's -- some serious distress.
See also: Lemmons to Close, Owner Says "The Real Problem...Is Me"
The former location of Bengoni's.
The man behind the "new old Bengoni's" is Darin Smith, an entrepreneur and former owner of a consignment shop in St. Joseph called Way2Kewl. Smith says his uncle founded the original Bengoni's, which opened sometime in the 1970s. Smith recently moved back to the Overland area and decided he was interested in resurrecting the business. At the time, the building that once housed the restaurant (1947 Woodson Avenue) was still vacant with the old sign hanging above it.
"I went to my uncle and I said, 'Is it OK to use the name Bengoni's?' He said, 'I don't see why not,'" says Smith.
After doing some inquiring, Smith found out that the original building is already in the late stages of a sale, but that the leasing agent and the new tenants were willing to part with the old Bengoni's signs. Smith found a location down the street -- another former pizza restaurant with a walk-up window and an expansive patio -- and paid $275 to have the Bengoni's signs removed from 1947 Woodson and transported to 2249 Woodson. He affixed them to the outside walls: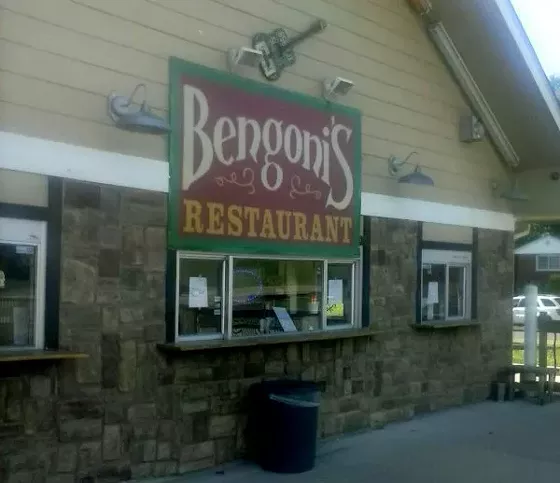 Courtesy Darin Smith
The "new old Bengoni's."
Once the signs went up the trouble started. Smith says he was accused of being a scam artist on a Facebook group called "I Grew Up in or Had Friends in Overland Missouri." One of the main commenters was a woman who turned out to be the daughter of the man who ran the restaurant from 1982 to 2006:
The man opening this restaurant is telling people our family supports him fully. I'm telling you that nothing could be further from the truth! We were in absolute shock when we found out he was opening this restaurant. I for one am furious that he would try to use the decades of hard work my family put into our business to make a buck. He does not have any of the Bengoni's recipes, so I'm not even certain how he plans on pulling this off. I thought the good people of Overland should be warned because I know how much Bengoni's is missed in the community. Please let your friends and family know thait this is NOT the real Bengoni's reopening and neither the Eisen family nor any of its former employees are in any way affiliated with this man.
"They basically put my name through the wringer on Facebook, so I messaged back that the sign was abandoned," says Smith. "I'm preserving history and bringing back what the original Bengoni's was."
It turns out that while it was true that Smith got permission from his uncle (who he would not name, saying he does not want to be involved in the controversy), no one asked the family who ran the restaurant from 1982 to 2006. That would be the Eisens -- Gary, his wife, Nancy, and their children. Gary Eisen tells Gut Check that when he saw the signs announcing a new Bengoni's, he was shocked.
"I wish no ill will on Darin Smith, but I'm a little aggravated," he says. "If Darin had approached me six months ago and said, 'Gary, I think I'm going to put this together, do you have any thoughts, comments or concerns?' I probably would have helped him do what he wants to do."
Click through to get the Eisens' side of the story.
Gary Eisen's "open letter to the public" which he wanted to publish in the local paper.
Eisen says he and his wife, Nancy, purchased Bengoni's from Smith's uncle and grew the business from a 40-seat restaurant to 96 seats. He says when times were good he made a six-figure salary, paid his manager $50,000, and was able to offer his employees health care and paid vacations.
"We built a legacy in north county," he says.
Then, after September 11, 2001, Eisen says, business began to dry up. He and his wife cashed in their 401Ks to try to keep afloat, to no avail. They lost their home, their car, then the restaurant and finally, declared Chapter 7 bankruptcy in 2007. He says the painful way that Bengoni's closed makes it more difficult to see someone outside of his family take the name.
"If money was not the issue, [my kids] would own Bengoni's," says Eisen. "In a sense, I'm thankful, I'm glad Nancy passed before all of this hullabaloo."
Eisen agrees that because of the way he walked away from the business, he has no legal right to the name or the signs. But he says it's more the principle of the thing that bothers him. He says he's stayed up late into the night reading threads on the Overland Facebook page about the controversy.
"I thought it was disrespectful for him to take this on without even calling me," he says. "I have no legal [right] to the name, but I think the way he's done it is a little tacky. I think he's shooting himself in the foot with Overland. It's small-town politics in Overland."
As for Smith, he's not quite sure how he will proceed. He says some of the confusion comes from the fact that he's not a blood relative of his uncle -- Smith's step-father is the uncle's brother. And when he started telling people he would use the "original" Bengoni's recipes, he meant the ones the uncle used in the '70s, not the ones the Eisen family used -- specifically for their famous house salad dressing and pizza sauce. But now even his uncle is balking, given the amount of drama the name has caused. Smith says he's had people come up to him while he's working on the new restaurant and yell at him.
"I've got both sides of the business ready to go, and I just don't know what's right to do. I've talked to a lawyer, I've registered the name with secretary of state of Missouri. It's mine at this point," he says. "Do I pull the trigger and use the name? Legally I can, but morally, what's right?"
He's got a second name in mind -- Basilio's -- but is upset to have lost the money moving the Bengoni's signs.
"Six-thousand people in Overland want to see the Bengoni's back, and all I'm doing is bringing back the salad dressing and pizza sauce," he says. "Everybody was excited and wanted to know more. My phone was ringing off the hook."
Smith says his new restaurant will be open this Friday. What it will be called remains to be seen. You can follow its progress on this Facebook page, currently called Bengonis.
Situation resolved! Click through for Smith's final decision. Update, July 2, 2014: Smith tells Gut Check he's come to a decision on the name. Drum roll please: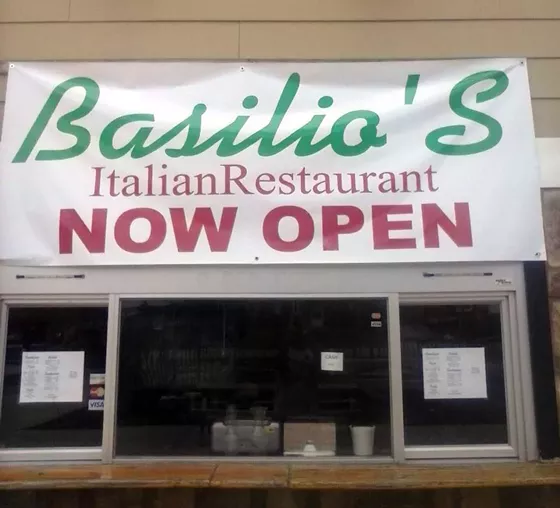 That's right, he's opted to go with Basilio's rather than the contentious Bengoni's name. The old signs, however, are still on the building as Overland "memorabilia," Smith says:
The Eisen family is already sounding their approval on Facebook -- here's what one of their daughters posted this afternoon:
I had heard he decided to change the name !! I can't tell you how pleased I am about it. Staying true to my word I will be in line with the rest of his supporters to spend my money on a large pepperoni pizza and a chef salad with X House dressing!
Follow Jessica Lussenhop on Twitter at @Lussenpop. E-mail the author at Jessica.Lussenhop@RiverfrontTimes.com.