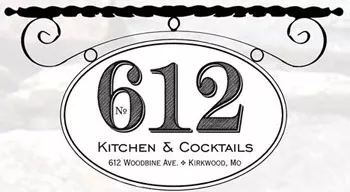 Kirkwood mainstay Graham's Grill & Bayou Bar (612 West Woodbine, Kirkwood) closed December 31, but as we reported earlier this year, owner Dan Graham has retired and his kids are relaunching a new concept in the space. Graham's son Devin tells us the new 612 Kitchen and Cocktails will be a 1920s-inspired spot with a focus on small plates and handcrafted drinks.
See also: Graham's Grill, Closed Since Owner's Retirement, to Unveil New Menu and Concept
[image-2]
"We are off the beaten path in Kirkwood. We wanted to do something that really stood out, that would draw people down to where we're at," Devin Graham, who owns the restaurant with his sister Alison, says. "I had been to other major cities around the country, and this is kind of an up-and-coming concept that really hasn't hit St. Louis yet. I thought the market hadn't been tapped."
The decor will be reminiscent of the Roaring Twenties with dark woods, cream walls and vintage furniture. The menu is almost all shareable because of 612's loungey feel -- Graham envisions guests ordering a few plates as they grab drinks with friends. Todd Brutcher, sangria master (among other things) at Onesto Trattoria (5401 Finkman Street; 314-802-8883) is joining 612 to head up the bar program with Sarah Jones. Their cocktail list will feature 1920s-era libations as well as bloody marys, original cocktails and, of course, sangria.
Graham's Grill chef Brian Gabelsberger is staying on to helm 612. "He's done a lot of the menu design," Graham says. "He just has great concepts, and his execution is fantastic, so we wanted to bring him on over." Gabelsberger's menu includes things like pulled pork (Graham kept the smoker from his dad's restaurant), handmade toasted ravioli, tacos, hummus and more.
612 is hoping to open July 9 if all inspections go according to plan; if not, Devin says, it'll be open a week after that at the latest. 612 Kitchen & Cocktails will be open Wednesday, Thursday and Friday from 4 p.m to 1:30 a.m., Saturdays from 11 a.m. to 1:30 a.m., Sundays from 11 a.m. to midnight and closed on Mondays and Tuesdays. Check out 612's Facebook page for updates.
"The theme is basically geared around a lot more handcrafted cocktails," Graham says. "It's going to be something new to St. Louis."
Gut Check is always hungry for tips and feedback. E-mail the author at Nancy.Stiles@RiverfrontTimes.com.
Follow Nancy Stiles on Twitter:
---