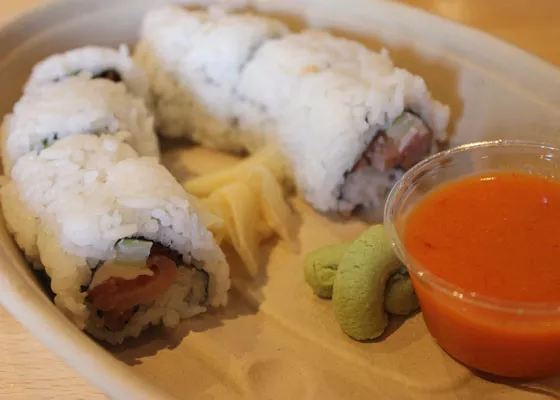 The lox roll at Flying Rolls. | Nancy Stiles
We were a little too excited about the state of St. Louis' culinary scene last month. June saw a number of restaurants close -- including several in the same week. Here's our roundup of the last month. As always, let us know in the comments if we missed anything.
See also: Lemmons to Close, Owner Says "The Real Problem...Is Me"
Openings:
A Pizza Story (7278 Manchester Avenue; 314-265-6085) Death in the Afternoon (808 Chestnut Street; 314-621-3236) Finger Foodies (@FingerFoodiesMO) Flying Rolls (3674 Forest Park Avenue; 314-246-0589) Grove East Provisions (3101 Arsenal Street; 314-616-8527) Salt + Smoke (6525 Delmar Boulevard, University City; 314-727-0200)
Closings:
Brazikat Brazilian Steak & Seafood House (172 Carondelet Plaza) Chi Sushi Sake (4 North Euclid Avenue) Harvest (1059 South Big Bend Boulevard, Richmond Heights) Lola (500 North 14th Street) Nico (6525 Delmar Boulevard, University City) Tripel Brasserie (1801 Park Avenue)
Gut Check is always hungry for tips and feedback. E-mail the author at Nancy.Stiles@RiverfrontTimes.com.
Follow Nancy Stiles on Twitter:
---