Pride Fest 2013. | Steve Truesdell
Pride Fest is extra sweet this year -- Mayor Slay helped four couples flout the state's ban on same-sex marriage this week. It's a step in the right direction, so let's celebrate. Of course the parade is downtown, but check out where you should be before and after.
See also: Concerts and Cocktails and Hipsters, Oh My! An Updated Guide to the Grove
Siam (4121 Manchester Avenue; 314-533-7426)
This new bar took over the space of Novak's, a St. Louis institution that is gone but not forgotten. Still, it's quickly becoming one of the best gay bars in town. The party kicks off Friday night with DJ Black Guy spinning videos from 10 p.m. to 3 a.m. There are drink specials all weekend, of course, and look out for some special events. Follow Siam's Facebook page for up-to-the-minute deals.
Inside Rehab. | RFT Photo
Rehab St. Louis (4054 Chouteau Avenue; 314-652-3700)
Rehab has got big things planned for Pride. The drag show starts Friday night at 9 p.m. followed by DJ Alan Ray. On Saturday, there's a foam party beginning at 8 p.m. with a live band until 11 p.m. For Sunday, there's a pre-parade breakfast from 9 to 11:30 a.m., tea and dancing at 2 p.m. and a free barbecue buffet starting at 4 p.m. There's other fun stuff, too, so be sure to stop by Rehab at least once this weekend.
Inside Bastille. | RFT Photo
Bastille (1027 Russell Boulevard; 314-664-4408)
Bastille has been not only one of our favorite gay bars for years, but it's one of the best Soulard bars, too. It's in a historic building with a classic wood bar, friendly bartenders, and best of all -- you can smoke. Sit back on the patio for a more relaxed Pride weekend.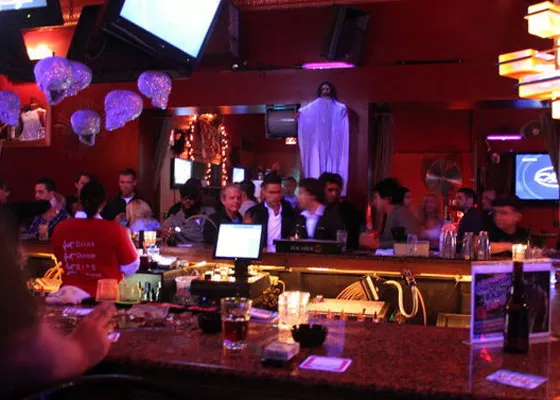 Inside Just John's. | RFT Photo
Just John's (4112 Manchester Avenue; 314-371-1333)
You didn't think we forgot about Just John's, did you? The theme this year is Star Wars, and we have seen the storm trooper, er, costumes. You won't want to miss them. There's no cover all weekend, and free food Friday night with $3 Miller Lites after 10 p.m. On Saturday it opens at 2 p.m., and it's $3 Bud Light and Bud Select after 10 p.m. Just John's opens at 9 a.m. on Sunday with a free shuttle to Pride Fest downtown. Then come back and enjoy happy-hour prices all day. Who knows, maybe even Michael Sam will be there.
Lumen (2201 Locust Street; 314-241-5757)
This isn't exactly a bar, but it's hosting possibly the hottest party of the weekend: the ULTRA White Party. Everyone will be in white, sipping cocktails from Pinnacle vodka. VIP tickets get you an open bar and free food. Local DJs including DJ Trash Talk will keep the party going until after midnight, when there will be a lantern release to celebrate love. A portion of the ticket sales benefit PROMO, Missouri's LGBT advocacy group. Tickets are $25 in advance, $45 for VIP and $75 for PROMO VIP, available here.
Gut Check is always hungry for tips and feedback. E-mail the author at Nancy.Stiles@RiverfrontTimes.com.
Follow Nancy Stiles on Twitter:
---