Cluck yeah. | Caroline Yoo
"Chicken-Free Strips" by Beyond Meat were created in a lab at the University of Missouri. When we heard that both Mark Bittman and Alton Brown think this faux meat can substitute for the original without anyone being the wiser, we decided to taste test it ourselves and see what all the fuss was about.
See also: Rocket Fizz's Craziest Soda Flavors: A Gut Check Taste Test
Click here for Bittman's dispatch from the inventor's kitchen and his admission that he was fooled into believing Beyond Meat was the real deal.
Our resident vegan munched happily away, but he hasn't eaten chicken in over twenty years. The omnivores were a little more suspicious. The smell is not exactly like cooked chicken. There was spice and smoke and a little "soy" smell to it. (We tried the grilled variety -- lightly seasoned and southwest are also available.) The texture is pretty much identical to a strip of chicken breast. It even shreds like meat. It chews like meat. It tastes, well, not exactly like chicken. It has an earthy, somewhat vegetal quality, but it's made from vegetables, so this isn't too surprising. Eating it cold straight from the pack is a pretty tough test. In a recipe like chicken vindaloo or even a chicken salad, it would probably fool a lot of people.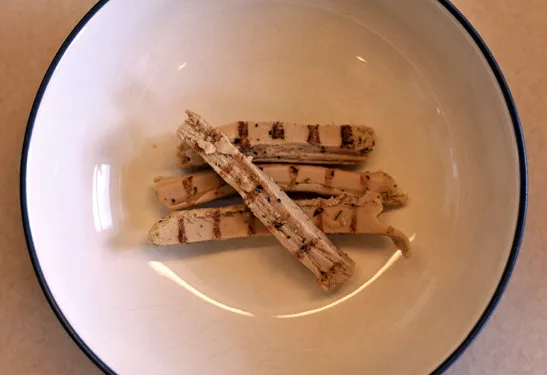 Last year Whole Foods had to recall a batch of curried "chicken" salad made with Beyond Meat because the label didn't list soy (a common food allergen) as an ingredient. No one noticed that it wasn't real chicken.
You can pick up a pack at Whole Foods (multiple locations) for $4.99. Try it in your favorite dinner recipe, and see if you can fool your meat-eating guests.
Follow Patrick J. Hurley on Twitter at @VeganDrunkard. E-mail the author at Patrick.J.Hurley@HurleyHouse.com.
---