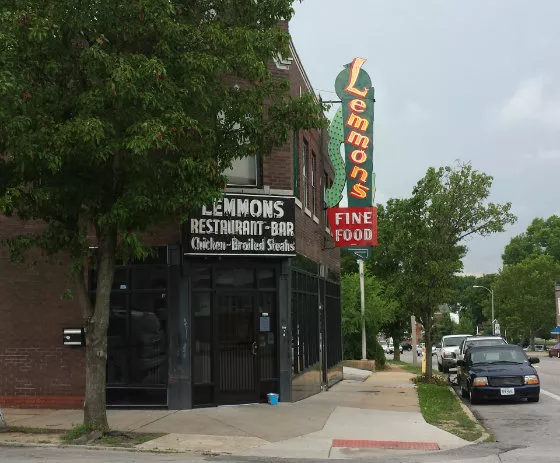 Last call. | Jessica Lussenhop
Word began spreading rapidly last night that Lemmons (5800 Gravois Avenue; 314-481-4812), the beloved bar, pizza joint and music venue in the Bevo Mill area, is closing.
Owner Michael Gross says he came to the decision, then began telling staff members individually yesterday. He says there are many financial and personnel-related reasons for the closure, but ultimately, it came down to one factor.
"The bottom line is the owner just wore out -- I'm worn out financially, worn out physically, just the stress of running a small business," he says. "The reality is, as with anything in life, there's an upside and downside.... As soon as you can no longer see the upside, that's the time to get out."
See also: Lola Announces June 22 Closure
Here's what appeared on the Lemmons Facebook page this morning:
If loving you is wrong.....come to our last trivia.lemmons has thrown in the towel, and while we love you , and enjoy selling you drinks... we will be selling what we have and not buying more.come thursday and friday for your last chance at a lemmons pizza .j will be cooking those nights, come say goodbye to denny.peace out.end transmission.
Gross says business in the last year has been terrible. That went for both the bar and the restaurant, but the music side of things took a particularly big hit.
"Since about this time last year we began to see a precipitous decline in attendance for the bands. There could be lots of reasons for that, could be there's more venues," he says. "Business is down in general, but the killer, the dramatic difference is, I believe, I didn't do a good job of putting the right people in a position to book the right bands."
Gross' plan is to stay open and continue making pizzas and selling beer until the product runs out.
"When we run out of mozzarella cheese we're going to stop making pizzas. When the bar only has triple sec and amaretto, we're going to close the bar," he says. "My best guess is -- and this is a pull-it-out-of-the-air kind of guess -- we will be closing the kitchen after Saturday and closing the bar sometime midweek."
Meanwhile the mourning has begun. There's already a lengthy thread about it on St. Louis Reddit and hints that some people would like to start a "Save Lemmons" campaign. Gut Check asked Gross if "saving Lemmons" is anything he's interested in.
"I don't think so. It's a nice thought, it's very flattering, but any type of short-term fix or short-term boost doesn't fix the real problem at Lemmons, and the real problem at Lemmons is me," he says. "I need to sell it to somebody who has the energy...a couple of shekels, and can put a little money in, fix the place up and go at it with fresh energy."
Gross says because the decision was made public less than 24 hours ago, he has not yet spoken to any potential buyers.
The last Thursday night trivia is tonight, and we're sure St. Louis will show up in droves to cry into their beers. Just remember -- the faster you drink Gross out of stock, the sooner Lemmons closes.
Follow Jessica Lussenhop on Twitter at @Lussenpop. E-mail the author at Jessica.Lussenhop@RiverfrontTimes.com.