Margherita-style pizza. | Photos by Mabel Suen
The Place: Central Table Food Hall (23 South Euclid Avenue; 314-932-5595)
The Hours: Happy hour is offered from 3 to 6 p.m. Monday through Friday.
The Deal: Discounted small plates and pizzas. A selection of ten American craft beers, house vodka or gin martinis, well drinks, mimosas and bloody marys for $5. House wine for $3.
A view of the "Hearth" from our seat at the bar.
The Scene: When we arrived at Central Table Food Hall in the late afternoon, the restaurant seemed like a shell of its regular self. Every station in the grandiose Central West End food hall that normally features an abundance of offerings seemed to have its lights out except for the bar and "Hearth," where the oven burned brightly.
Unbeknownst to us, this period of the day served as a time for staff to make the transition from its lunch service to dinner. We hoped that we'd get to try the restaurant's award-winning sushi, but would have to settle for the only items available during that time of day -- the happy-hour menu.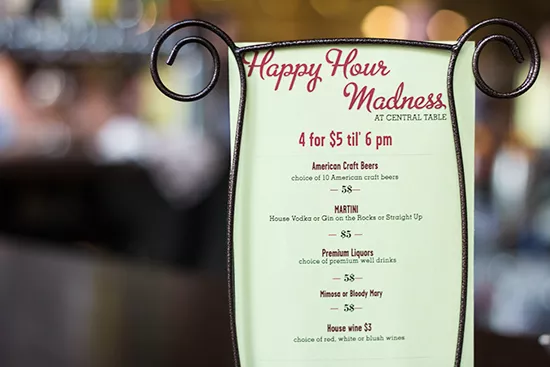 The Food: Central Table's happy hour features eight small plates and a selection of three pizzas. Options included oysters, shishito peppers, traditional spreads with pita, a cheese plate, a salumi plate, marinated olives and pork meatballs along with three different pizzas.
Did Central Table Food Hall make the grade? Find out on the next page.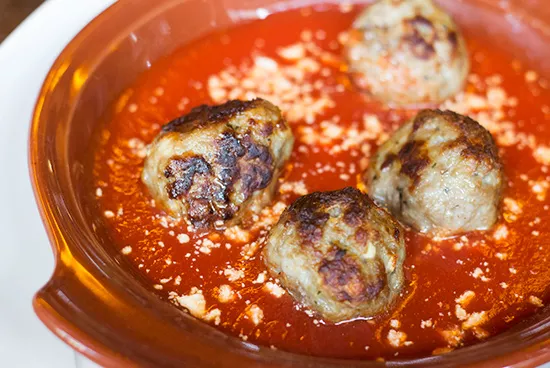 Pork meatballs in tomato gravy with ricotta.
The Verdict: Pork meatballs, described on the menu served with "simmered, spicy tomato 'gravy' and ricotta salad," arrived first. Right away, we couldn't help but notice that for a $9 dish, the plate only held four average-sized hunks of meat. The flavors here were nothing remarkable and especially not for the particularly high price point. All in all, the dish deemed disappointing at best.
On the contrary, the margherita pizza with San Marzano sauce and mozzarella basil parmigiano came out just right. The thin crust still felt substantial enough for the delicate toppings, and the quality justified the $8 price. The two other topping options are pepperoni and diavolo with spicy tomatoes, roasted garlic, heritage pork sausage and mozzarella.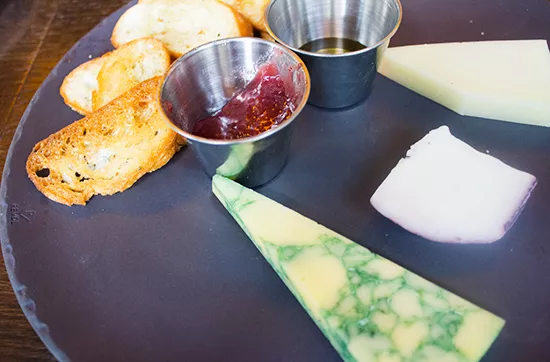 Cheese plate with local honey, fruit jam and crostini.
The cheese plate, however, fell nearly as flat as the meatballs. The plate arrived with three hunks of unidentifiable cheese, a couple of condiment cups barely filled with sweet dipping sauces and maybe six small pieces of crostini. For $9, we could probably whip up a better plate at home.
Here's our best tip: Show up early to dinner to have a discounted drink or two, and maybe split a pizza to whet your appetite. Pass on just about everything else offered on the happy-hour menu to save room for the stuff that Central Table does well: its full dinner service.
The Rating: On a scale of one to five...
Previously on Happy Hour Handbook: - Planter's House - Atomic Cowboy - Stella Blues - Triumph Grill - Lola - Basso - Blue Ocean Sushi - Hwy 61 Roadhouse and Kitchen - Gringo - Jax Cafe - Mile 277 Tap & Grill - Sandrina's - Mangia Italiano - Kirkwood Station Brewing Company - Steve's Hot Dogs on the Hill
We're always looking for some more happy hour meal deals. E-mail the author at mabel.suen@riverfronttimes.com.